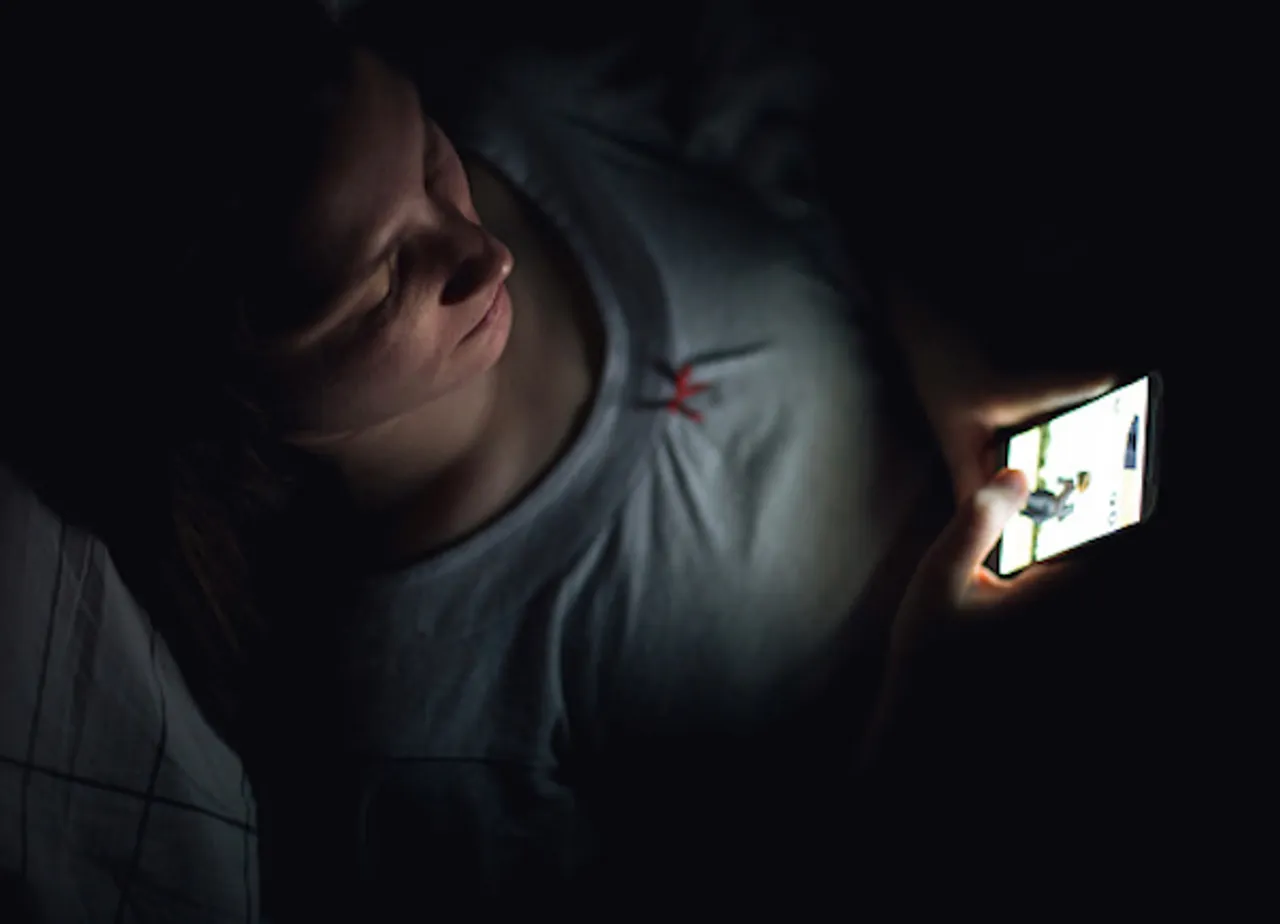 Scripture Union, a Christian organisation that preaches the Bible across missionary-run schools and churches in Tamil Nadu, has suspended one of their employees named Samuel Jaisundar. The action was taken after allegations of inappropriate conduct surfaced against him online on October 4. Ex-students, women, who were in contact with Jaisundar through their schooling years have been coming forward with their testimonies supplemented with screenshots of conversations, alleging he sent them inappropriate chats on Facebook and Instagram. SU, taking cognisance of this, announced Jaisundar's suspension in a public statement, while three other staff members accused of similar charges are currently under investigation.
Jaisundar, popularly known among students as Sam, was listed on SU's website on their English Department, from where, following his suspension, his listing has been removed. He has a YouTube channel to his name and ">videos from Vocational Bible School (VBS) events he conducted across schools.
Twitter Users, Chinmayi Sripada Highlight Issue
The issue first came to light when Twitter user

Director of this organization in in Tamil Nadu. This man has been sending inappropriate messages to girls in schools around the country asking them to video call him, meet him alone and also said he wishes to cuddle with them. Today the a girl from Ida Scudder School, Vellore 2/n

— Joel Giftson (@JoelGiftson17) October 4, 2020 Giftson shared a thread elaborating on the "pedophilic" activities occurring within the SU organisation, with Sam Jaisundar, the then Director, allegedly at the fore of it. He went on to outline how Jaisundar sent "inappropriate messages to girls in schools around the country asking them to video call him, meet him alone..." and attached anonymous social media chats and statements from survivors who had opened up. It was mentioned that "All the girls that have been a victim are between 12 and 17 years."
Director of this organization in in Tamil Nadu. This man has been sending inappropriate messages to girls in schools around the country asking them to video call him, meet him alone and also said he wishes to cuddle with them. Today the a girl from Ida Scudder School, Vellore 2/n

— Joel Giftson (@JoelGiftson17) October 4, 2020
Also Read: How A Lack Of Diverse Voices In The Mainstream Keeps India's Caste Hierarchy Intact
Singer Chinmayi Sripada also actively amplified the voices of these young women choosing to speak up. Sharing a series of screenshots from women reaching out anonymously, Sripada brought focus to how Reuben Clements and Janet Ebenezer (commonly known to students as Jem Akka) allegedly played roles in harassing girls and keeping their complaints under wraps respectively.
Yesterday @JoelGiftson17 put out a thread with girls from a school in Vellore deciding to come put with their stories of Sam Jaisundar and Reuben at Scripture Union. Many of the girls seemed to have told a 'Jem Akka', a Janet Mary at SU, about who asked the girls to shut up. https://t.co/6cW0qUCl3c

— Chinmayi Sripaada (@Chinmayi) October 5, 2020
Also Read: Hathras Gangrape Case: Embarrassing Silence From India's Top Women Leaders
First-Hand Testimonies From Survivors
SheThePeople spoke to some survivors who shared first-hand accounts of receiving lewd texts from SU employees, along with proof of said conversations. Some women cited that their access to these chats have been lost since Jaisundar has reportedly taken down his social media profiles. The survivors chose to confide in us anonymously. Screenshots have been sourced from the alumni team of a Vellore school where Jaisundar preached, who have actively been amplifying these testimonies.
A, from Tamil Nadu, was among the first women whose screenshots of Facebook chats with Jaisundar went viral on social media. She has been amplifying and helping other survivors fearlessly come out with their stories since. She tells us, "I'm 21 now, but I've known him (Sam) from when I was around 11, maybe younger... He's a very charismatic man. The kids love him, they flock to him. He has a way of disarming them, being silly with them that makes him likeable by younger children. We had full trust in him. He first texted me on Facebook when I was 14."
Screenshots of their conversation (attached below) allegedly show Jaisundar asking A intrusive questions about physical touch, ranging from hugging to kissing boys.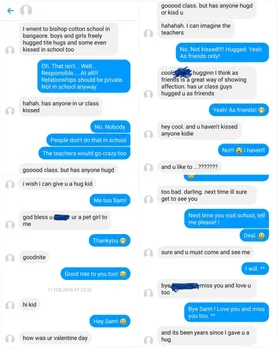 Source: Alumni Team Of Vellore School
She says he later graduated to making conversation with her on Instagram, asking suggestive questions about bras and underwear. "Don't all girls wear bras?" "Do you wear panties with stockings?" and so on.
On what she felt at the time, A says, "I felt discomfort, I was older for these conversations but I think because of how long he's been speaking to me, it didn't register how inappropriate these questions were. I only felt very uncomfortable. So instead I would ignore him, or answer vaguely and untruthfully. He gaslighted me constantly if I expressed discomfort or ignored his messages." She says her experience was "difficult to talk about because everyone loves and trusts him so much." But after spotting another woman's account accusing Jaisundar on social media, she found the strength to share hers too.
A claims that Jaisundar has been accused not just of misconduct online, but physically too. "There are also reports of him being seen touching children even younger inappropriately. Juniors from my school have told me he would hold their hands without consent for prolonged periods of time, making them uncomfortable."
Also Read: How Journalist Tanushree Pandey's Reporting On Hathras Gang Rape Led To A Movement
Samuel Jaisundar Allegedly Asked Girls About Lingerie, Body Measurements
Another survivor, B, from the same Vellore school, wrote to us saying, "Sam was the funny, caring, silly but understanding grown-up that we thought we could trust. He took advantage of that. He began messaging many girls, myself included. At first, I was ecstatic... I was very happy to be receiving attention from this person who we all put on a pedestal. Then the dirty texts started."
"I'd posted a picture of me in a dress. He responded to it saying, 'Wow, this is a very naughty picture.' Then he asked me what I was wearing. "What do you sleep in? Do you sleep wearing clothes in the Indian style or the Western-style? Some people wear just lingerie or even nothing at all, what do you do?'" she alleges.
A lot of guilt and self-doubt stemmed from these incidents, B said, the blame for which she misdirected at herself. "I tried telling some friends at school, but due to the image he had carefully cultivated over the years, no one listened to or believed me. I was branded a liar, and attention-seeking. I felt guilty, like it was my fault for posting a picture in a dress. I carried that guilt with me for years, until I grew up a little, and understood that it was not my fault."
Also Read: Kerala Women Attack YouTuber For Making Derogatory Video; But Can Feminism Justify Physical Assault?
Yet another woman C confided that Jaisundar had allegedly harassed her online through the ages of 13-15 years between 2012-15, "asking for nudes, asking for my body measurements, asking for my vulgar pictures."
Similar complaints have been surfacing against Clements with screenshots of him asking girls for their pictures.
Source: @scudder_mango, Instagram
Response From SU And Samuel Jaisundar
Most survivor testimonies refer to the wide consensus that prevailed in missionary school circles about Jaisundar's seemingly clean record and good nature that later turned out to be a ruse. This belief is still strongly held by some who are still disbelieving of Jaisundar's exploits as women are speaking out. A tells us of a 17-year-old boy who went so far as to tell her that her testimony was fake. He claims to have called Jaisundar about the social media allegations mounting against him, to which Jaisundar allegedly said "his phone had been hacked three months ago."
According to The New Indian Express, "SU admitted that it had been made aware of Jaisundar's alleged misbehaviour two months ago when the parents of a 19-year-old girl made an oral complaint." The organisation had henceforth told Jaisundar "to refrain from school activities."
Now, after these new allegations have come to light on social media, SU, in a public statement that addresses Jaisundar's suspension and investigation of three other staff members, said, "The welfare of children and young people of paramount importance to the Scripture Union and we take all necessary steps to ensure that our staff and volunteers maintain the highest standards and good practices," undersigned by the National Director J Joshua Kirubaraj.
#ScriptureUnion#SamJaisunder#Reuben

Kudos to all the survivors who spoke up. pic.twitter.com/TBdd58VOBV

— Chinmayi Sripaada (@Chinmayi) October 5, 2020
Views expressed are the author's own.