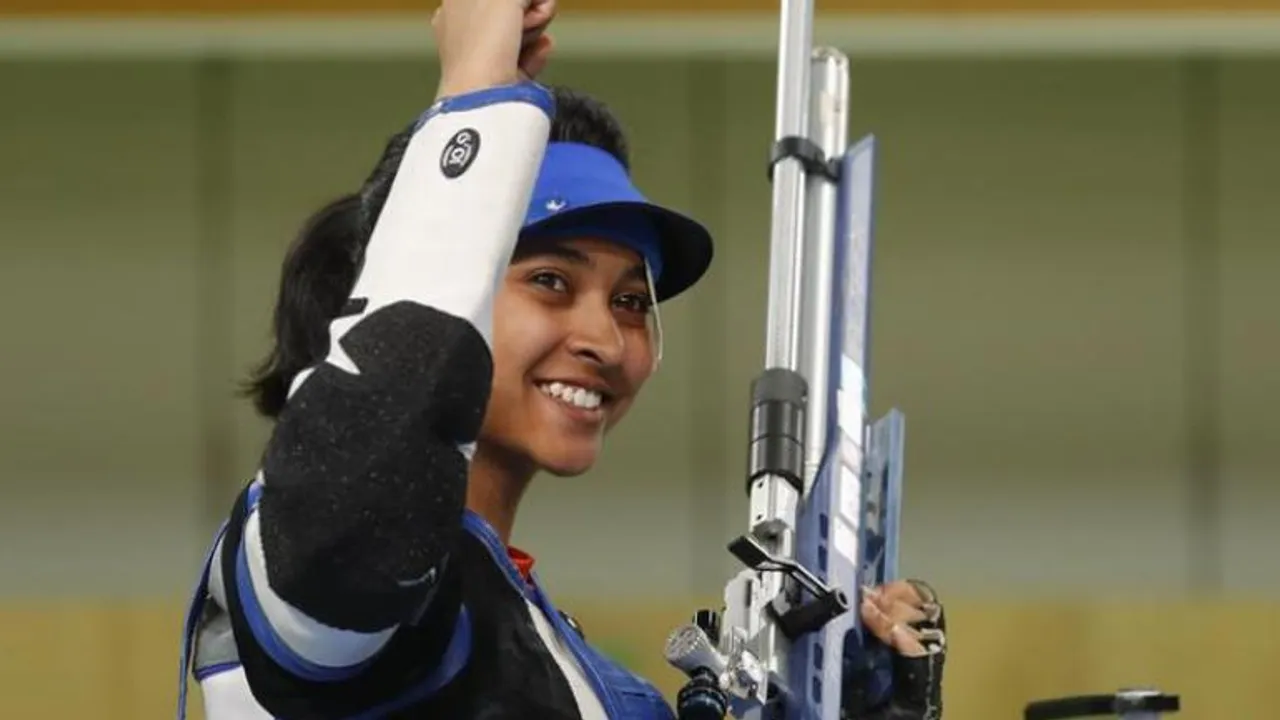 At the ongoing National Shooting Trials, promising shooter Mehuli Ghosh, 19, stunned the industry with her recent performance as she won both the senior and junior women's 10m air rifle crowns on Tuesday. Mehuli stole the limelight, winning the senior women's 10m air rifle with a score of 252. She surpassed the score of Madhya Pradesh's Shreya Agrawal who finished with 251.2 to earn second place. Another stellar shooter and world number one Apurvi Chandela of Rajasthan shot 229.3 to finish third.
Mehuli, who hails from West Bengal, was dominant in the junior women's event, winning by a score of 252.2 which was way ahead of Punjab's silver medallist Khushi Saini's total of 248.8.
Key Takeaways:
Mehuli Ghosh won both the senior and junior women's 10m air rifle title in the National Shooting trials
She surpassed the score of Madhya Pradesh's Shreya Agrawal who finished with 251.2 to earn second place
World number one and finals world record holder Apurvi Chandela shot 229.3 to finish third
Earlier talking about how she copes with challenges, the 19-year-old went on to speak about the difficulties she faces shooting under pressure saying, "Yes, it (pressure) has been mounting, especially recently. But then at the end of the day even if I get tired, I ask myself why have I started all this and consider all the efforts that I have put in to reach here. Breaking records, of course feels good but then benchmarks are set to be broken," Sportstar reported.
Also read:Who Is Sanjita Chanu? Know More about This Manipuri Star
Earlier this year, Mehuli broke the national record in International Shooting Sport Federation World Cup in Beijing. While competing in the Minimum Qualification Score (MQS) category, she scored 632.2 to shoot her personal best at World Cups – the best qualification score among Indians. She also won the Youth Olympic Games silver medal. Mehuli won the women's junior (under-21) 10m air rifle gold in the Khelo India Youth Games. She delivered a shooting score of 629.4 in the qualification.
Last year, newbie Ghosh, a bronze medallist in her maiden ISSF World Cup outing in Mexico, bagged a silver at CWG. Ghosh (17) was a debutant who missed the gold by a whisker, in the women's 10m air rifle event.
Also Read: Does India take its sportswomen seriously?
Mehuli was very young when an accident forced her to quit swimming. "I had a liking for action movies right from my childhood. I came to know about the sport of shooting from a school friend who had started training at a rifle range nearby. I came and told my parents, but they started explaining about how expensive the sport was. I took my enquiries further and then came to know that the club – Serampore Rifle Club – provided all the equipment to its trainees. I convinced my parents to let me join the training," said Mehuli adding that's why she decided to take up shooting as a young 13-year-old, Sportstar reported.
"She showed her talent in every sport she tried and that gave us the confidence that she will do well in shooting, too. She did well in karate and was a very good Kathak dancer and used to regularly perform in many stage shows," says her mother, Mitali.
"It is only once you decide to take shooting professionally that the one gets to know the expenditure as you need to buy your own rifle and the necessary pair of jacket-trousers. I guess it is the same with games like cricket and golf, where you need your own kits," says Mehuli.
"Her determination and zeal were quite impressive. We got some funds together and constructed a temporary shooting range on the roof of our house in Baidyabati. I got tarpaulins and iron rods from the market and had a makeshift range built for her to practise extra hours," says Mehuli's father Nimai, a state government employee. "She used to shoot till 1.30 in the morning and we did the assistant's job, changing the cards which work as the target.
Feature Image credit: India Today