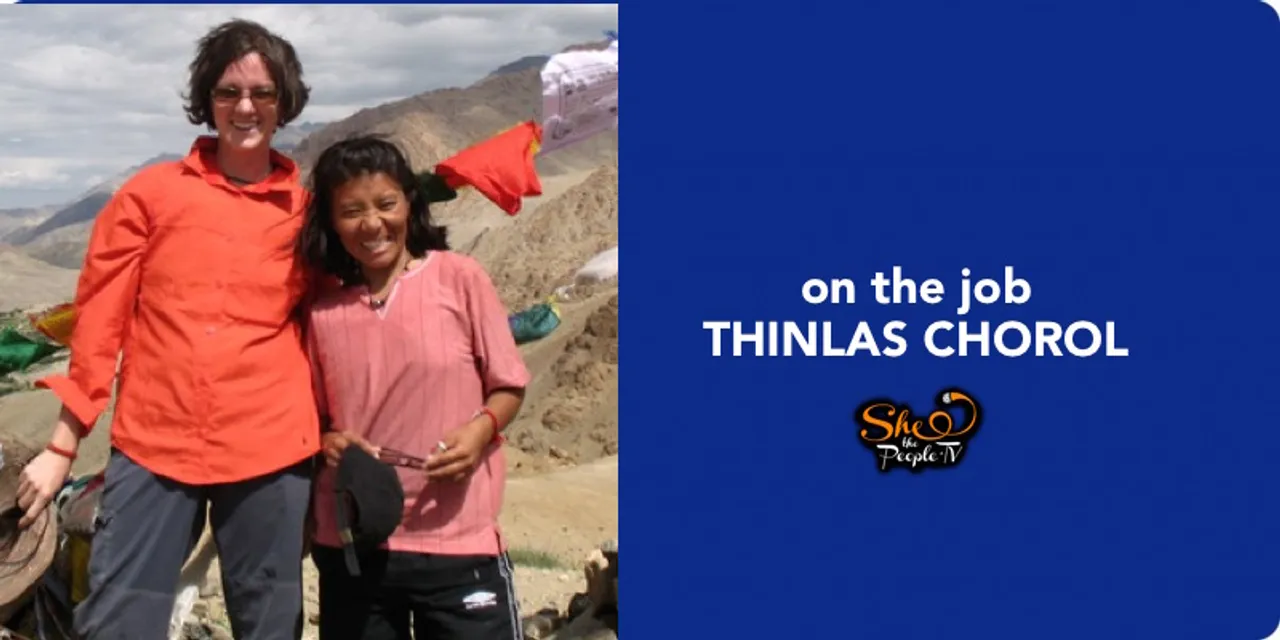 "I enjoy the peacefulness of the mountains most, but I also enjoy the wildlife here," replies Thinlas Chorol when asked about why she prefers the mountains. She is the first female tourist guide from one of the most breathtaking treks of Ladakh. She took up the job at the onset of her career, initially to fund her education but she enjoyed it so much that she never actually could take a turn back. Now she owns a travel company- Ladakhi Women's Travel Company which she started about six years back to bring in more women into the tourism industry.
She owns Ladakhi Women's Travel Company- the first of its kind!
Born and brought up in the small town of Takmachik located in Ladakh, Thinlas has always been close to nature and the wildlife of the region. In her words, she prefers all this over cities. "Have since I was small spent time in the mountains, today I really love the mountains. I prefer them to the city."
Talking about why she thought starting an all women's company would be a great idea, Thinlas answered, "When I started out as a guide, I would often work as a freelancer for different travel agencies in Leh. While I was out trekking for them, I would meet Ladakhi women who would ask me to take them with me so they could learn the job. Since I was a freelancer, it was not up to me who could come along. I would also meet several female clients who liked having a female guide. I came to the conclusion that I could put these two groups together and make them both happy."
First female trekking guide from Ladakh
Trekking guide was not the most desirable job for a woman at the time when Thinlas stepped into it. It was tough to make people understand the fact that even a woman could do the job.  However, Thinlas did not let any of that discourage her and let her spirits hamper. When she could not find a job with the local trekking agencies because she was a woman, she found work with the 'Around Ladakh with Students' ALS where she had many women to work with. However, she experienced that women would only work around monasteries and cultural tours while she was tougher for all that. She wanted to do the hardcore trekking guide stuff.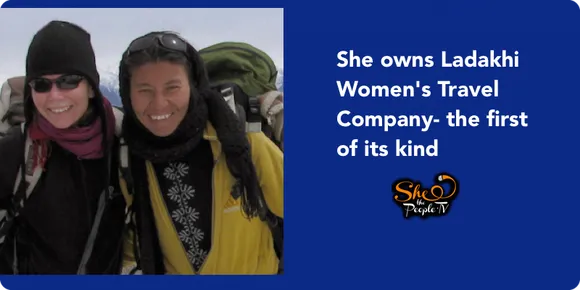 Thinlas Chorol She The People
Thinlas' journey towards becoming a full-fledged trekking guide was not a cakewalk, she kept learning over the years. However, she found the atmosphere quite receptive of her. "It was actually really good. Many of the female clients appreciate having a female guide. There was not really any negativity aimed towards me. People overall did not really have an issue with the existence of female guides, at least not to the extent that they would say anything to me."
"One of the reasons why some female clients like a female guide is that some of them feel uncomfortable trekking alone with a male guide. Some of them have had bad experience doing that.  When they trek with us, they know they will get a female guide since that's all we offer," she added.
Thinlas has been widely recognised for her work as a game-changer in the trekking industry. She was awarded as the first rural entrepreneur from the tourism industry and also from the state of Jammu and Kashmir to be honoured with the Indian Merchants Chamber Ladies' Wing's Jankidevi Bajaj Puraskar. This award identifies women who are rural entrepreneurs. She was also named as the 'Person of the Year' by the news website, The Weekend Leader in partnership with Vellore Institute of Technology in 2015.
"We are nowhere near equality in the trekking industry. Tourism is a little different since the percentage of women is higher there. I honestly don't know exactly how many women there are in the trekking industry today, but if I had to guess, I would say around 30. There are hundreds, if not thousands of male guides so we still have a long way to go," speaks Thinlas about the condition of gender bias in the trekking industry.
"Listen to your will and think less societies standards. If you are sincere, honest, hardworking and dedicated you have a great chance of being successful," Thinlas signs off.