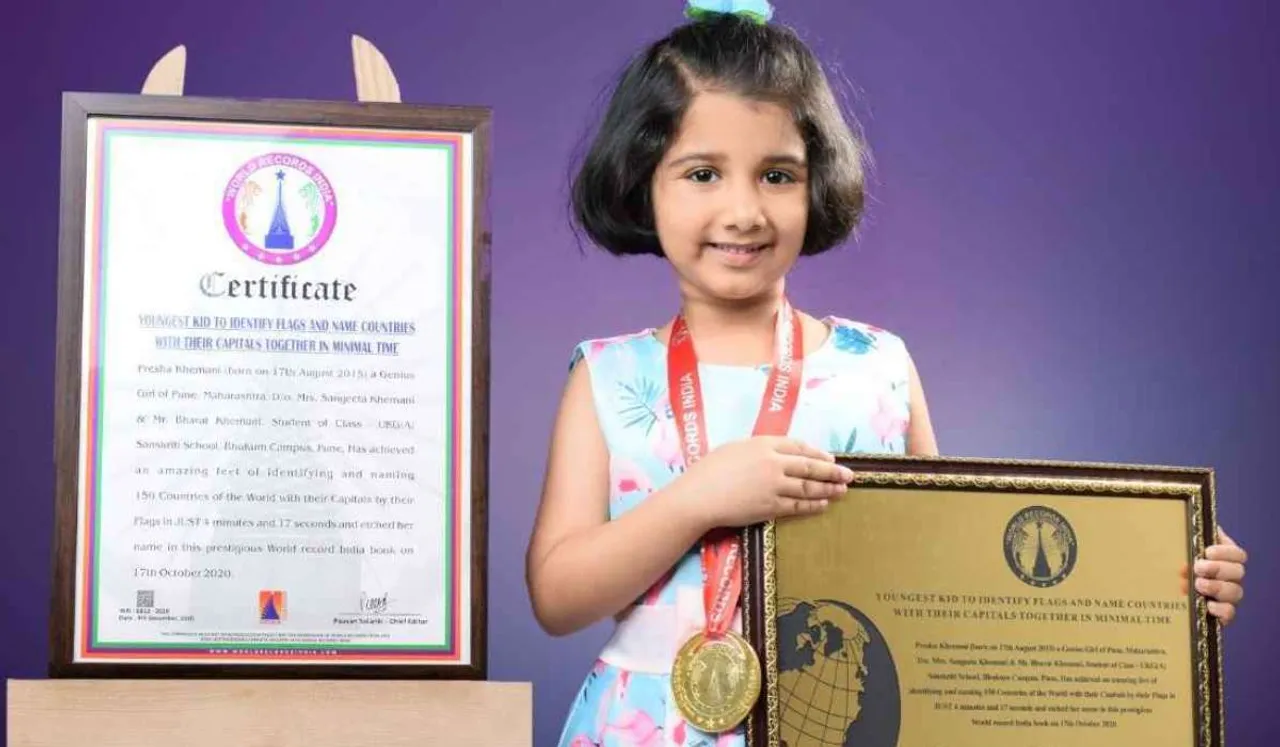 Not everyone can boast of identifying the names, capitals, and flags of 150 countries in four minutes-17 seconds. But 5-year-old Presha Khemani can. The child prodigy from Pune recently gathered thundering applause for achieving that very feat, thereby setting a new world record. Khemani won the title of 'Youngest Kid to Identify Flags and Country Names' in the World Records India Book. The young girl, according to her parents, is inclined towards books and geography and made use of the coronavirus lockdown to expand her knowledge about so many countries.
News agency IANS, reporting news of Khemani's win, hailed it as one of the many "inspiring stories" to come out of the lockdown. Khemani is based in Pune with her parents, where she currently attends upper-kindergarten classes. Her parents, who originally hail from Madhya Pradesh, said they entered their daughter for the world record title with the help of her school.
#Lockdowns across the world have brought many inspiring stories and one among them is the story of five-year-old #PreshaKhemani, who set a world record by naming 150 countries along with their capitals after identifying the flags in just four minutes and 17 seconds. pic.twitter.com/JeAejS8VYL

— IANS Tweets (@ians_india) January 6, 2021
Also Read: Michelle Nunley Makes Largest Hand Drawn Maze In 3 Months, Sets Record
Presha Khemani's Parents On Her Achievements
Bharat Khemani, the 5-year-old's father, is a Chartered Accountant in Pune. He said he along with his wife Sangeeta had a hint of their daughter's "unique" intelligence. Sangeeta Khemani elaborated, "Our family friends had gifted Presha a world book during the lockdown. She used to ask me the names of the countries after seeing the flags and whenever she was asked the country's name by pointing to the flag, she told it immediately without forgetting."
The father further proceeded to explain how his daughter managed to achieve this remarkable world record. "Presha developed a keen interest in colourful flags representing countries and continued asking me about the nations they stand for... learnt about 150 countries, their capitals and their flags thoroughly in a strategic manner. Each week, she took one continent, studied about the countries and the flags of this continent, revised it and so on," he was quoted saying.
Young Khemani reportedly next wants to conquer the record of identifying most currencies, world leaders, and languages.
Also Read: Bryce Dallas Howard Remembers Jurassic World Co-Star Irrfan Khan
Other Kids Achieving Feats
In December last year, 15-year-old Indian American girl Gitanjali Rao was named TIME's first-ever Kid of the Year for her "innovation" in science. Her cover feature was cheered the world over. Rao is a young scientist and inventor, who has been using "technology to tackle issues ranging from contaminated drinking water to opioid addiction and cyberbullying." Read about her here. 
In February 2020, Jiya Rai, an 11-year-old autistic girl hailing from Mumbai, swam 14 kilometers from Elephanta Island to Gateway of India, in record time. She was awarded a trophy and certificate for her breakthrough. Read about Jiya Rai here. 
Image Credit: The Shillong Times