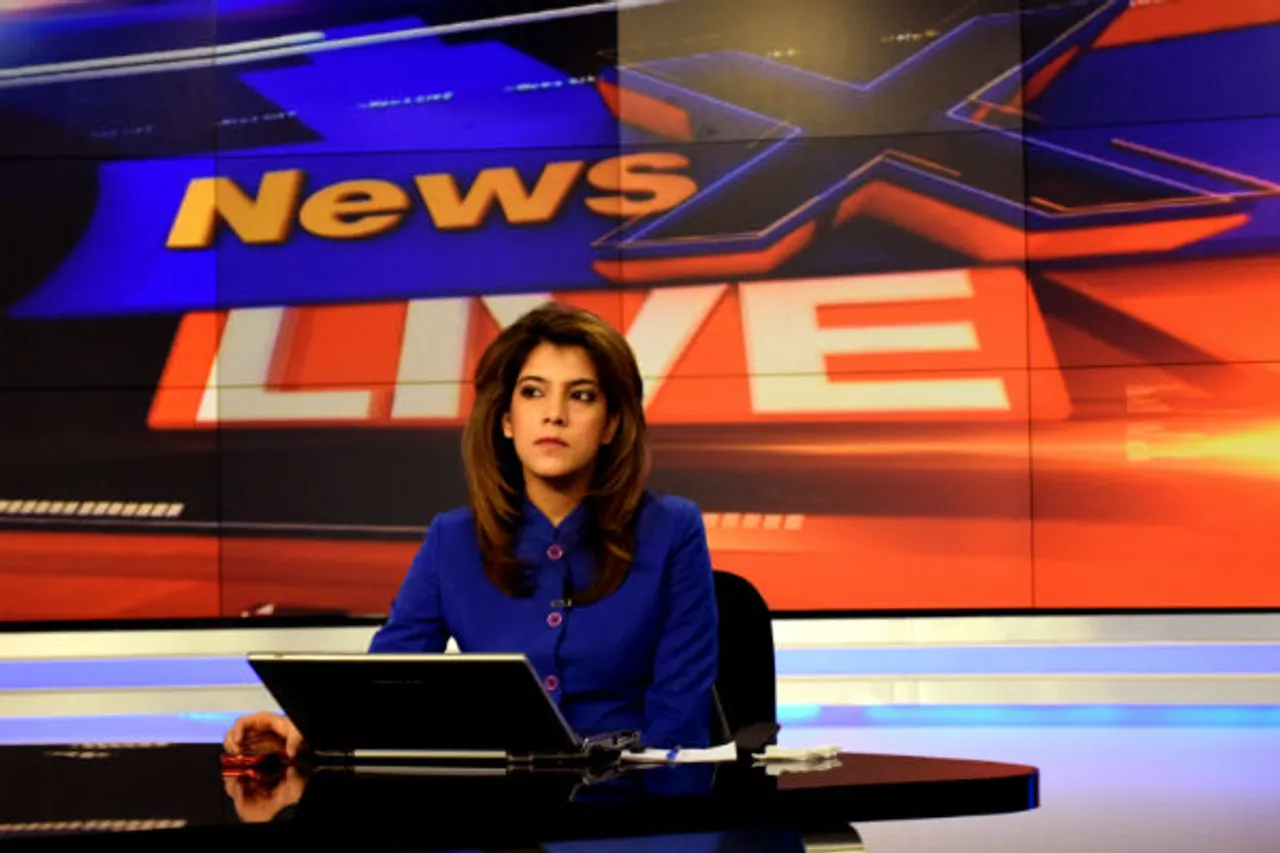 For over a decade being a journalist was Sahar Zaman's only identity. Having worked with diverse publications like Femina, Open and Tehelka, as well as news channels like News X, CNN IBN and Bloomberg TV, hers was a familiar face on the telly. Now, after fifteen years of chasing news stories, the news anchor has opened a new chapter in her life. She has turned entrepreneur with design brand Chamak Patti and Asia's first web channel on the arts HunarTV, and what's interesting is that both are creative ventures . Maybe her artist, curator and designer side are responsible for this. We found out more.
Foray into journalism
I was pretty certain that I wanted to be in the media right from senior school. I started out with being extremely interested in photography and advertising but eventually became a journalist after completing my media course. And it's been 15 years in the profession now.
Inspiration to become a journalist
The desire to bring a change. And yes, change does happen through journalism. Criminal cases have been re-opened, laws have been changed and atrocities have stopped. It's great to be a part of this process and believe that you have changed a tleast one life for the better. I see that happening in the news studio as an anchor and as an arts journalist in the field promoting art, everyday. It's also a mad rush of information that you deal with on a daily basis. It's exciting and unpredictable each single day.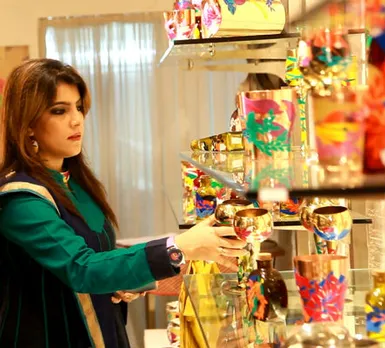 Sahar Zaman arranging products by her design brand Chamak Patti for a recent show in Delhi
The start-up entrepreneurship bug 
I wasn't really thinking about the world of Start Ups. I just wanted to share my work with people and reach out. It's fashionable to call it a Start Up these days but people have been picking and dropping businesses even before. Today, only the medium and pace of the business platform has changed. I think it's a great time in the country to start your own business. The current government is of course encouraging Start Ups like never before, making the process of registration and promotion far easier with unique tax benefits. But I think if you have the talent and desire to start something new, things fall in place. Both my brands are closely connected with what I have been doing as a journalist - promoting the arts and telling stories.
 The ventures Chamak Patti and Hunar TV
Chamak Patti is a design and accessories brand where each single piece that goes on the shelf is designed and made by me. The brand offers jewelry, leather handbags and homeware such as wine glasses, goblets, platters, jugs, beer mugs and glass bottles. I work with reflective tape where each pattern is hand cut by me and applied on different surfaces. All the products are usable but they are works of art first.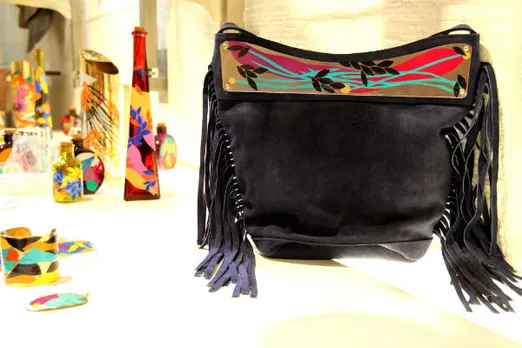 Chamak Patti's range of jewelery, accessories and homeware.
My other brand, HunarTV, is Asia's first web channel on arts. It showcases interviews of artists, writers and performers talking about their skill, their thought process and the process of creation. These are catchy, peppy video capsules on arts, food and travel that hold the interest of an online viewer who is usually on the go and in a hurry . The next level for both these brands would be an expansion in team and scaling up productivity. Right now I work with skeletal staff.
You May Also Like: How this Award Winning Journalist Does It All By Herself: Priyanka Dubey
  Initial funding for the base operations 
They were both funded by my own income and savings as a journalist.  They're both very unique brands and it's difficult to find an investor for something that's new and different in the market. Chamak Patti now runs well with good sales. HunarTV is the challenging bit. I need to keep fetching relevant sponsors for each video capsule that I make.
The biggest challenge as an entrepreneur 
The biggest challenge certainly was to put aside part of my income to kickstart both the brands. And that's why both brands started on a very small scale. I had to take baby steps and couldn't be too ambitious about going big with them. What I have managed to overcome is the survival of the brands, to ensure they don't fizzle out! I wanted to launch the brands with a full time store at a prime shopping mall and a full time functional office in Film City but I couldn't. And because I have now proved the feasibility of both brands, I'm looking at getting keen investors on board.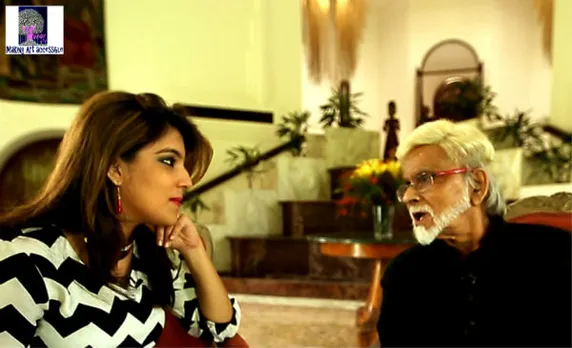 While interviewing master artist Satish Gujral for her webchannel Hunar TV
Also Read: A small introduction to India's first 4 women Journalists
Traits required to become successful as an Entrepreneur
Persistence and Patience. Everything else follows.
Managing personal and professional life
It's a constant juggle. No amount of planning can ever work. You have to deal with each day at a time. And I'm very grateful to have a supportive family. But I've also realized that there's no point in compartmentalizing your life. I take my son to most of my shoots and client meets and often make my products at home. It's okay if work flows into the personal space and vice-versa, without harming each other.  As far as the work gets done, and family doesn't feel neglected, it's all cool. More importantly, people don't anymore frown upon a working mother tagging her child along.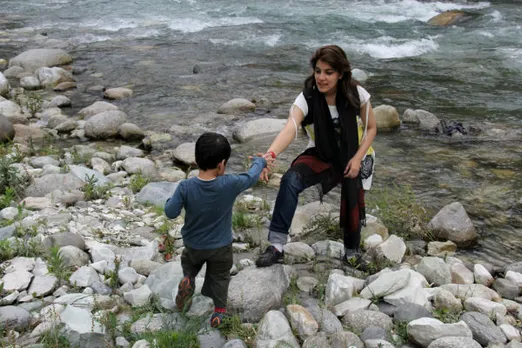 With her son Kazuo Imad, who is mostly with her in her art studio and her client meetings
 Digital India and its empowerment plans for women
It opens up the world to you. Even if you don't want to look at it as a means to earn, it can help you share your skill with the world or educate you. Make your own 'How-to' Youtube Videos and get responses, blog or v-log about your passion, your rights and even seek help or answers, if required. I'm looking at the Digital India drive as providing oxygen to your soul. And that makes a lot of sense if you consider our women in the rural and tribal areas. It's a leveling medium and therefore empowering.
Strengths women have to become successful entrepreneurs
It's very important to believe in yourself and your skills. Because there are always certain voices around to criticize a woman from doing something new or even doing a regular job. For a change, women need to believe that they're a gift to mankind. I know about how a lot of men are brought up believing in they're the one and only best-est thing to happen!
Advice to someone who wants to follow a similar career path as you...
Please keep away from running into debt. No business is worth the evils of debt, no matter how much longer it takes to realize your dream. Be realistic about your break-even period.