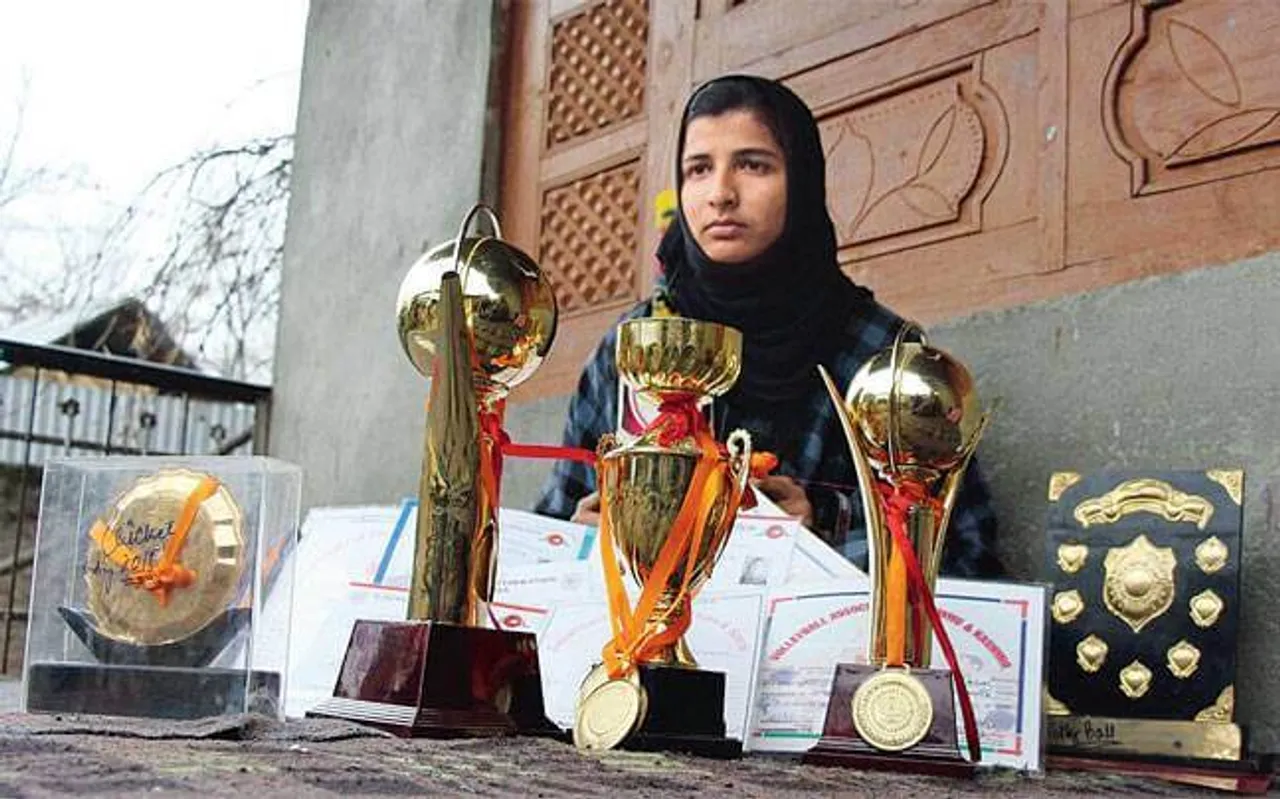 18 years. Dangiwacha, North Kashmir. A thousand criticisms, one fight, one dream, one woman, Iqra Rasool. In the game of cricket, probably records are the only numbers that define what a player has been doing. Not the age, not the size of the city they come from, nothing. Born on 15th August, 2000 this young power pacer has been fighting ever since for one dream, to play in the Indian colors and finds that itself to be the greatest inspiration. Awarded the H.E.R Award in 2017, Iqra is also an ardent Virat Kohli fan and idolizes Jhulan Goswami. Weaved by struggles, painted by courage and put together by true hard work and determination is the story of the Baramulla Supergirl. Excerpts from the interview by Anvesha Shah:
Take us back to the old days, your childhood and your initial cricketing days?
I started playing when I was 13. I was always into sports, football, volleyball and handball as well. In fact, volleyball was my most favorite sport and I had even played a few matches of the same. Handball was a fun game too, though I have never really played handball and football professionally but they were good. The person who introduced me to cricket was my coach Sarfaraz Nabi sir. "Aapki height itni acchi hai, aap cricket try karo" he said. I somehow agreed to play but I insisted on batting. But he strongly believed that I should be a bowler. Initially, cricket did not really interest me; there are things that we don't find interesting in the beginning.
But then once I started playing a few matches for my school team, and eventually got selected by Jammu And Kashmir Cricket Association (JKCA) and further played for my state at the national level, I understood that people simply don't have so much respect for cricket just like that. I had seen people giving so many trials yet not getting selected, but I played at such an early age at the national level that is when I decided "Nahi sir, mujhe bhi khelna hai, isi mei apna career banana hai".
People even have coaches, but I did not. My only coach then was my school teacher; he himself was a footballer and was not much into cricket himself. But he still made me practice for around an hour. Yet he taught me so much, got me going and helped me find my true passion – cricket.
What was your parents or relatives reaction when you first told them about you becoming a cricketer?
"Ladkon ka game hai, ladkiyan nahi khel sakti". This is what they always told me. Initially there was no support, the situations were such. And residing in Kashmir in state of emergency, they were always worried about me going out and playing. Honestly, even if my family or my relatives would have wanted to support, it would have been really difficult because of the prevailing situations in Kashmir.
They always told me that it was not the sport to be played by women. It was a men's game. And me playing it would be a "gandi baat" but I always protested saying, "bahar ki ladkiyan bhi toh khelti hai, itna accha karti hai toh yeh gandi baat kaise Hui" I wanted to play and make sure I prove them wrong. That was the moment I decided that I really want to go for it. To fight against the odds and achieve my dreams. The best part was that because of me, many other girls whose families did not allow them to play got a chance to play
At that time I did not think I could do that. Today when I look back, I feel extremely proud of myself, I feel that I could actually inspire others and achieve what I have always wanted to. Also, training camps for girls have been initiated which were not there earlier.
I still want to go back there and play from the same club and represent in J&K colors.
When was it that you first realized that "Cricket is where I belong?"
I used to see young girls, the Indian Cricket team and the respect and recognition they received. It was full of competition but I knew if I worked hard I could get the respect for my dreams too, and that is when I decided that cricket is the career I want to choose and it is going to take me far.
Any incident or behaviour that hurt you really badly, but at the same time made you realize how important cricket was to you?
I remember I had to go, play a match in Haryana so when I came home for lunch in the afternoon; I was holding the selection letter, when my brother said "Khana nahi dunga jab tak yeh phaadogi nahi" I was deeply hurt by this and still remember that day. But even after that I did not stop playing, I told my father that my brother and he were earning on their own, making a living and even I wanted to do that by my own. I was capable enough to stand up on my feet and do something big, something everyone would be proud of. Even my sir said that even if your family does not accept your cricket right now, there will surely come a time when even they will regret not supporting you earlier.
And even today I have not really achieved a lot; there is still a long way to go. And I am pretty sure my parents would someday feel proud of me for taking up cricket as a career. Honestly, every woman has the ability to achieve whatever they want to, the only thing they need is belief and support.
How was it playing in front of your father for the very first time? What was his reaction?
There was this local tournament I was invited to play in and I asked my father to accompany me. He agreed to come saying "Haan chalengay, lekin sirf dekhne, khelna nahi hai" and I somehow convinced him saying that yes, I would not play how am I going to play "main kaha khelti hun".
So then they called out my name and asked me to bowl. They gave me only one over and asked me to prove myself. "One over is all that you have, prove yourself, this is the only chance" they said. The ground was full of government authorities; the IG was also there along with other reputed chief guests. But one noticeable and disheartening thing was there were no other girls participating, in fact no girls were even watching the game, this felt really, really bad.
The boy I was bowling to was a guy from U-23 so the first three balls went six, wide and four. So there was this guy who came up to hand me the ball and he said "look your father is here to watch you play, you have only these few deliveries now, you need to prove your worth right here, and you have to play for yourself and for your father". The next ball again went wide and that is when I told myself "When you go back home, the people are anyway going to criticize, even papa will but if I play well here and prove myself, no one will have a chance to say anything so I have to do this, right now" and the next ball, I took the wicket, a middle stump wicket.
My father came up to me and told me that I can play. Everyone was so happy, my team, all the boys and I was elated. Then my father said "You knew you were playing right? Don't lie to me" This was the game my father saw me play for the very first time.
What is one thing about recognition or fame which proves to be its drawback? Do you think this fame can prove negative for one's career?
No, not really. If a person is completely focused about their goals, they will not be distracted. Obviously, one has to decide their priorities. But if their dream, career and goals are their priorities, nothing can get them off track. Even after becoming famous and getting recognition, they would always strive to be better. "Agar insaan ki soch sahi hai, toh woh kuch galat nahi karega" if I think only about my cricket and focus on improving my game, everything will go right, a person's thinking is the most crucial aspect. "Agar insaan sahi sochega to sahi hi hoga, galat sochega toh galat hi karega"
Most of the people today feel that cricket is a "batsman/batswoman's game" - What do you think being a pace bowler yourself?
Honestly, I think the fielders are the game's most important elements. Batsmen and Bowlers have their distinct roles to perform. Cricket is a team game and every department is crucial. However, Batsmen or bowlers may have their good and bad days which can take the team through the finish line but fielders, they affect each and every game and the runs they save or the catches they take is what changes the whole game. They provide motivation and put in best efforts and motivate others to push better towards the win.
What according to you make a bowler stand out from other bowlers?
There are two things according to me. First, the fitness and second the line and length at which they bowl. I don't really consider pace because some can do it some cannot. But the line and length is what makes the difference.
Sportspersons focus a lot on their fitness. Being a pace bowler in particular, what is your ultimate fitness mantra?
Yes definitely, I do follow a particular diet as well as fitness play given to me by my coaches here at the Aditya School of sports and also there are separate workout routines for bowlers.
From Kashmir to West Bengal, how difficult was it to convince your parents and how did you manage to get there?
In my district, there were hardly any people who played cricket; majorly all were involved in volleyball and football. Also, my residence was far away from Srinagar and that is why coaching or training camps were not even available to me. Travelling that far every day was not possible, even if I did, the opportunities were lacking and training was not available that is why I decided to shift to West Bengal. I could stay here (West Bengal) for maybe a couple of years, learn something and go back to J&K, because it is the state I want to represent.
Aditya School of sports offered me accommodation, kit bag, training and every possible facility that could boost my career, and they even tried to convince my parents and brother. My father was not well so my brother spoke to them, he did not agree easily. But I made him understand that how important it is for me and I made him understand that I can do anything at all for cricket. And today it is my brother who is the most concerned about my cricket. So it feels great.
Had it been any other place other than Kashmir, do you think your relatives would have reacted differently?
Yes I think so, they would have reacted differently, because of Kashmir's political state and situations, they were not really sure about me going and pursuing cricket outside.
Jhulan Goswami or Jhulan Di as you call her, how was it meeting her for the first time? How did you react?
Honestly I had never thought I would meet her at least not until I become a professional cricketer and play for at least 5 to 6 years. Even when the Aditya school of sports offered me to join them, they did not mention who was going to do the selections. So after a few days when I reached the ground for the trials, I saw the girls were warming up and then suddenly Jhulan di came, I was standing in awe.
When my turn came, I continuously bowled wides. I was that nervous, playing in front of my idol but then she came to me and made me understand where I was going wrong and then I improved gradually. She even told "Yeh ladki bahut aage tak jayegi" and after that even my coaches noticed my improvement. Occasionally, Jhulan di comes and keeps training me and that is when I decided, I am not going back home without becoming something.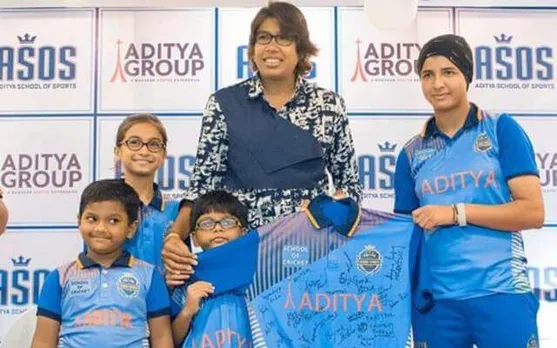 The J&K cricketer with Jhulan Goswami. Pic: CricTracker.com
Tell us about that one match you would never forget about.
In 2015, we had this match against Telangana and I took three wickets in that match. It so happened that our team needed four runs in the last three balls and I hit a six. And our team won those finals. That is one match I will never forget in my whole life. It was my best performance till now and that too in finals!
Over the years, who or what has been your constant support and motivation?
Sarfaraz sir has always been my greatest support and has taught me even the smallest things at every point of time. He teaches me about how to walk down to the field, how to talk to elders, improving on my cricket and every single thing which not only makes me a better cricketer but a better human being as well.
Even the chairman of Aditya School of sports has been very supportive. Providing me with the best of facilities, my diet, training under Jhulan di and has affected my career greatly.
Who has always been your biggest critic yet your biggest supporter?
My Bhaiya (brother) has always been my greatest critic as well as my biggest supporter. He never really appreciated me for whatever I did. He always used to talk out the bad qualities and only mention them. No matter how well I did, he never really praised me. But at the very same time, he was the one who helped me convince my parents, and lately has also been taking a lot of interest in my game and tells me from time to time where I am going wrong and in which areas do I need to improve. So it certainly feels good to see him take so much interest in my game, finally.
What would a dream debut be like?
What can be better than playing your first match with the players that inspired you to play? I have only one dream, to play alongside Mithali Di, Jhulan Di and Harmanpreet Di and play for India. I have never really thought about a dream opposition because each match played for India is equally important and huge and is living the dream.
A few words for aspiring cricketers?
I have only one thing to say, believe and trust your dreams. There will come a phase when even your parents would not accept but that is only because they want the best for you, woh galat nahi sochengay tumhaare liye but even then, don't stop following your dreams, trust them, work hard and then show everyone what you are capable of.
Iqra Rasool, the name we are sure will soon be carved on the international stretch and will stay there, inspiring millions. Dreams are dreams, neither small nor big, any fight towards them is remarkable and Iqra proves that.
Feature Image Credit: India Today
This Article Was First Published In Female Cricket