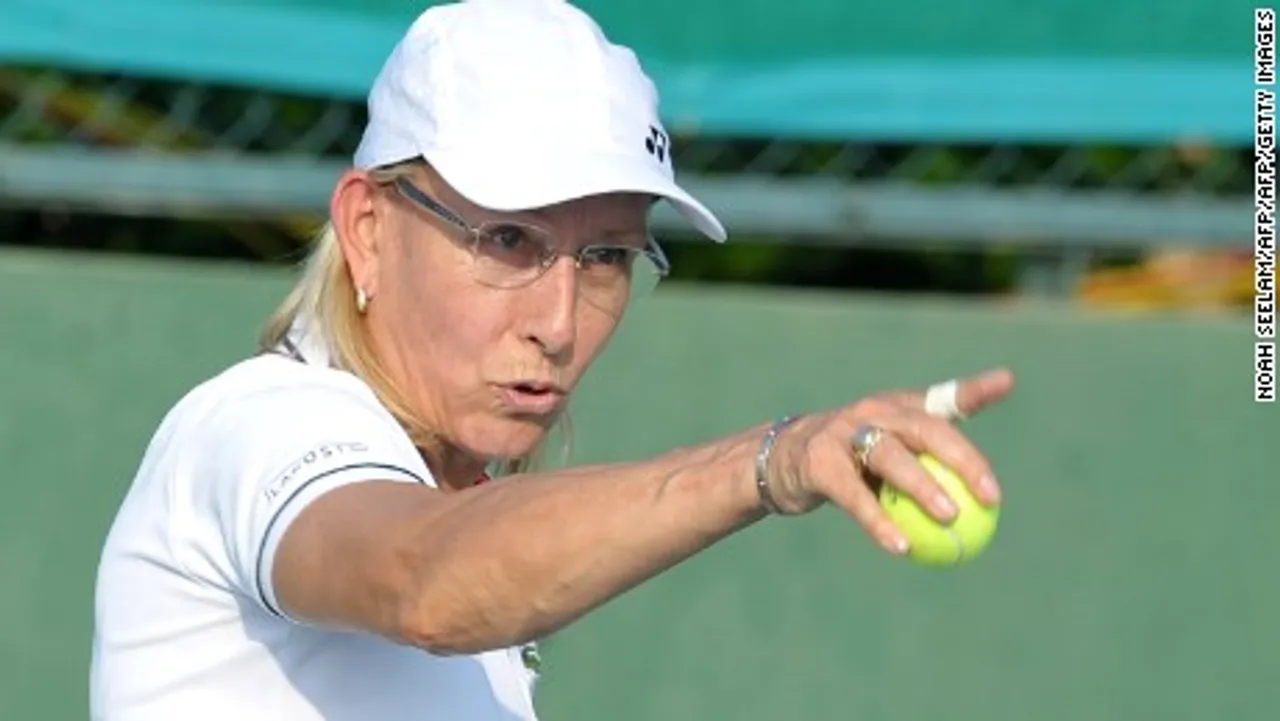 "It's insane and it's cheating," said tennis legend Martina Navratilova on transgender athletes competing in women's sports. Making her views clear on the subject, Navratilova said that transgender women shouldn't be allowed to compete in women's sports. After the controversial comment, many transgender sportswomen hit back at the veteran player. A US-based organisation, Athlete Ally, that campaigns for LGBT sportspeople, has also severed its links with the tennis legend, BBC reported.
"A man can decide to be female, take hormones if required by whatever sporting organization is concerned, win everything in sight and perhaps earn a small fortune, and then reverse his decision and go back to making babies if he so desires," 18-times Grand Slam winner Navratilova wrote in The Sunday Times.
She claimed that it was "cheating" to allow transgender women to compete in women's sports as they had unfair physical advantages.
Navratilova added, "It's insane and it's cheating. I am happy to address a transgender woman in whatever form she prefers, but I would not be happy to compete against her. It would not be fair."
Slamming her for the remarks, Rachel McKinnon, who became the first transgender woman to win a world track cycling title in 2018, said, "Navratilova's comments are disturbing, upsetting and deeply transphobic."
"Navratilova's comments are disturbing, upsetting, and deeply transphobic," Rachel McKinnon
You got that right. To all the people on this thread- I am totally and completely pro- trans people or any part of the spectrum. I do not wish to define anyone. All I want is fairness on the playing field. That is it. How we get to that is a discussion for the ages…

— Martina Navratilova (@Martina) December 20, 2018
As it was ruled by International Olympic Committee (IOC) in 2016, athletes transitioning from female to male can now participate without restrictions.
Athlete Ally said Navratilova's remarks were transphobic and perpetuated myths. The organisation has removed the tennis legend from its advisory board and as an ambassador
Navratilova had joined Athlete Ally as an ambassador in 2014.
READ:Tenzin Mariko, The Monk Who Became Tibet's First Transgender Model
In its statement, Athlete Ally said Navratilova's comments were "transphobic, based on a false understanding of science and data, and perpetuate dangerous myths that lead to the ongoing targeting of trans people through discriminatory laws, hateful stereotypes and disproportionate violence".
It added, "This is not the first time we have approached Martina on this topic. In late December, she made deeply troubling comments across her social media channels about the ability for trans athletes to compete in sport. We reached out directly offering to be a resource as she sought further education, and we never heard back."
1) Yesterday pm our spokeswoman @asknic was booked onto @bbc5live @StephenNolan late news show to discuss @Martina Navratilova's comments about trans participation in female sport. We were then disinvited after Rachel McKinnon publicly refused to participate if we were included. pic.twitter.com/ViBy36mJWc

— FairPlayForWomen (@fairplaywomen) February 18, 2019
No, you are not "pro- trans people" if you say that trans women with a penis must not compete in women's sport. That's transphobic.

Genitals do not play sports. What part of a penis is related to tennis? How does that 'level' any playing field? https://t.co/h7ZLsCVOQy

— Dr. Rachel McKinnon (@rachelvmckinnon) December 20, 2018
Feature Image Credit: CNN