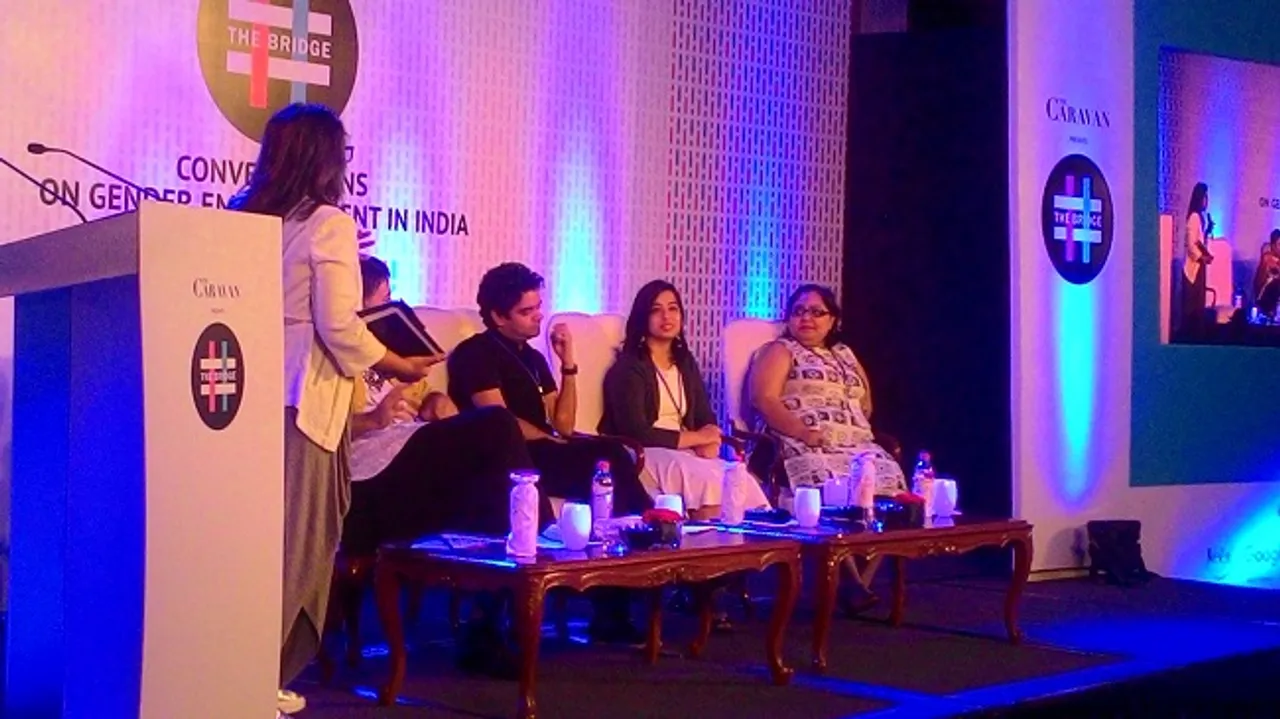 Love and dating have meant different things to different people, and let's be honest, for some it might be the whole happily ever after, but for others, it's a quest to get laid.
Meeting people used to be fairly straightforward, or at the very least pretty standard -- you met in school, college, a place of work.  Tech has changed all of that, though, hasn't it? From the traditional methods, to chat rooms on social media and then dating apps like Tinder, which are now the most popular way to go, in urban India. So how has the discourse changed for both genders? Has it really become as easy as it sounds to find your 'one and only', or your 'for one night only', depending on what you're looking for?
At a conversation during The Bridge, experts on this topic talked about the evolution of love, from the traditional to the modern.
Also Read: Western Feminism, Ancient India
"The shocking revalation is that people think that technology has enabled them to have sex while the truth is that people were having sex always so technology has nothing to do with it," said Paromita Vohra, a documentary film-maker and the founder of the Agents of Ishq - a multi-media platform on love, sex and desire.
What technology has enabled is the private space which is always in question in the Indian culture, she elaborated. "With chatrooms and mobile apps coming in one can make out or have personal conversations like sexting sitting right in front of others, while earlier we had to go out to other parks far from our own mohalla to make out with someone."
Editor at-large of Verve Magazine, Parmesh Shahani said that a decade ago when chatrooms were coming up people were necessarily contemplating on their own desires and then breaking free...And even now with apps like Grindr and Tinder, it's essentially the same.
He said that for him, the jarring bits are the most interesting, and what turn him on intellectually. "For example, gay men put up their naked pictures and in the bio they write looking for a serious relationship and not for sex," he said, leaving the audience at The Bridge Talks in splits.
Talking about how technology has really enabled the conversation between men and women, well-known film critic, and the author of Name Place Animal Thing, Mayank Shekhar spoke about the emancipation of men, who get a bad rap because of a few creepy guys around. The "few creepy men" give a bad reputation to all men in general. So in the real world, he said,  if you go say Hi to a woman in bar, she will think you're creepy...and then what are the places left for a guy to meet a girl, apart from school and college?
In that sense, he said, technology has created a space where men and women can talk, but let's not forget that Tinder also basically become a "slot-machine game", where the idea to is to win. When you match with someone that means you have won and then you swipe right to others. So instead of talking to the ones you have matched with you are just playing the game.
Taru Kapoor, the Tinder head for India and a Harvard graduate, weighed in on the implications for a woman who initiates the first chat. She said that from the very beginning our parents and society tell us to not talk to strangers, which inculcates that fear of the unknown. Also since a few guys are "bad" and all the guys get this sort of image, there seems to be no other avenue for the "95% decent men" to approach a girls offline. And of course for girls in a conservative society, it is a complete no-no.
"If a girl approaches a guy, guess what you are going to call her? Easy, slutty? etc.," she asked. "So it's even worse for girls. As a society, we have not had a safe space to interact for both men and women so the first time they have an interaction, they don't know how to talk to the opposite gender."
There was much food for thought, and so many interesting views combined in one discussion on love, sex and dating in the times of technology at The Caravan magazine's event The Bridge Talks, which SheThePeople.TV partnered.