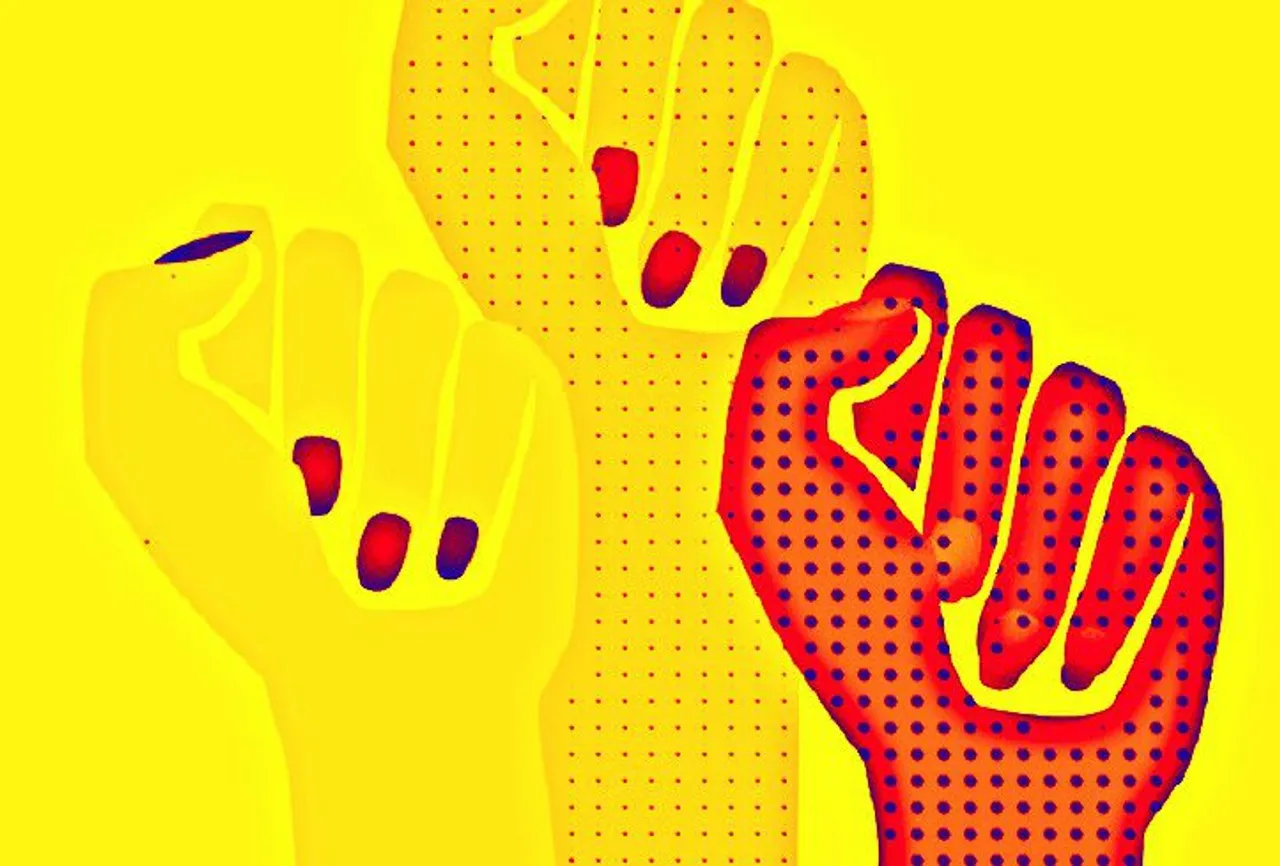 "Feminism. Women's rights. Women's empowerment. I think it's time we understood that we are essentially talking about the same thing." Shaili Chopra, founder of media + community platform She the People, summed up both the crisis and the need in the debate surrounding feminism, and feminist activism today, in a Facebook Live hosted by media partner Khabar Lahariya, as the pre-event catch-up to the main event. Suitably titled The Feminist Conference, the evening at St. Andrew's Auditorium in Mumbai on May 17th, 2018, saw a spectrum of voices and beliefs. All offering definitions and interpretations of the much-maligned, much-used F-word.
From young activists harnessing the power of social media while at the same time shaping it, such as Gurmehar Kaur and Trisha Shetty, founder of She Says, to veterans across fields, such as Dr. Syeda Hameed, former member of the Planning Commission and Beena Pallical from the National Campaign on Dalit Human Rights, The Feminist Conference was a packed space buzzing with fiery and feisty conversations, high on intelligence, wit, and humour.
Nishtha Satyam of UN Women India killed it with her nuanced statement on strong women, in the opening panel titled Inter-Generational Feminism, when she said, "For the longest time, we have thought that strength and vulnerability can't co-exist. Why is that? We are human, we are vulnerable." She followed it up with a classic example, "This one time I had tears in my eyes when I called my husband and he didn't pick up the phone, and my mother said, 'Yeh kaahe ki feminist? Sab dikhane ke liye hai kya? Pati ne phone nahi uthaya toh ro rahi hai!' And I was like, 'What does my feminism have to do with me getting emotional about a relationship!'" A thunderous applause followed, and Nishtha, we reckoned, picked up several followers in that moment of truth-telling! Trisha, on the same panel, pointed out what she saw as a disservice on the part of previous generations of feminists and the celebration of the strong woman, "When you speak with feminists and women who've gone past, they speak of endurance and strength. Women must endure. Women must endure." It is time for this narrative to shift she said, because this endurance myth has also led to the normalization of sexual harassment and assault – particularly the prevalence of marital rape. At the same time, Trisha was careful to add that the achievements and successes and struggles of past feminists have been excluded from collective memory – something that's perhaps the greater disservice. "Why don't we hear of Nangeli cutting off her breasts to oppose breast tax? Why don't we read about Bhanwari Devi? Or Dr. Hameed's story of undertaking a train ride throughout the length and breadth of this country, in the time of no social media, with bales of cotton that were used to collect signatures from women across India, in favour of reservation – why don't our books speak of these events?" Dr. Hameed had a wry starter of an argument, "It should be 50% actually, women are half of the population. I don't know how this magic number of 33% came to be set in stone." And she went onto speak of the challenges of being "the only woman in a panel of 11-12 deciding upon this 33%". Strategy and subtlety can be feminist tools too, after all.
It is time for this narrative to shift she said, because this endurance myth has also led to the normalization of sexual harassment and assault
Or yoga, for that matter. As put forth by plus-size yoga practitioner Dolly Singh later in the evening – she who can execute the most intricate and difficult of yoga asanas, with perfect finesse. "The day I mastered a headstand, I knew I had mastered it all", she said. Dolly spoke of the dissonance and white noise that surrounded her when she picked up her yoga mat and headed to a park, "any park" to do yoga in Mumbai where she lives. And how she shut it out, "I'm not doing this to lose weight. I am happy with my body." This was a panel on body shaming, titled The Politics of Body Shaming: Why are Women Constricted to Fitting In, and had, among others, plus-sized fashion blogger Amena Azeez speaking of the inherent discrimination in the world of fashion and why "a fat girl can't write about fashion even if she has a fashion degree". Meghna Pant, author and journalist, discussed "pregnant body shaming" in the era of yummy mummies, while Sreemoyee Piu Kundu, author of the recently acclaimed Status Single, spoke about who decides on the desirability of women's bodies. She cited instances of extreme vanity measures that women take frequently to be acceptable, to please the men, to fit in, et cetera et cetera. Sreemoyee's mention of the top cosmetic procedure amongst women – hymen reconstruction – drew sharp intakes of breath from the audience.
Cinema and Feminism, the popular panel looking at popular cinema, had the likes of writer Juhi Chaturvedi, director Alankrita Shrivastava, actress Shruti Seth, discussing the need for more women everywhere, but especially as Alankrita put it, "behind the camera". "Lipstick under my Burkha was the film it was because I made it," she said simply, saying so much with that one statement. Juhi spoke of the responsibility she feels she has as someone with "the most power" in the creative process, "We can lead the audience there. We can take them by their hands. We can decide not to write those same characters again and again." Shruti, a much-admired face and talent on TV's comedic scene described the regressive stereotypes Juhi alluded to, "Nobody expects you to be funny. You're just someone to laugh at." She displayed the wit that TV shuns when she said, "The humour is all around how miserable men are after marriage. I'm like, 'Hello! Women are miserable too. We're just returning the favour!'" The audience broke into roars of laughter, joking about how men and women are equal in this regard!
Sreemoyee's mention of the top cosmetic procedure amongst women – hymen reconstruction – drew sharp intakes of breath from the audience.
But at no point was the struggle undermined. The concluding panel, Women at the Grassroots, brought in the under-represented voices of Dalits, with Khabar Lahariya Editor-in Chief Meera Jataw, Svati Chakravarty Bhatkal of Pani foundation, Beena Pallical of National Campaign on Dalit Human Rights. Meera, representing a handful of Dalit women in the hinterland creating a revolution, recalled the early days of setting up Khabar Lahariya and the ripples of shock it sent across a patriarchal society, "The man at the registration office said, 'Women don't step out of the house, and you want to start a newspaper with them!' I told him, 'What's it to you? You don't have to run it. You do your job, and complete the registration formalities'." Svati, who travelled through India while working on the show, shared her learnings on how bad the situation is, "Women don't have a say over their own wombs"; while Beena made a point about the lack of visibility and representation of marginalized voices. When the larger, louder feminist argument is run by urban women, there is a lot of damage done too.
Women don't have a say over their own wombs- Svati
Visibility what at the crux of an earlier panel too. Titled All the Colours of the Rainbow: How We Can Build Inclusiveness into our Public Discourse, and brilliantly moderated by well-known equal right activist Harish Iyer, Sonal Giani, LGBT rights activist who identifies as bisexual, hit the nail on the head when she questioned the evening we were all part of, "We discussed body shaming and had no talk of how queer bodies and the politics of that shaming." Shobhna Kumar, founder of Queer Ink, got down to the numbers and what that says about us as culture, "How many mainstream movies have a queer storyline at the centre? How many books? How many TV shows?" Gauri Sawant reclaimed her identity as a woman and as a mother, "I don't have a uterus. But I am a woman. And motherhood is an emotion." She also spoke about the narrative of the feared other, and how we practically implant it inside our children's minds from the moment they become aware about their world – ensuring the scary hijra motif stays with us forever. She also took a successful dig at the audience when they applauded her, "Please don't clap. Kyonki hamaari taali se aap darte ho."
A diverse audience displaying an avid interest in all the panels, with many of them staying on through the hours, ensured a successful Feminist Conference. Gurmehar Kaur, as the keynote speaker, read from her book Small Acts of Freedom, and summed up her fight as she quoted, "I am a martyr's daughter. But I am not Your Martyr's Daughter." Popular slam poet Aranya Johar had everyone enthralled with her performances, especially A Brown Girl's Guide to Beauty that clocked in over 2 million views on YouTube.
Anchor and 'radio ki herioni', Radio Nasha RJ Rohini Ramanathan, who did a fabulous job of keeping everyone engaged, asked everyone to hold up the placards that read 'Feminist' as a gesture of support and love.
Here's hoping we all hold up the metaphorical placards outside auditoria as well!
Pooja Pande, Khabar Lahariya