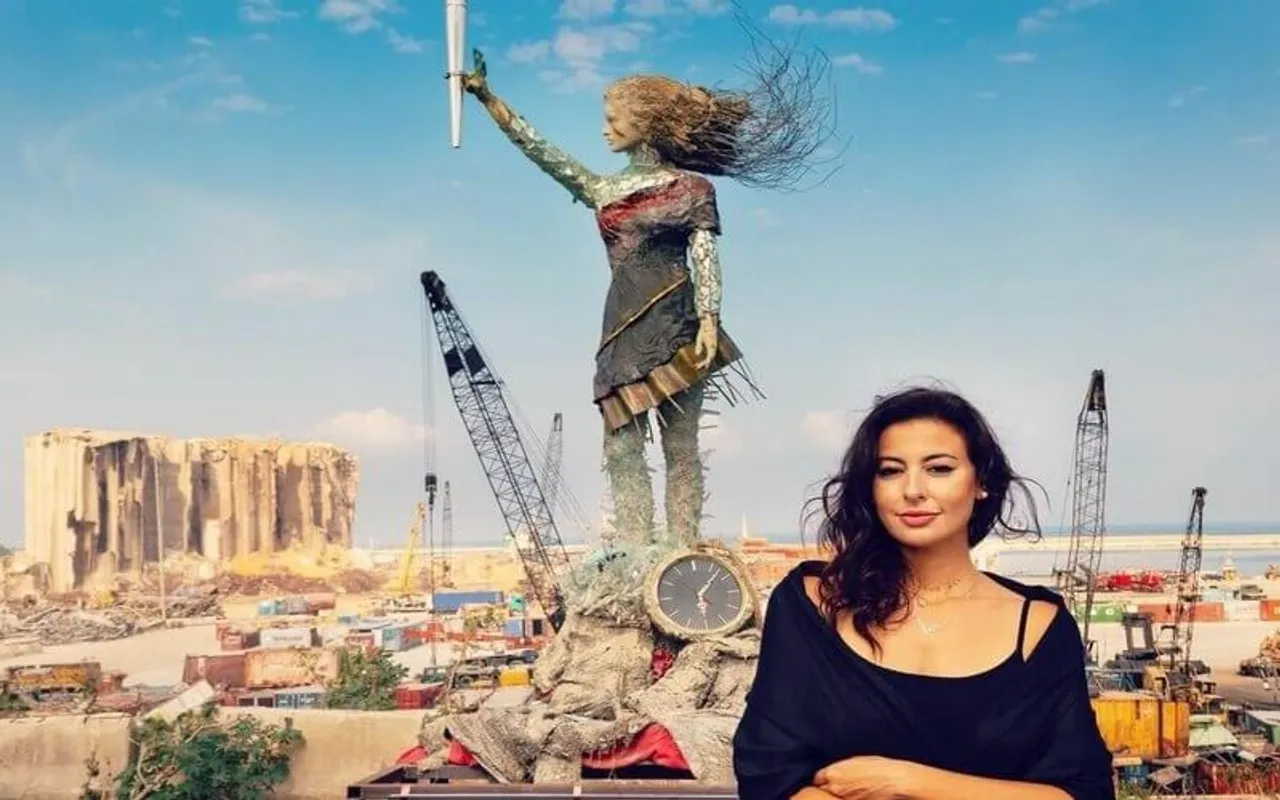 Lebanese artist Hayat Nazer has made a 2.6 metre-long statue completely from the debris of broken glass and twisted metal that were once part of people's homes before the Beirut port explosion due to a massive stockpile of ammonium nitrite that ripped the city apart. The deadly explosion took place on the evening of August 4 at 6.08pm, killing around 200 and injuring 6,000 people of the city.
A sculpture of a woman made out of rubble from the Beirut port explosion, has been created by Lebanese artist Hayat Nazer.

Latest world news here: https://t.co/dTmJvkE09c pic.twitter.com/8Jtp6RhbVd

— Sky News (@SkyNews) October 23, 2020
It symbolises Lebanon's hopes of rising from the rubble: Nazer
The unnamed statue, standing almost three metres tall, is of a woman with her arm raised and hair swaying behind her, away from her scarred face in the wind. She is also holding the flag of Lebanon. There is a broken clock at her feet, with the hands showing the time of the fatal accident, that is 6.08pm. The statue symbolizes the 'city's hopes of rising from the rubble'.
Also Read: Woman Protests Trump Immigration Policy On US Independence Day
Nazer told Reuters Television, "If you look at the statue, one half has a leg standing, the hand looks surrendered, and there is a scar on the face with the flying hair and the clock on this side, as if the explosion is still happening." She added, "But the other hand and the other leg is leaning as if it is starting to walk and the hand is raised, it wants to continue, it wants to keep going and rise from the rubble. And this is the truth, this is our truth."
So many emotions went into this: Nazer
On talking with CNN, Nazer said that she was 'traumatized and devastated' like everyone in Lebanon. "The explosion broke my heart," she said. She joined the residents who came forward to clean the debris and restore the city. It was during this volunteer exercise that she had the idea to create a statue using what all she had found that could inspire the people of Lebanon to unite and rebuild the glory of their city.
Also Read: NASA Shares Picture Of Astronaut Jessica Meir Playing Saxophone At International Space Station
Nazer walked the streets to find such stuff which could help her bud the statue and asked people about the same. "I was shocked. People gave me such valuable things- things from their childhood, their grandparents who died in the civil war, things they wanted to save for their children. So many emotions went into this," she said.
The inspiration to create the statue of the woman which would symbolise hope and peace came from the lyrics by Lebanese singer Majida El Roumi's 'Beirut, Lady of the World': "Rise from under the rubble". It took over two months to complete.
 

View this post on Instagram

 
 Picture Credit
Shikha Chandra is an intern with SheThePeople.TV