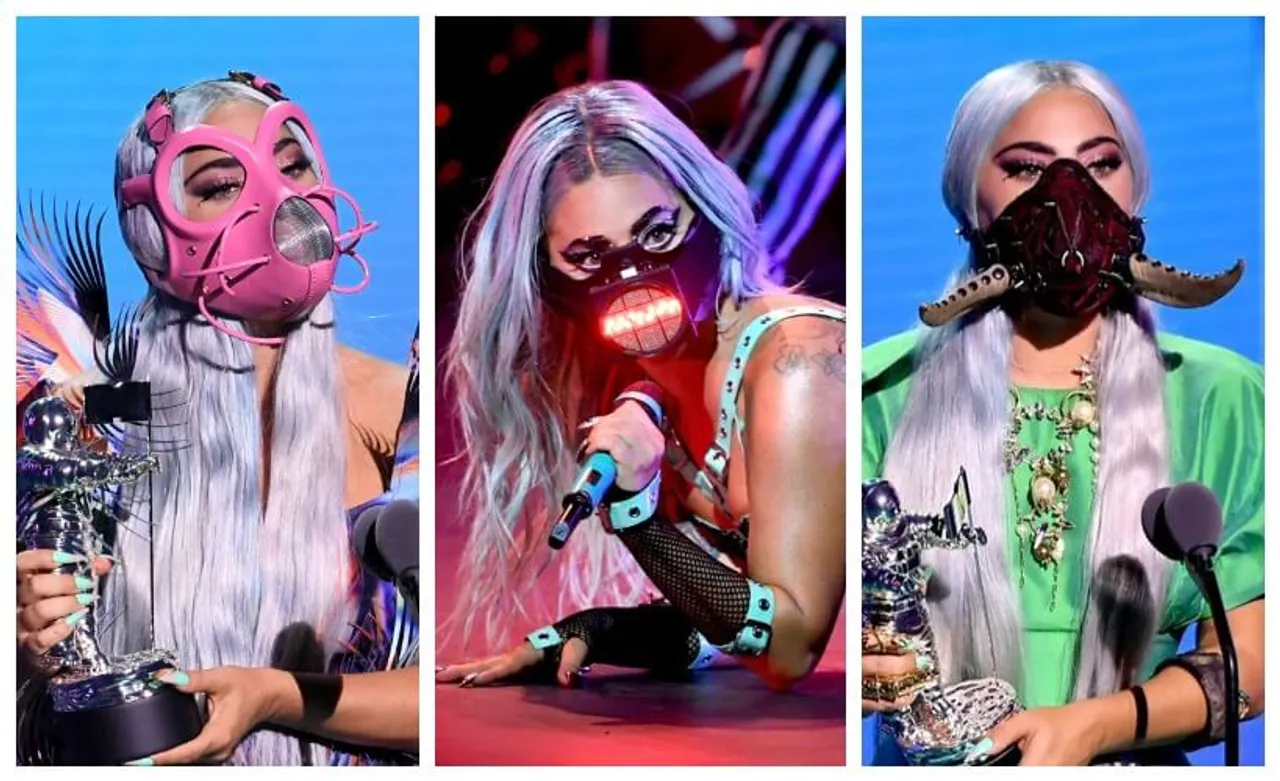 Lady Gaga singlehandedly dominated the 2020 MTV Video Music Awards, held on Sunday, in her surreal face masks. Gaga, who advocated and initiated a 'mask game' challenge earlier this year, paired seven stunning outfits with themed masks at the VMAs this year. Ever since the photographs from the event found their way to social media, fans of the Rain On Me artist cannot stop talking about them.
The 34-year-old artist not only used these masks in her performance but also when she walked on stage to claim her four wins. Gaga won the most awards at the ceremony, including the inaugural MTV Tricon Award and artist of the year.  "I truly never could've imagined that someday I would be given an award like this that honored me for so many of my passions," she said, while accepting the award. Gaga also urged viewers to mask up, while speaking at the show.
What You Should Know
Lady Gaga and Ariana Grande performed their latest hit Rain on Me at the 2020 MTV Video Music Awards on Sunday.
Lady Gaga's face masks at the event have caught the attention of social media.
She won four awards at the show, including the inaugural MTV Tricon Award and artist of the year.
Gaga was clearly a favourite at the Awards, with as many as nine nominations.
Also Read: Lady Gaga Opens Up About Dark Side Of Fame
Check out some of Gaga's impressive face masks from the evening:
This wild pink mask with ventilation
A Satan horns mask
And red LED light mask
lady gaga just performed a whole medley with her mask on, what's YOUR excuse? #vmas pic.twitter.com/1QQD7bROMy

— th💥mas (@gagasonion) August 31, 2020
For safety purposes, the VMAs were filmed without a live audience and most of the performances were recorded in advance.
Winner: The artist of the year/TRICON award mask
Gaga and Ariana Grande won two awards for their collaboration Rain On Me, and Gaga brought home a new lifetime achievement trophy, called the Tricon Award. "This has not been an easy year for a lot of people," Gaga said. "Stay safe, speak your minds, and I might sound like a broken record but wear a mask."
And the #VMA for Song of the Year goes to... @LadyGaga and @ArianaGrande for #RainOnMe! 🌨 👑 pic.twitter.com/4GNbBCF0Pr

— MTV (@MTV) August 31, 2020
Addressing the fans, Gaga added, "Everybody at home that is their own form of a Tricon." She went on to say for us to "think right now of three things that define who you are," and take a moment to reward yourself for your bravery.
Also Read: Pune Woman Buries Unclaimed Bodies Of COVID-19 Patients, Says It's Better To Die 'Fighting Corona'
"I know a renaissance is coming," Gaga said, "and the wrath of pop culture will inspire you and the rage of art will empower you as it responds to hardship with its generosity and love."
Feature Image Credit: 
Us Weekly