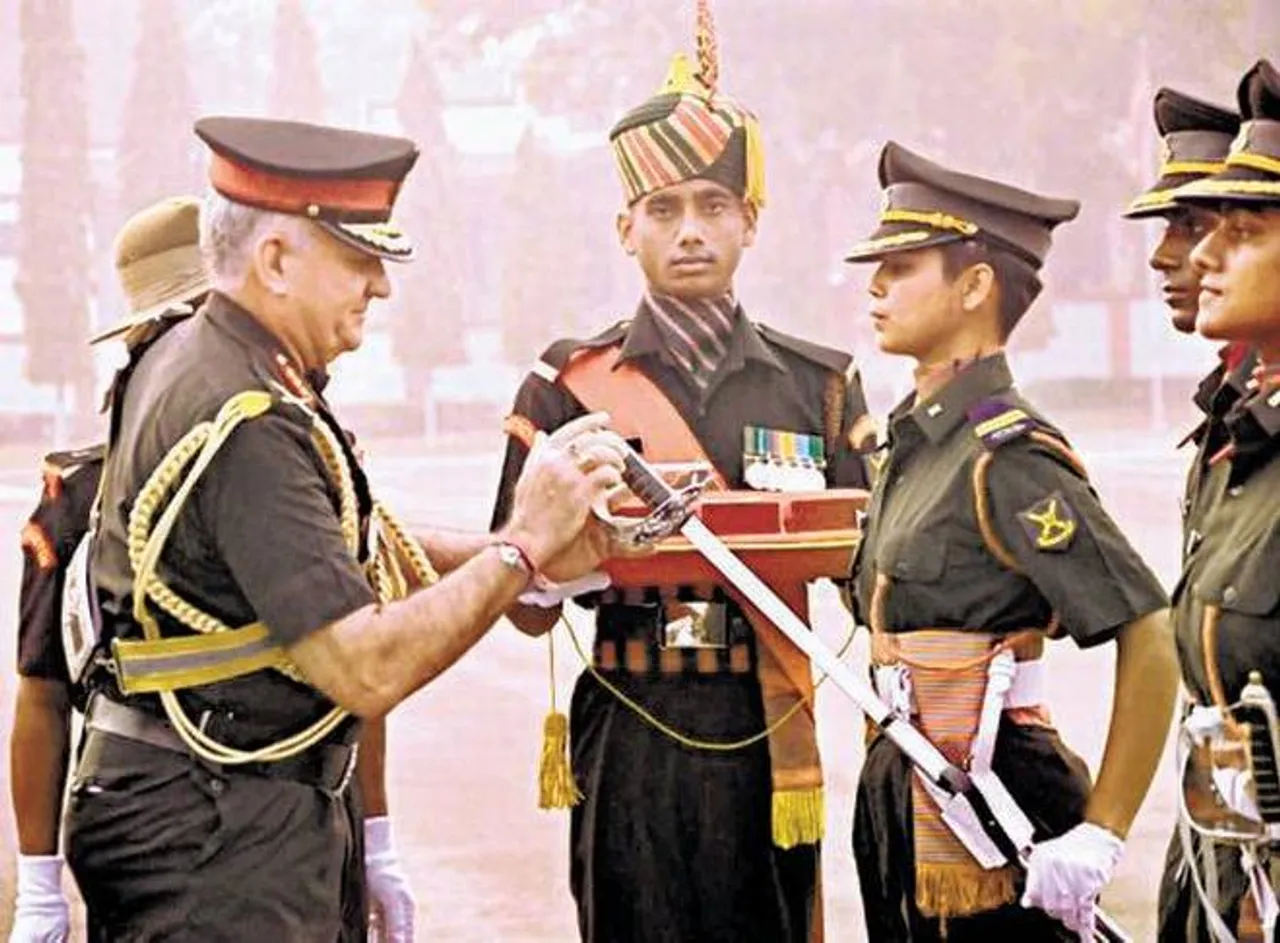 It was a moment of pride at the passing-out parade of the Officers Training Academy, Chennai, on the weekend when Cadet Preeti Chaudhary won the Sword of Honour. Senior Under Officer Vreeti was awarded a silver medal. This is the first time in three years that a woman has topped the list of honours. Chaudhary beat more than 200 men counterparts and bagged the overall prize, Sword of Honour, the Defence Ministry said in a statement, TOI reported.
Smartly turned Cadets march past at Passing Out Parade held at Officers Training Academy (OTA), Chennai. General Officer Commanding-in-Chief, Southern Command Lieutenant General Dewan Rabindranath Soni, reviewing the Passing Out Parade on 10 March 2018. pic.twitter.com/nwaS35J3xt

— A. Bharat Bhushan Babu (@SpokespersonMoD) March 10, 2018
These two women cadets have created history in the academy's 55-year run. Reportedly, this makes it the third time a lady cadet has topped a course and received this honour
Both women hail from Haryana.
A total 255 Officer Cadets - including 196 men and 37 women -- commissioned as Officers of the Indian Army -- passed out after a vigorous training at the Academy
Daughter of an Army officer, Chaudhary was always fascinated by the uniform. Like father Inder Singh, who retired as honorary captain, Chaudhary topped the course. On the other hand, the second in overall merit -- silver medallist – Vreeti is an automobile design engineer by education.
Also read: India women army officers talk about the hurdles they face
Congrats Academy Cadet Adjutant  Preeti Choudhary & Senior Under officer Vreeti  for creating history and  bagging the  coveted 'Sword of Honour' and 'Silver Medal' respectively at the OTA passing out parade.These two young lady officers are the motivation for defence aspirants. pic.twitter.com/UsPywJQp2O

— Harsimrat Kaur Badal (@HarsimratBadal_) March 11, 2018
"I don't know how to describe what I am feeling today. I am so proud. It is great to have won the honour, as lady cadets and gentlemen cadets competed on equal level in various aspects of training," an elated Preeti said during the ceremony.
READ: Martyred Colonel's Wife Swati Mahadik Now An Army Lieutenant
"My father laid the stepping stone and I came all this way. It is a great feeling to compete with a lot of lady and men cadets and beat them all," she said.
@SIDMIndia congratulates Cadet Adjutant Preeti Choudhary & Senior Under officer Vreeti, who beat more than 200 Gentleman cadets to bag the coveted 'Sword of Honour' & 'Silver Medal' respectively at OTA passing out parade @ADGPI @Subrata1522268 @shefchaturvedi @chaturvediAvani pic.twitter.com/2useTNId58

— Society of Indian Defence Manufacturers (@SIDMIndia) March 12, 2018
The first lady cadet to receive the Sword of Honour is Divya Ajith Kumar who achieved the feat in 2010. She was followed by M. Anjana in 2015.
Vreeti, commissioned to the Corps of Electronics and Mechanical Engineers (EME), said, "When I was working as a design engineer in a private organisation in Japan, I met Wing Commander Pooja Thakur, the first woman to lead the ceremonial tri-service guard of honour escorting US President Barack Obama and my life's motto changed from that moment."
1st time in the history of Officers Training Academy, two lady cadets secured the top honours, including the coveted 'Sword of Honour', at the passing out parade.
Lt. Preeti Choudhary received the Sword of Honour whereas senior under officer Vreeti was awarded the silver medal. pic.twitter.com/3BlcK6uzHS

— Neelam Rudy (@neelamrudy) March 11, 2018
Also Read: First Woman Army Officer To Win Gallantry Award Gets Permanent Commission
The Sword of Honour is bestowed to the First Cadet in overall order of merit after evaluating performance in exceeding tests, including physical tests, academic training, weapons training, leadership qualities, field engineering and drill apart from winning competitions like cross-country run, boxing, debate and others.
More women in armed forces: OTA chennai POP--Sword of honour to Preeti Chaudhary, Silver medal to Vreeti pic.twitter.com/8YN8ZSab9V

— Neeraj Rajput (@neeraj_rajput) March 10, 2018
(1/2) Elated that Haryana's Betis Academy Cadet Adjutant Preeti Choudhary & Senior Under Officer Vreeti received the Sword of Honour & Silver Medal respectively at the Officers Training Academy - passing out parade held in Chennai. Hearty Congratulations! https://t.co/o1WrpSEcnP

— Manohar Lal (@mlkhattar) March 10, 2018
Also Read: Fighting their own battle, 340 women gets permanent commission as officers in the Indian army
Feature Image Credit: Twitter