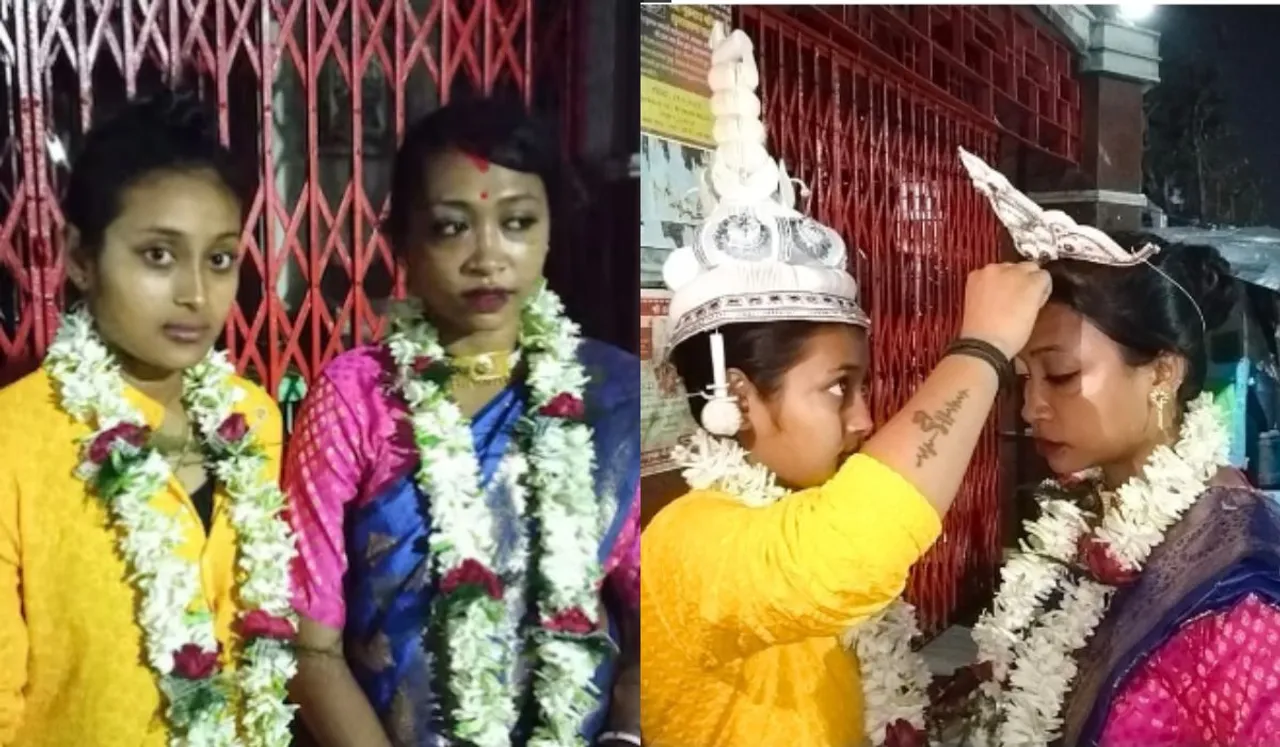 Two Kolkata-based women tied the knot in a public ceremony, defying social norms that are against same-sex marriage. Moumita Majumder and Mousumi Dutta chose to join in matrimony in the presence of a deity at their wedding in the city of Kolkata.
The couple got married at Bhutnath temple in the Aritola area of Shovabazar, Kolkata, according to Bengali rituals. The couple exchanged marital vows and had pre-wedding rituals such as haldi, mehendi, sangeet, and pheras. The couple is the third from the LGBTQIA+ community to tie the knot in Kolkata.
Kolkata Lesbian Couple Get Married
The couple recently travelled from Bangaon to Kolkata. As a symbol of strengthening their bond, Moumita has also taken up the responsibility of co-parenting Mousumi Dutta's two children. Moumita and Mousumi expressed their commitment to their relationship by declaring that they were inseparable, just as a tree cannot survive without water.
Moumita expressed her disappointment that, despite informing her family about her love for Mousumi and her intention to build a life with her, they weren't supportive of it. She had to leave home because her family disapproved of their relationship. Despite the odds, the couple was resolute to get married to each other.
The couple tied the knot by exchanging garlands, and Mounita applied vermilion to Mousumi's forehead. Despite society's stance against same-sex marriages and their family's reluctance to accept their relationship, Mounita expressed that they want to be with each other regardless.
The newlywed couple declared their unwavering devotion to each other by saying that they wish to remain together both in life and death. They added that the authorities should harm them simultaneously or ensure that they are safe as a couple if they wish to keep them alive.
After the incident went viral, the respective family members of the women raised concerns. However, the couple expressed their commitment to their relationship and agreed to face the challenges together. The video of the couple's marriage has been going viral, leading to a frenzy on social media.
The LGBTQIA+ couple who got married in the city were Suchandra Das and Shree Mukherjee, followed by Chaitanya Sharma and Abhishek Ray. It's a delight to see couples daring to break regressive beliefs and helping to build an inclusive society. While homosexuality was decriminalised in 2018, India has yet to legalise same-sex marriages.
The Supreme Court of India has been hearing petitions from the LGBTQIA+ community for the past month and is yet to deliver a verdict.
---
Suggested Reading: This Gay Couple's Grand Wedding In Kolkata Is Viral
---
Feature Image Credit: Images from India Today