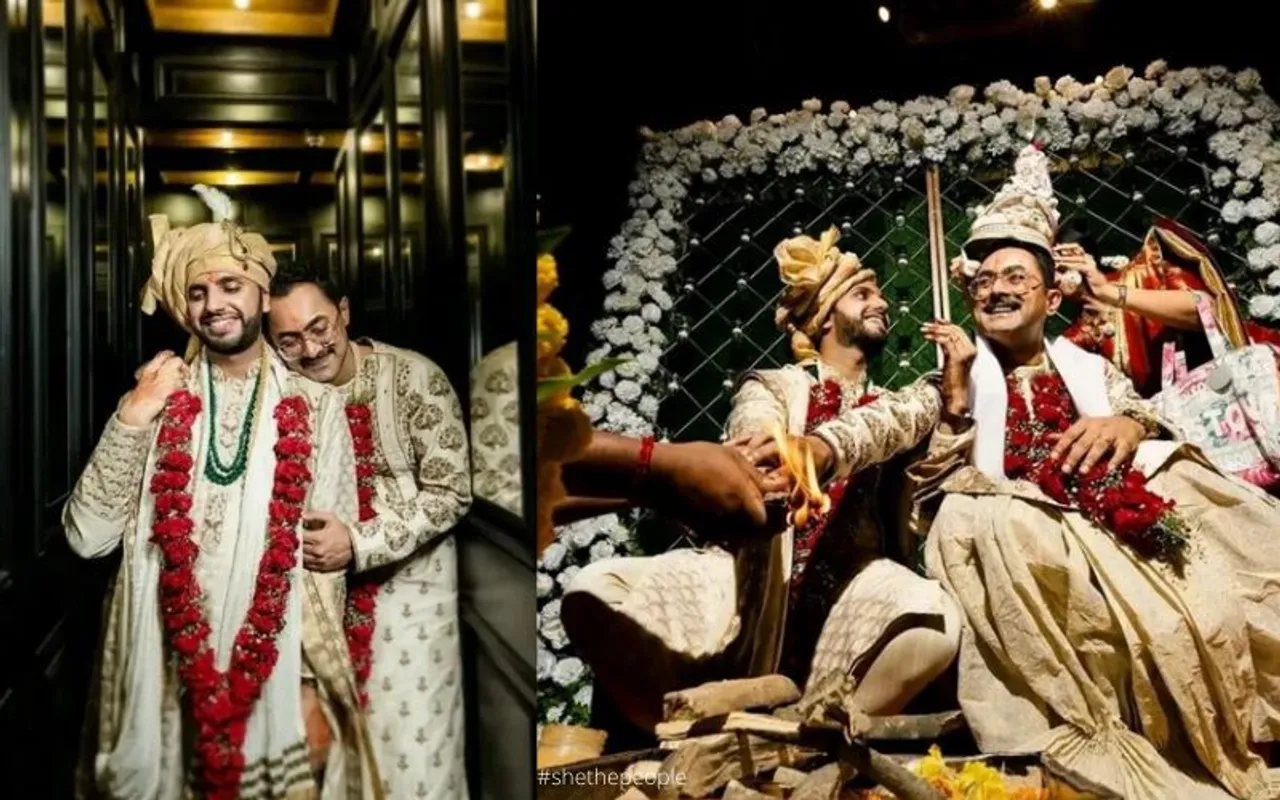 In a first-of-its-kind same-sex wedding in Kolkata, a gay couple Abhishek Ray tied the knot with his long-time partner Chaitanya Sharma. A rare sight in society otherwise, this marriage followed all the Hindu rituals from the varmala to the vows taken around the holy fire.
The couple Abhishek and Chaitanya ensured that all rituals were followed in this grand ceremony held in Kolkata. Reports revealed that the marriage was solemnised by a priest, who was seen chanting mantras as the couple exchanged varmalas and took vows around a holy hearth.
Kolkata has seen many same-sex marriages before, however, this wedding was the first of its kind, which adapted all the rituals in their ceremony. Reportedly, Abhishek Ray was on edge about how this wedding will be received by the netizens and had stressed upon how the community has  "at all times craved inclusion".
Kolkata Gay Wedding Goes Viral
Abhishek Ray, a designer from Kolkata revealed more about the wedding saying- "Folks live-in or carry out small features at dwelling once they wish to keep collectively. After we determined to marry, I instructed Chaitanya to do it in a means that it stays memorable for our family and friends." Rituals from both the Bengali and Marwari communities were adapted into the wedding, owing to the roots of the couple.
The pictures from the wedding have now gone viral on social media, with many LGBTQI+ represent accounts also posted about their wedding as it seemed like a wholesome piece of news. The pictures showcase the happy couple with their family and friends, in all the wedding ceremonies from the Haldi to varmala. Designer Navonil Das, a guest at the wedding spoke about how Ray and Sharma set an example with this ceremony. The couple had a signboard saying ''we do'' included in their wedding ceremony, which invited "conjecture and curiosity" he said.
Reportedly the priest was the most supportive throughout the ceremony, terming the couple as ''torchbearers'' and "extraordinarily progressive". He solemnised the marriage, by carefully explaining the mantras and their significance, and also telling to the couple how some mantras had defined gender roles and how it couldn't be used in the ceremony.
---
Suggested Reading: Delhi Man Ruthlessly Beats Dog With Iron Rod: Why Is Animal Cruelty So Common In India?