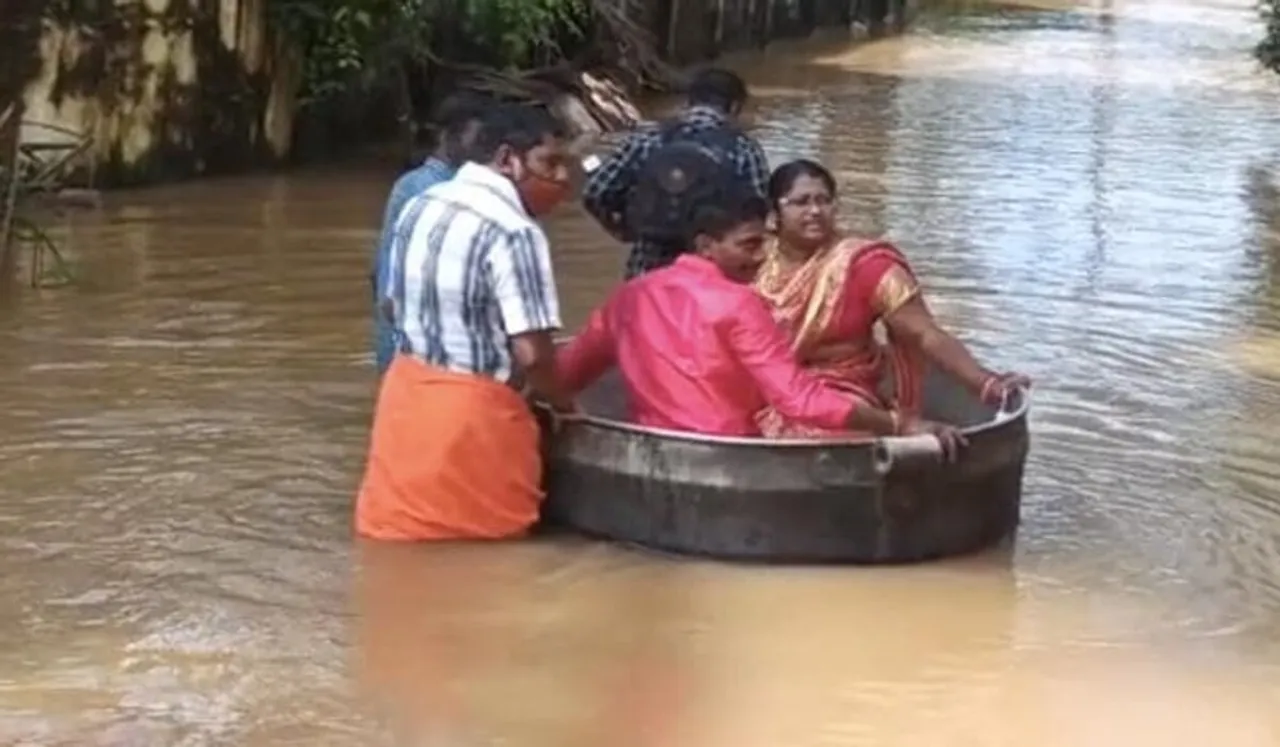 Kerala Couple Wedding Video: With the ongoing floods in Kerala, already 24 people have reportedly died in landslide and flood affected areas of the state. Amidst this tragic news, this story of a couple finding an innovative way to reach their wedding venue is winning hearts. This is how they refused to let the weather spoil or delay their wedding festivities.
The couple - Aishwarya and Akash used a large aluminium cooking vessel, and turned it into a boat, to reach their wedding venue, in Thalavady in Alappuzha district, which reported partial flooding. The two were set to be wed in a small ceremony today morning, with only a few family members and friends in attendance.
The video of the couple commuting to their wedding went viral online, after which a family member talked to reporters, and said that it was an auspicious time (the muhurath), and that they just wanted to get done with the wedding.
In the video, the soon-to-be-wed couple is seen sitting in the vessel as a couple of men push them through the flooded roads, with knee-deep water. Akash then turns back, smiles and waves at the person filming and Aishwarya sits with a wide smile.
In another video, they both are seen at the wedding venue, sitting in front of the priest, with their family members watching from a distance.
After the wedding, the couple talked to reporters who were covering the floods. They said that the guestlist for the wedding was small because of COVID-19 protocols. They also told the reporters that they were at the venue just two days ago, and there was no water then.
Both Akash and Aishwarya are health workers at a hospital in Chengannur.
---
Suggested Reading : 
Viral Video: In A Bhopal Gym Woman Thrashes Husband & Girlfriend With Slippers
Bhopal: Girl Forced To Remove Burqa By Mob, Video Goes Viral
Viral Video : Toddler Wins Users Hearts With Asking Permission To Say Goodbye To Aunt