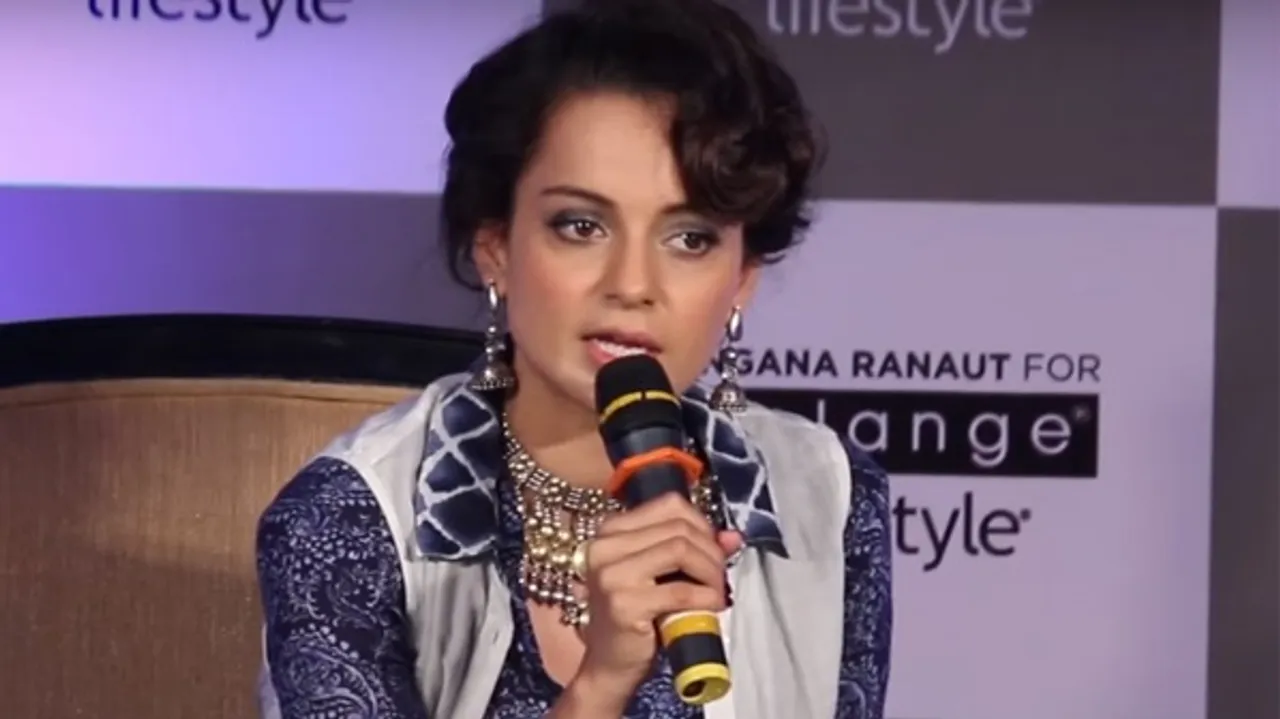 The nepotism debate is exploding. After Karan Johar, Saif Ali Khan and Varun Dhawan made a 'nepotism rocks!' joke at the IIFA, they received a lot of flak.
So obviously they have apologised. Karan Johar promised that he would not speak about nepotism because it would be ungraceful on his part. Varun Dhawan also apologised, and then Saif Ali Khan penned his apology in an open letter. However, the letter has been receiving a lot of flak for saying things like star kids are like well-bred race horses and how the film industry is run by an aristocracy, which means the best of the best.
In response, Kangana has written a brave and heartfelt open letter. Here are the top points of what we love about her letter:
"You talked about the relationship between genetics and star kids, where you emphasised on nepotism being an investment on tried and tested genes. I have spent a significant part of my life studying genetics. But, I fail to understand how you can compare genetically hybrid racehorses to artistes!" she writers.
She goes on to say that if his point was true, she would be a farmer back home.
"I believe that the human race hasn't found the DNA that can pass on greatness and excellence. If it had, we would've loved to repeat the greatness of Einstein, Da Vinci, Shakespeare, Vivekananda, Stephen Hawking, Terence Tao, Daniel Day-Lewis, or Gerhard Richter."
She says that nepotism is merely a weakness of the human nature, and it takes a great deal of will-power and strength to rise above our intrinsic nature.
She says that she doesn't blame those who are privileged, since they are part of the system which is set around chain reactions. It is the prerogative of the dreamer who learns to take his or her due, and not ask for it.
She talks about the importance of the arts. "The world is not an ideal place, and it might never be. That is why we have the industry of arts. In a way, we are the flag-bearers of hope," she writes.
She wants to encourage outsiders to try and get into the industry: "In fact, the subtext of all my talk on this subject has been to encourage outsiders to take the path less travelled. Bullying, jealousy, nepotism and territorial human tendencies are all part of the entertainment industry, much like any other. If you don't find acceptance in the mainstream, go off beat — there are so many ways of doing the same thing," she says.
The internet is loving the letter:
Kangana's clarity of expression and logic are always awe-inspiring. https://t.co/oy1u3HoD8I Kya sundar jawaab!

— वरुण 🇮🇳 (@varungrover) July 22, 2017
The more I read about the Bollywood privileged ganging up against Kangana, the more I respect her for standing tall. More power to her!

— Priyanka Chaturvedi (@priyankac19) July 18, 2017
Also Read: Nepotism Row: Saif, Varun, Karan Take A Dig At Kangana At IIFA 2017