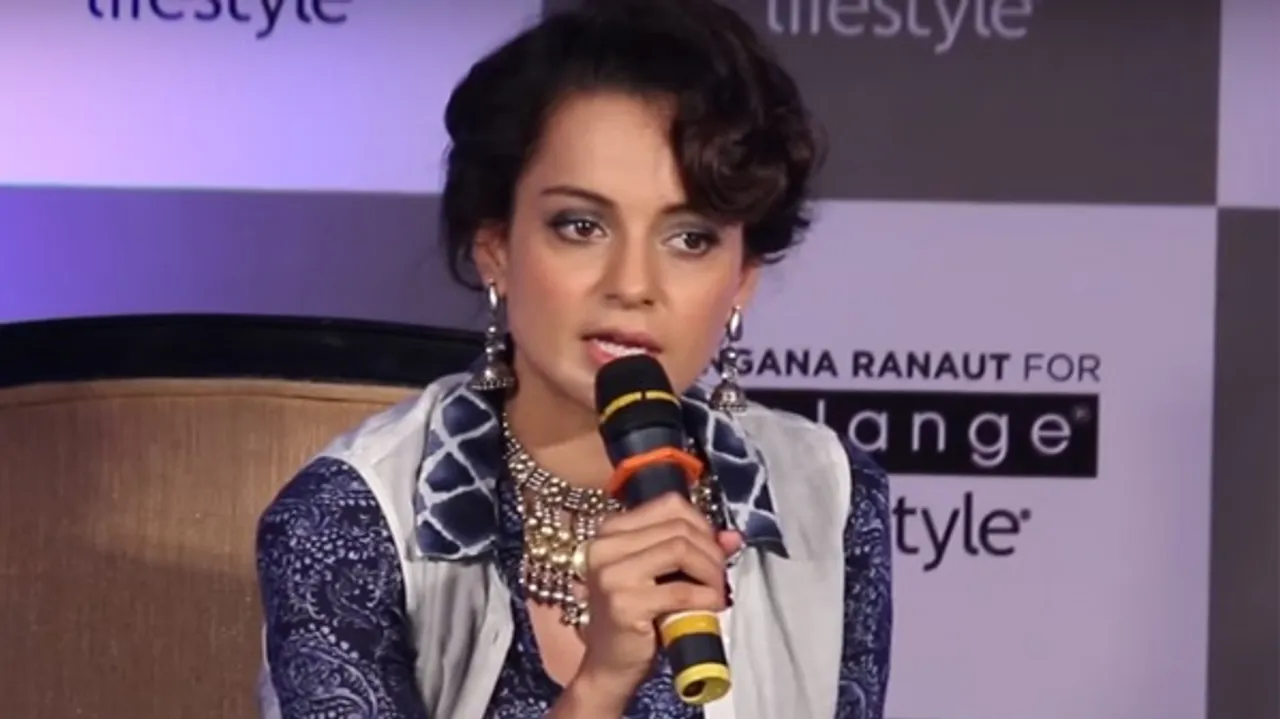 Actress Kangana Ranaut was rushed to a hospital after she received a serious injury on her forehead while performing a sword fight scene, Mid-Day reports.
The actor was shooting a sequence with her co-star, Nihar Pandya, on the sets of her upcoming film Manikarnika - The Queen Of Jhansi, where she was instructed to use a prop sword. Things didn't go as planned and the Queen of Bollywood had to be rushed to a hospital.
Speaking exclusively to Pinkvilla, Kangana said, "I am a bit embarrassed to be thrilled to have a battle scar on my face. Also, people from my team have been telling me that it's like that Peshwa teeka that Manikarnika wore. It's a bit dramatic, but I am excited that my face was covered in blood and I got a genuine and authentic glimpse of the Queen's life."
Also Read: Kangana Ranaut Ready To Turn Director
The actress will be coming back to the big screen after a long gap since Rangoon went down at the box office.
Kangana was struck on her forehead during the shooting in Hyderabad on Wednesday. She was immediately escorted to a nearby hospital.
"Kangana was immediately rushed to Apollo hospital nearby, where she was admitted into the ICU. She got 15 stitches on her forehead and will be under observation in the hospital for a few days. The examining doctor said that it was a close shave for her because the cut was too close to her bone," a production hand said.
Also Read: Kangana Ranaut features in armed forces video, pay tribute, shares a message
Meanwhile, producer Kamal Jain said that Kangana is a hardworking woman and she insisted on not to shoot the scene with a stunt double. Before she began shooting, this scene, it was rehearsed numerous times, but something went wrong.
"Kangana had to duck when Nihar (Pandya) attacked her, but the timing went wrong and Nihar's sword hit her forehead instead. It made a deep cut between her eyebrows. The drive to the hospital took a good 30 minutes, but she put up a brave front despite the pain and bleeding. Nihar was apologetic and felt terrible, but Kangana pacified him," he said.
READ: 6 Facts About Kangana Ranaut and her Long-standing Relationship with the National Awards
Manikarnika - The Queen Of Jhansi is scheduled to hit the theatres in 2018.
Also Read: Is Bollywood scared of feminism?
Join Us on https://www.facebook.com/SheThePeoplePage
Follow Us on https://twitter.com/SheThePeopleTV