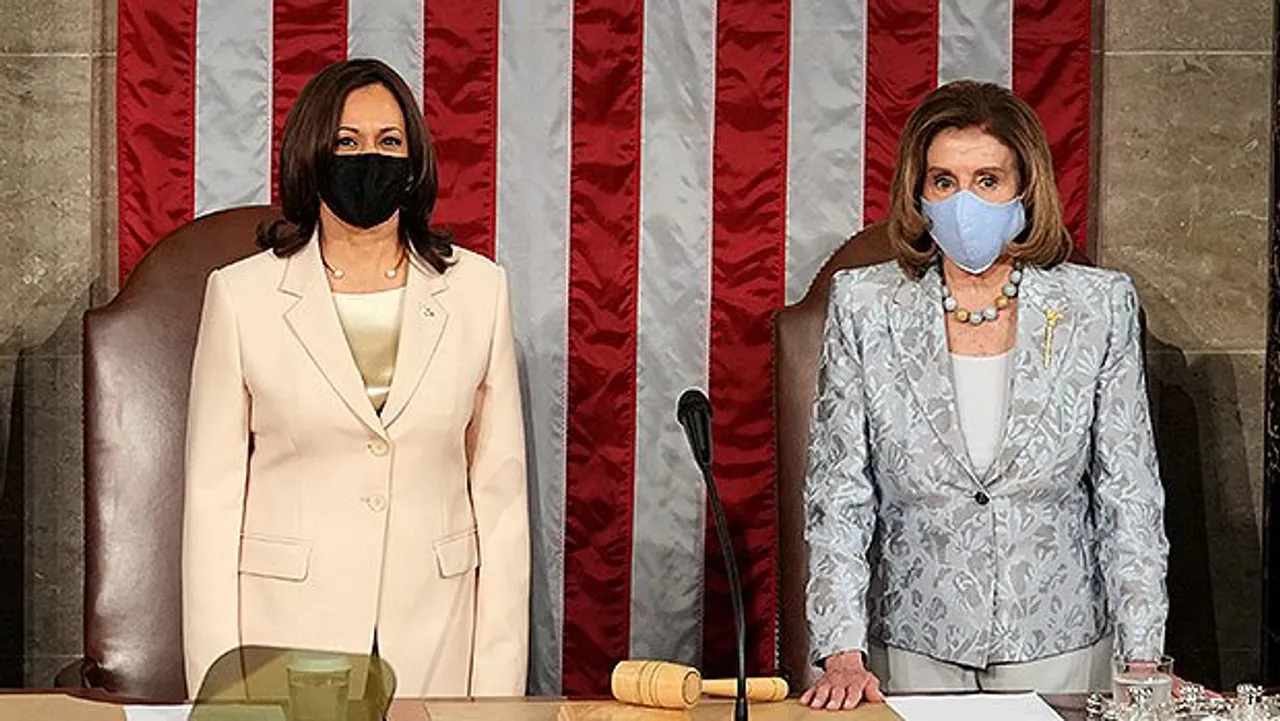 Kamala Harris Nancy Pelosi make history: Vice President Kamala Harris and House Speaker Nancy Pelosi made history on Wednesday as the first women to share the stage during a presidential address.
US President Joe Biden addressed his debut speech to a joint session of Congress with two top women taking their places beside him on the rostrum for the first time.
While Pelosi has been in the position before during presidential speeches, Harris, the first Black woman to serve as a vice president in the United States, took the seat for the first time in the nation's nearly 245-year history. "Madam Speaker. Madam Vice President," Biden began his address and clapped for the powerful women. "No president has ever said those words from this podium," he added, "And it's about time." First Lady Jill Biden and Second Gentleman Douglas Emhoff also joined in the ovation.
"Like so many women, I feel pride in this moment and seeing this representation," House Democrat Barbara Lee took to Twitter and wrote, "It's long overdue."
Excited for this historic moment.

Ready to hear @POTUS' vision for our future. pic.twitter.com/nmHL6GrVvz

— Rep. Barbara Lee (@RepBarbaraLee) April 29, 2021
"It's pretty exciting. And it's wonderful to make history. It's about time," Pelosi, 81, said hours before the speech. She made history by becoming the first female House speaker during Republican Bush's presidency. Harris, 56, made history last year when she became the first woman, first Black and person of Indian-American origin to get elected for the post of the Vice President.
Harris and Pelosi on Wednesday have marked another first in US and women's history. They are first and second, respectively, in the line of presidential succession.
Meanwhile, Madame Tussauds New York on Wednesday announced that Harris will be the first vice president to be immortalised as a wax figure. Harris will be celebrating her first 100 days in office and to commemorate that her wax figure will stand in the "Oval Office" section of the attraction's New York location, alongside a figure of President Joe Biden and other political leaders, starting later this year.
"Kamala Harris made history when she was sworn in on January 20th becoming the first woman, first Black person, and first Asian American vice president. Madame Tussauds New York is adding another first to Harris' list of achievements by creating a wax figure in her likeness; an honor that has never before been extended to a vice president," the wax museum said in a statement.
Careful, there's glass on the floor again...@KamalaHarris will be the FIRST vice president to be immortalized by Madame Tussauds Wax Museum! #VP #VIP #Achievements #president #politics #GlassCeiling pic.twitter.com/7t4tFUN1X0

— Madame Tussauds USA (@TussaudsUSA) April 28, 2021
Picture Credit: Hollywood Life