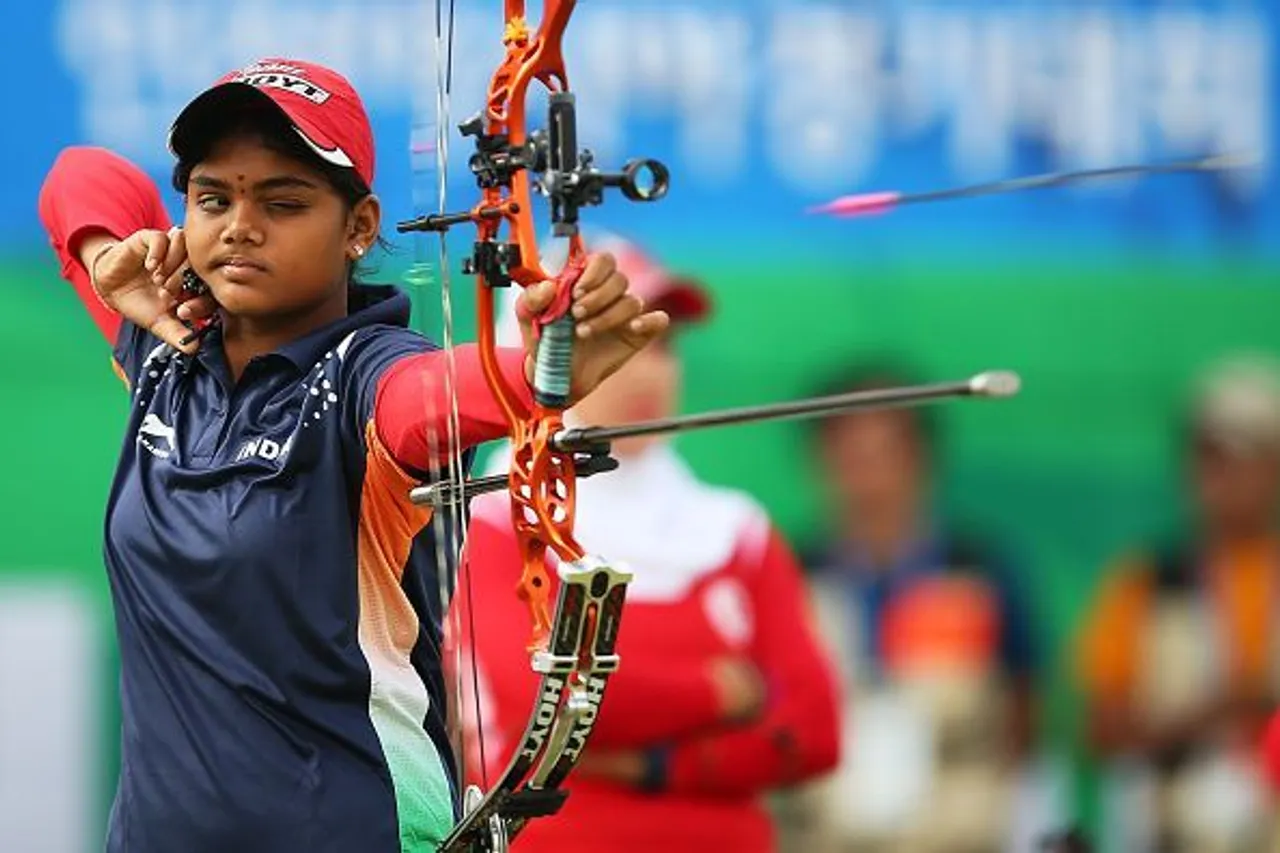 A young archer from Vijayawada Jyothi Surekha Vennam has won one gold and silver medals at the 21st Asian Archery Championship in Bangkok on Wednesday. The Arjuna Awardee clinched a gold medal with Abhishek Varma in mixed doubles and silver in the team event along with her teammates Muskan Kirar and Priya Gurjar. This was India's lone gold at the championships.
Jyothi and Abhishek triumphed over Chinese Taipei opponents Yi-Hsuan Chen and Chieh-Luh Chen in mixed doubles with 158-151 points. And, women's archery compound team comprising of Jyothi, Muskan and Priya Gurjar lost the battle to Korea in finals, going down 215-231 in a dominated event.
It was Jyothi's fifth time at the Asian Archery Championship, winning three gold, as many silvers and two bronze medals.
Jyothi Surekha Vennam and Abhishek Verma beat Chinese Taipei in the Asian championship final! 🥇🌏🏹 #archery pic.twitter.com/rbnjQmSj78

— World Archery (@worldarchery) November 27, 2019
Key Takeaways:
Abhishek Verma and Jyothi Surekha Vennam claimed the top honours in compound mixed pair event.
The duo fetched India's lone gold at the 21st Asian Archery Championships, with India picking up total of seven medals.
Defending their title in the compound women's team event, Jyothi, Muskan Kirar and Priya Gurjar lost the battle to Korea, going down 215-231.
In the qualification competition slated for Thursday, the women's team will look to bag the berths for next year's Tokyo Olympics.
  Read More: My Priority Is Taekwondo, Everything Else Comes After It: Afreen Hyder
We came, we saw, we shot🎯
Compound Archers @archer_abhishek and #JyothiSurekhaVennam bag 🥇 in the Mixed Team event as the the Indian Archers sign-off from the #AsianArcheryChampionship after a fine show! Read @olympicchannel report 📰 https://t.co/NcFPIWg2HI https://t.co/s7n2hrVYiy

— Team India (@WeAreTeamIndia) November 28, 2019
With Abhishek and

Jyothi

's mixed pair event win, India ended Asian Archery Championships with one gold, two silver and four bronze medal; seven medals overall.
This year Indian women's archery compound team of Jyothi, Muskan and Raj Kaur won bronze after defeating Turkey at the Archery World Championships in the Netherlands.
22-year-old Jyothi from Vijayawada, Andhra Pradesh, is one of India's best compound archers. Last year, Indian women's compound team of Jyothi, Trisha Deb, P Lily Chanu, Muskan, Divya Dhayal and Madhumita, scripted history at Berlin where they defeated Chinese Taipei to reach the final. The team made a quick jump from the fifth position all the way to the top in July the same year.
READ: Five-Year-Old Shivani Creates Two New Archery Records
From Computer Science to archery
Jyothi is a Computer Science graduate, currently pursuing an MBA and balancing professional archery alongside her academics.
Swimming was her first love and at the age of four, Jyothi entered the Limca Book of Records when she crossed the Krishna River three times, covering a distance of five kilometres in three hours, 20 minutes and six seconds. Since then she has won numerous national and international competitions, and has a 70-medal haul to her credit. While winning a gold medal in Olympics is the ultimate dream at this point, Jyothi indulged in archery after her parents pushed her into it.
Jyothi, a discovery of former India coach Ch. Lenin, she first came into the spotlight at the age of 13 when she won five medals, including the Olympic round gold in the Mexican Grand Prix held in Mexico. She also grabbed three silvers and a bronze in the FITA round in the same tour. In 2011, she bagged two bronze medals at the 2011 Asian Archery Championship.
Career highlights: 
Jyothi was the youngest ever to win the prestigious Arjuna award from South India for her excellence in the field of archery in 2017.
In April, she won the bronze medal at the Archery World Cup in Shanghai alongside Abhishek Verma.
At the Berlin World Cup, she won three silver medals in the women's team event and bronze in the mixed team. With this win, she ensured her entry into the World Cup Finals, which are scheduled to take place in September in Samsun, Turkey.
Jyothi has represented India in many international events and now boasts of more than 30 medals, which include eight gold and seven silver medals.
She was in the news last year for declaring an indefinite hunger strike in her hometown Vijayawada. As per reports, she did this as a response to the Sports Authority of Andhra Pradesh's delayed payment of Rs 1 crore cash prize which was promised to her by the state government.
In the Olympic qualification competition slated for Thursday, the women's team eyes to bag the berths for next year's Tokyo Olympics.
Feature Picture Credit: Sportskeeda