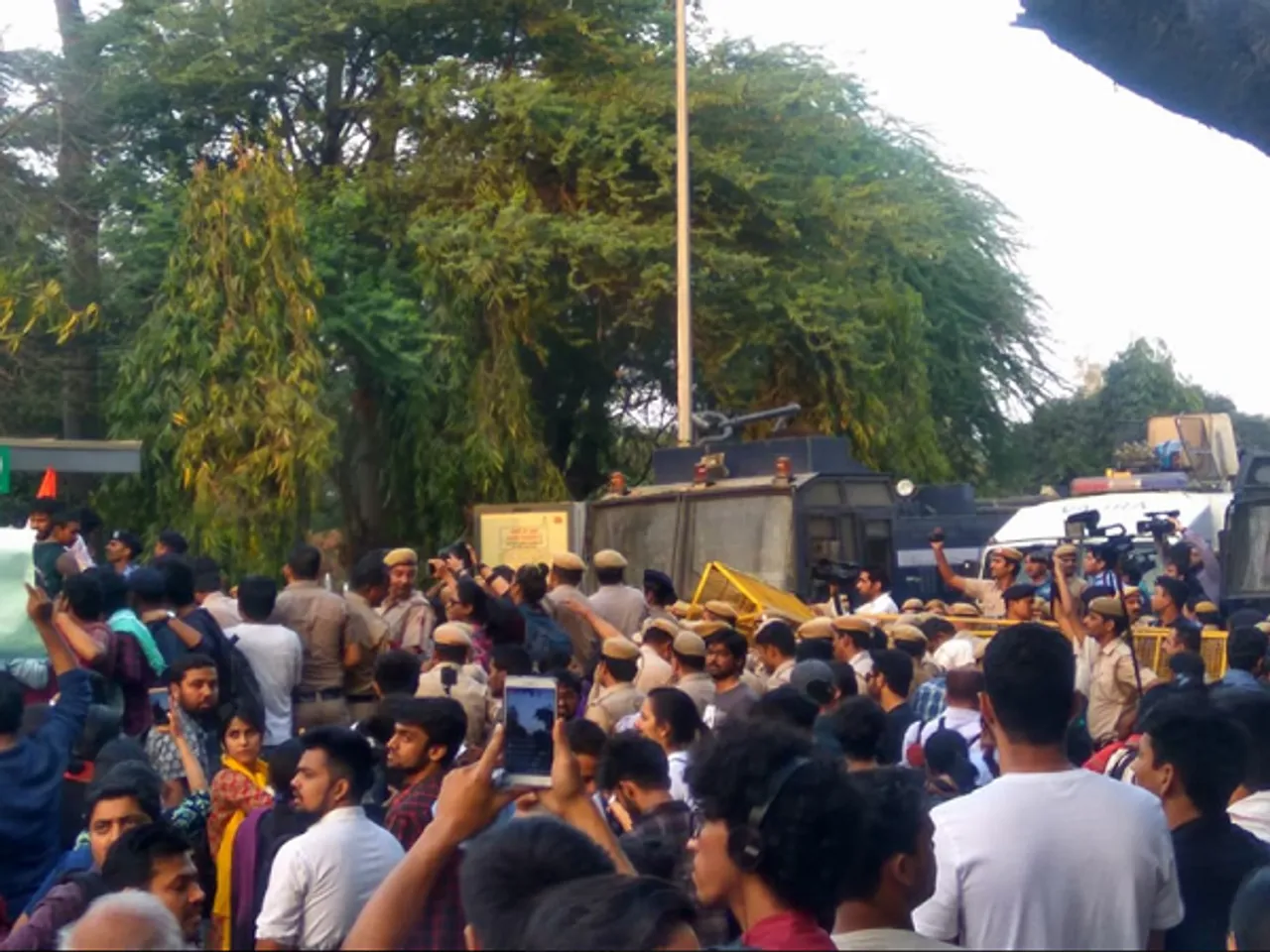 Jawaharlal Nehru University Students Union (JNUSU) and the Jawaharlal Nehru University Teachers Association (JNUTA) conducted a protest march on 23 March evening which turned ugly after the Delhi Police intervened and thrashed the students. Not just students, the Delhi Policewomen also beat up women photojournalists and reporters covering the protest march.
Female JNU student thrashed by Delhi cops today. She shared these pics on her Facebook wall. She says male cops hit her. There have been reports of molestations as well. Students were demanding right to affordable education. #JNU pic.twitter.com/I4p1oJtfPw

— deep halder (@daipayanhalder) March 23, 2018
Apart from this, the law enforcing agencies snatched the camera and other equipment of journalists and refused to return them.
@DelhiPolice lathi charged on JNU students teachers protesting against removal of several department heads for not complying with new attendance rules + arrest of Atul Johri for sexual harassment. Many students seriously injuredhttps://t.co/PafYTfgjDH @sabrangindia

— Kokila Bhattacharya (@KokilaB) March 23, 2018
Long March to Parliament - today #JNU teachers and students are marching to the #Parliament on foot for #genderjustice #socialjustice #academicfreedom #affordableeducation and against the concerted effort of @mamidala90 administration to destroy the university. #NotMyVC pic.twitter.com/dT1kqkQiJM

— Tanvi Kulkarni (@kulkarnitanvi) March 23, 2018
Group of @DelhiPolice personnel assault women #journalists covering #JNULongMarch , my colleague @Namita074 s CellCam damaged but she managed to film assault on HT photo journo @anu_fadnavis whose 📷 was snatched. Media once again becomes 'Easy target' @CPDelhi @GoNews24x7 pic.twitter.com/HiHis4KU8u

— Sidharth Pandey (@SidharthPandey) March 23, 2018
Many JNU students and journalists posted about the incident on social media lamenting the measures Delhi Police had to resort to curb a 'Padyatra' that the students and teachers were conducting to demand academic freedom.
The protesters started from JNU campus and decided to march till Parliament complex. However, the Police interrupted the march and started beating up the people present there.
"Never thought lady Delhi police officers would manhandle me while doing my job. They snatched my camera and I haven't yet received it," wrote photojournalist with Hindustan Times, Anushree Fadnavis.
Never thought I would be manhandled by lady delhi police officers while doing my job. My camera was snatched and I haven't yet received it https://t.co/qYXnCVyg7b

— Anushree Fadnavis (@anu_fadnavis) March 23, 2018
ALSO READ: JNU prof Atul Johri arrested in sex abuse case gets bail in an hour
Another journalist, Namita Singh, who was also covering the march, wrote, "What goes behind the camera to capture an event or a protest or even a small byte is something that mostly goes unnoticed. While covering #JNULongMarch, @htTweets journalist was also assaulted by @DelhiPolice ."
"Never thought lady Delhi police officers would manhandle me while doing my job. They snatched my camera and I haven't yet received it," - Anushree Fadnavis
JNUSU and JNUTA were also demanding the removal of Professor Atul Johri who had allegedly sexually harassed girl students at the School of Life Sciences.
Cop atrocity condemned
Netizens are condemning this atrocity by Delhi Police on JNU students and teachers who were trying to protest against administration hostility, right to education and sexual harassment in the campus.
Activist Teesta Setalvad wrote, "Shame Shame when a Govt and Police Turns On Young Silently protesting Students and Teacher."
Telegraph Journalist, Anita Joshua said, "@Namita074 & @anu_fadnavis They can break your cameras but not your spirit. More power to you."
Shame Shame when a Govt and Police Turns On Young Silently protesting Students and Teachers#StandWithJNU#JNULongMarch #SuspendJohri@geetakumari0 @MohitPandey @UmarKhalidJNU https://t.co/UFdKkaJKrs

— Teesta Setalvad (@TeestaSetalvad) March 23, 2018