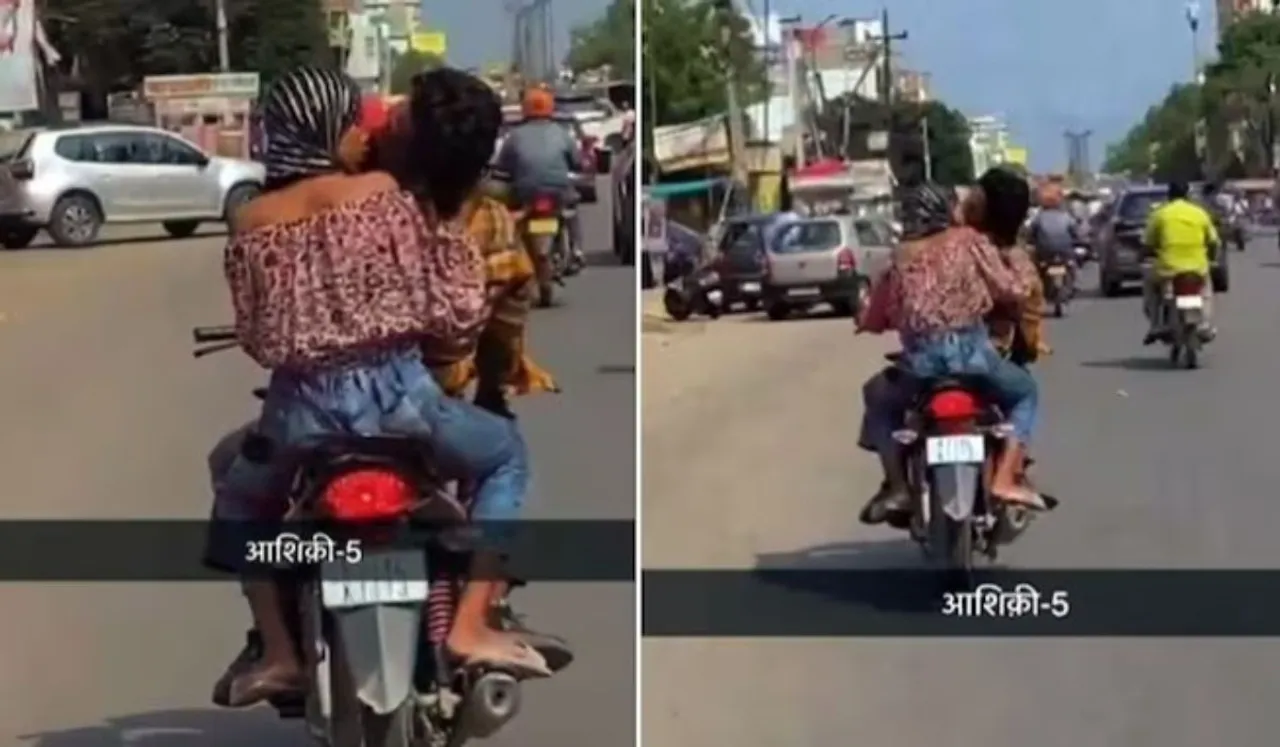 Public display of affection (PDA) can be an adorable act. However, some people have been creating a nuisance by indulging in objectionable acts under the guise of PDAs, causing disruption and discomfort to the public.
A couple in Jaipur, Rajasthan, were caught kissing on a moving bike amidst heavy traffic. A video of the same has gone viral now, which shows a man who is riding the bike sharing a kiss with the woman sitting behind him on a moving bike.
Jaipur Couple Kissing On Moving Bike
The man who is riding the motorcycle amidst heavy traffic is not looking at the road. His head is almost completely turned towards the woman pillion rider, and neither of them is wearing a helmet.
kitne ka chalan hona chaiye?@jaipur_police pic.twitter.com/HVq0Ufiq9Z

— rajni singh (@imrajni_singh) September 15, 2023
A fellow rider recorded a video of the couple kissing on a moving bike and shared it on social media. Within hours, the video went viral, and the couple faced severe backlash for being irresponsible. They are endangering not only their lives but also posing a potential threat to others' lives.
On being informed of the viral video, a senior traffic police official ordered action against the rider for violating traffic rules. The Jaipur traffic official said in an official statement, "We received a video of a man violating traffic rules and engaging in other activities on social media. Based on the registration number seen in the video, we obtained the vehicle owner's name and address and proceeded with legal action under the Motor Vehicles Act (MV) 1988 Act."
Delhi Traffic Police Condemns Couple's PDA On Moving Bike
Back in June, a video of a couple sharing a PDA on a moving bike in Delhi went viral. The clip showed a man riding the bike while the woman was sitting in front of him and hugging him. While the man is wearing a helmet, the woman isn't. The caption said that the incident happened on Delhi's outer ring road flyover near Mangolpuri on June 16 at 7.15 p.m.
The Delhi Traffic Police thanked the netizen for sharing the incident online. They further requested that people report such traffic violations on the Delhi Traffic Police Sentinel App and shared the link to the app.
---
Suggested Reading: Ayodhya Man Heckled, Harassed For Kissing His Wife; Why Is Indian Society Against PDA?