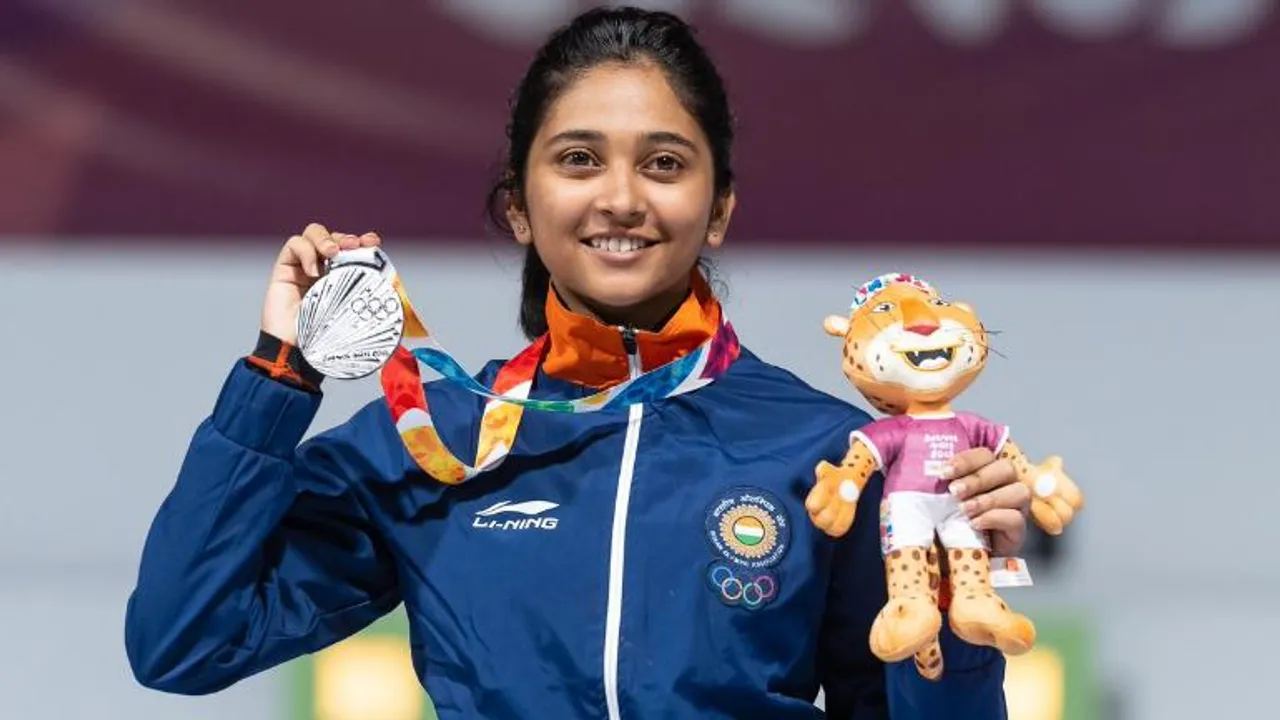 The ongoing International Shooting Sport Federation World Cup in Beijing, China witnessed a stunning victory in shooting when Mehuli Ghosh broke the national record while competing in the Minimum Qualification Score (MQS) category. She scored 632.2 to shoot her personal best at World Cups - the best qualification score among Indians.
She added another feather to her cap when finished second in the MQS section of the 10m Air Rifle event in the ongoing Rifle/Pistol World Cup on Tuesday. Mehuli finished behind China's Zhu Yingjie, who shot 634.4.
With this score, she shot not only the best score among Indian women competing in both the Qualification and MQS section, it was also the second the highest score overall in Women's 10m Air Rifle.
Mehuli's coach, an elated Joydeep Karmakar said, "She did shoot shot 632.7 previously, but that was in the Surendra Singh Memorial Championship in 2018, which is not calculated for the national record," Sportstar reported.
So happy today to shoot my personal best in World Cups. It was not easy & gave my every bit. Again a 600/600 with 59x was special 😋 thanks to all who supported me. 😍my parents, @OGQ_India @Mallcom_India @JKSAindia @Joydeep709 @OfficialNRAI @BibaswanGanguly @IndiaSports pic.twitter.com/dT6p5YJBLN

— Mehuli Ghosh (@GhoshMehuli) April 23, 2019
"It was very challenging today. When you are at the World Cup stage, it is never easy. Also, the fact remains that it is all a part of the selection process for Tokyo 2020. When you don't own a quota but the game is very much on, you need to be right up there. Each shot was a decider today," the CWG silver medallist said after the event, furthur talking about how does she cope with challenges.
The 19-year-old shooter from West Bengal then went on to speak about the difficulties she faces under pressure saying, "Yes, it (pressure) has been mounting, especially in the recent past. But then at the end of the day even if I get tired, I ask myself why I started all this and consider all the efforts that I have put in to reach here. Breaking records, of course feels good but then benchmarks are set to be broken."
Mehuli Ghosh breaks the national record at ISSF World Cup, while competing in the MQS category; scoring 632.2 - the best qualification score among Indians!#BlueRising #NationalRecord #Shooting #MehuliGhosh @GhoshMehuli @ISSF_Shooting pic.twitter.com/bmldMYLYDl

— Indian Sports Honours (@sportshonours) April 23, 2019
Mehuli will next participate in the Rifle/Pistol World Cup in Munich in May.
At the end of the day even if I get tired, I ask myself why I started all this and consider all the efforts that I have put in to reach here.
Also read:Who Is Sanjita Chanu? Know More about This Manipuri Star
Talking about Karmakar's Shooting Academy (JKSA), she said, "He is an anchor in my life and career. It is he, who transformed my thought process. JKSA is like a temple for me."
Meanwhile, it was a disappointing day for Anjum Moudgil and Apurvi Chandela who missed out on a podium finish in women's 10m air rifle  but India won the team medal with a total score of 1887.2. Both the ace shooters have already won India an Olympic quota in women's air rifle.
Earlier this year, the Youth Olympic Games silver medallist Mehuli, won the women's junior (under-21) 10m air rifle gold in the Khelo India Youth Games. She asserted a shooting scores of 629.4 in the qualification.
Last year, newbie Ghosh, a bronze medallist in her maiden ISSF World Cup outing in Mexico, bagged a silver at CWG. Ghosh (17) was a debutant who missed the gold by a whisker, in the women's 10m air rifle event.
Also Read: Does India take its sportswomen seriously?
Feature Image credit: India Today