India's finance minister Nirmala Sitharaman says Budget 2020 is a budget will enhance people's purchasing power and for our businesses to be healthy. "This is a budget for every woman wanting to stand up and being counted" says #NirmalaSitharaman as she presents the budget. Follow Budget and Her on specific announcements on women and small businesses and entrepreneurship here.
TAXES AND YOU
Significant relief to individual tax payer.  The NEW tax brackets are as follows and are applicable to those who forego other exemptions.
Rs.5-7.5 lakh - 10% now from earlier 20%
Rs.7.5-10 lakh - 15% now from earlier 20%
Rs.10-12.5 lakh - 20% now from earlier 30%
Rs.12.5-15 lakh - 25% now from earlier 30%
Above Rs.15 lakh unchanged at 30%.
Earlier Tax rates
The current tax brackets apply to the following annual income for individuals under 60.
Up to 250,000 rupees — no tax
Between 250,000 to 500,000 rupees — 5 per cent tax
Between 500,000 to 1,000,000 rupees — 20 per cent tax
Over 10,00,000 rupees — 30 per cent tax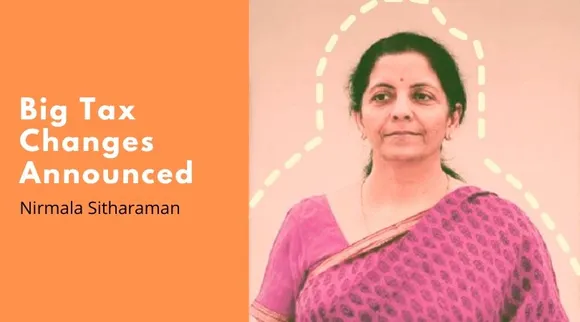 Nirmala Sitharaman Announces big tax changes
You and Your Money
Dividend distribution tax abolished
Insurance cover for bank depositors to be raised to Rs 5 lakh from Rs 1 lakh
Non residents can invest in certain govt securities
Boost for Startups
Taxes on ESOPs deferred by 5 years
Turnover threshold for audit raised to ₹ 5 Cr from ₹ 1 Cr
BUDGET AND HER
This is a budget for every woman wanting to stand up and being counte
Insurance cover for bank depositors to be raised to Rs 5 lakh from Rs 1 lakh
An inclusive approach to health, agriculture, digital India will ensure women are part of the growth story
Women SHGs can avail MUDRA and NABARD assistance in agriculture. Women in the villages would keep the seed in the village and now it's time for them to once again become Daanya Lakshmis.
Incentives announced for women in beekeeping.
Committed to doubling farmers' incomes by 2022
FM announces more hospitals, health infrastructure in new districts.
TB harega, Desh jeetega an effort to end Tuberculosis across India by 2025
More job oriented courses offered but no word on new education policy and what it might entail
Budgets allocated for skill development
"Respect For Wealth Creators, Won't Tolerate Tax Harassment": Government
Online Instant allotment of PAN on basis of Aadhar
Women and Child Welfare
"BBBP has delivered results," said Sitharaman. Gross enrolment ratio of girls across all levels of education is higher than boys. At elementary level it is 94.32% for girls against 89.28% for boys. In higher secondary girls are 59% plus while boys are at 57%.
Health of mother and child, which are correlated. Pregnant women, lactating mothers and others are benefiting from poshan abhiyaan (2017-18) said Sitharaman. More than 6,00,000 angadwadi workers are now equipped with smart phones to share status of health in their areas of monitoring.
As India progresses further opportunities open up for women to embrace them. Entire issue of age of girls entering motherhood needs to be seen in this light. Sitharaman proposed to introduce a task force to study marriage age to reduced MMR. "Women's age of marriage was increased from 15 years to 18 years in 1978 by amending erstwhile Sharda Act. of 1929. As India progresses further opportunities open up for women to pursue higher educational careers. There are imperatives of lowering maternal mortality rate as well as improvement of nutritional levels."
Clean Air
Government proposes to encourage states that are implementing and formulating efforts to keep their pollution levels low. Allocation of 4000 crore rupees for tackling pollution.
India Budget Women - What were the key announcements for women across sectors?
New Economy
It's now a cliche that data is the new oil. AI, analytics are changing the way we experience life. "I encourage private sector to create data centre parks around the country," Sitharaman said. For women working with knowledge driven businesses, this will be an opportunity.
A digital platform will be promoted to help capture intellectual property.
Knowledge transfer clusters will be set up
Mapping of India's genetic landscape is important. Two national level science schemes will be launched.
Also Read: Women leading AI in India
MSMEs
Scheme to provide subordinate debt by banks. Will be fully guaranteed by the trust for the MSMEs.
App based invoice financing for MSMEs
Education
By 2030 India will have the largest literate population in the world. We have higher number of graduates than jobs are available. Sitharaman talked of improving the financial support to education sector but didn't specify exactly how. An education policy will be announced she noted. Apprenticeship courses are expected to be set up within the existing education system.
Ease of Doing Business
Digital refund of duties for exporters
Move to make every district an export hub
Investment clearance cell to be set up at centre, states
National logistics policy to be launched
Entrepreneurship
"Entrepreneurship has always been the strength of this country. They take risks and come up with new challenges. We wish to remove roadblocks by creating an investment clearance cell via a portal." Earlier we spoke to entrepreneurs for their expectations on the budget. Nimmi Cherian, who founded Dailyrounds, wants the government to fix the fundamentally broken pieces of the economy. "Bringing more cash flow in the market, enabling people to buy more products through certain reforms will help our economy. Secondly, in the education and healthcare sector, for example in my startup, I would find it helpful if the GST slab is reduced even lower."