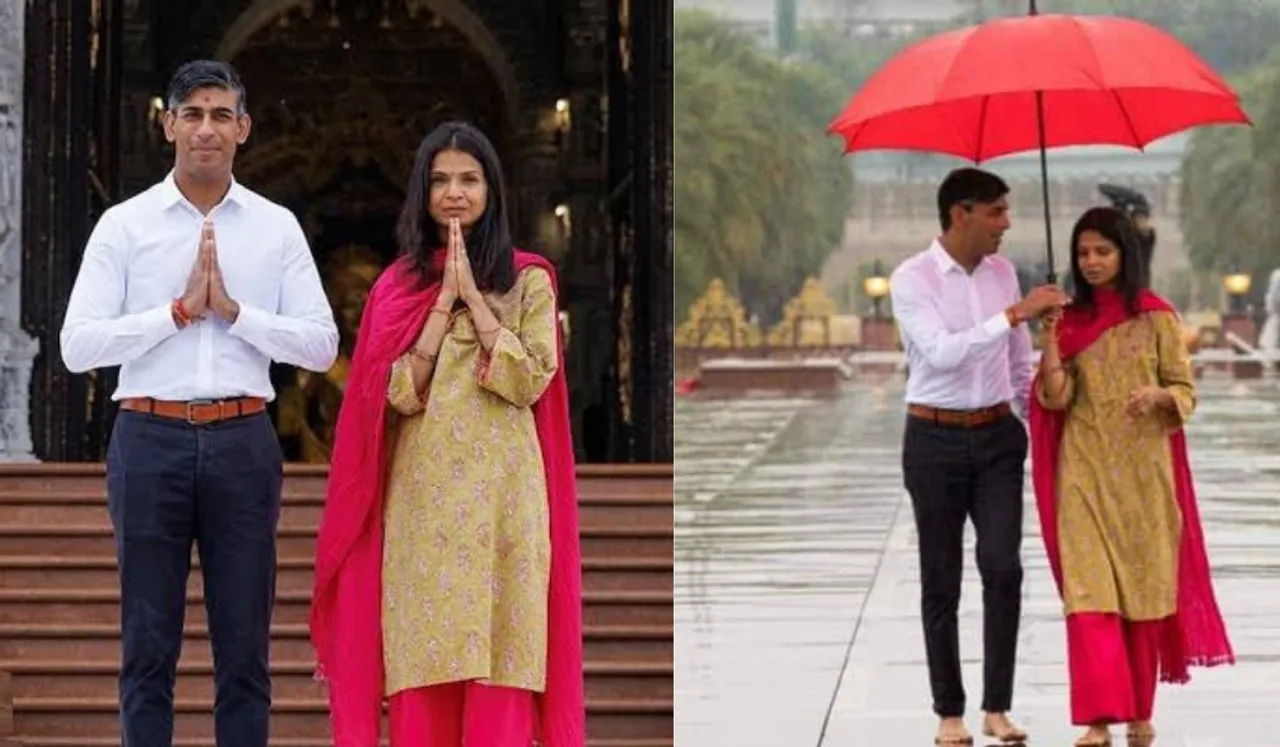 The United Kingdom Prime Minister Candidate Rishi Sunak and Akshata Murty have been married for 12 years. The couple has been under the spotlight following several controversies and due to Sunak's candidacy for Prime Minister. He had lost the election but after Liz Truss resigned he reentered the race. Sunak secured more than a hundred nominations, the minimum requirement to contest for the post. Sunak became the first Indian-origin Prime Minister of the United Kingdom on Monday, October 24.
Rishi Sunak served as Chancellor of the Exchequer until he resigned on July 5. He cited economic policy differences between Boris Johnson and him as the reason behind his resignation. Sunak announced his candidacy to replace Johnson on July 8 and is a frontrunner for prime ministerial elections.
Akshata Murty is the daughter of billionaire Infosys co-founder NR Narayana Murthy and educator, author, and philanthropist Sudha Murty. The fashion designer Murty's non-domicile status lead to controversy when it was revealed that she did not pay taxes for her income outside of Britain.
How Rishi Sunak Met Akshata Murty
Rishi Sunak met Akshata Murty, his future wife at Stanford University in California. Murty is a fashion designer who began studying for an MBA at Stanford University. There, she met Sunak, the winner of the Fulbright scholarship.
Within four years, they got married to each other in August 2009 in a two-day ceremony in Bengaluru. Sunak and Murty's marriage ceremony was attended by cricketers Rahul Dravid, the former caption of the men's national cricket team and Anil Kumble.
Murty's father said, "when I met Rishi and found him to be all that you described him to be – brilliant, handsome and, most importantly, honest- I understood why you let your heart be stolen".
The couple made the Sunday Times Rich List and were ranked at 222 on their annual list. Together, they have a joint fortune of 730 million pounds.
Following controversy about Murty's non-domicile status, she revealed that even though her tax arrangements were legal she would not pay UK tax on all of her income, including her overseas income.
During a debate, Sunak was questioned about the tax controversy and defended Murty and her family's wealth. He said, "I'm incredibly proud of what my parents-in-law built". Sunak added that Murty had resolved the issue and explained herself.
Rishi Sunak and Liz Truss are the final two candidates for the post of UK Prime Minister. With 137 votes, Sunak polled first amongst the Conservative Members of Parliament while Truss received 113 votes. According to a YouGov poll of Conservative party members, Truss will beat Sunak 54 percent to 35 percent.
---
Suggested Reading: Rishi Sunak and Akshata Murty: Their Million Dollar Love Story