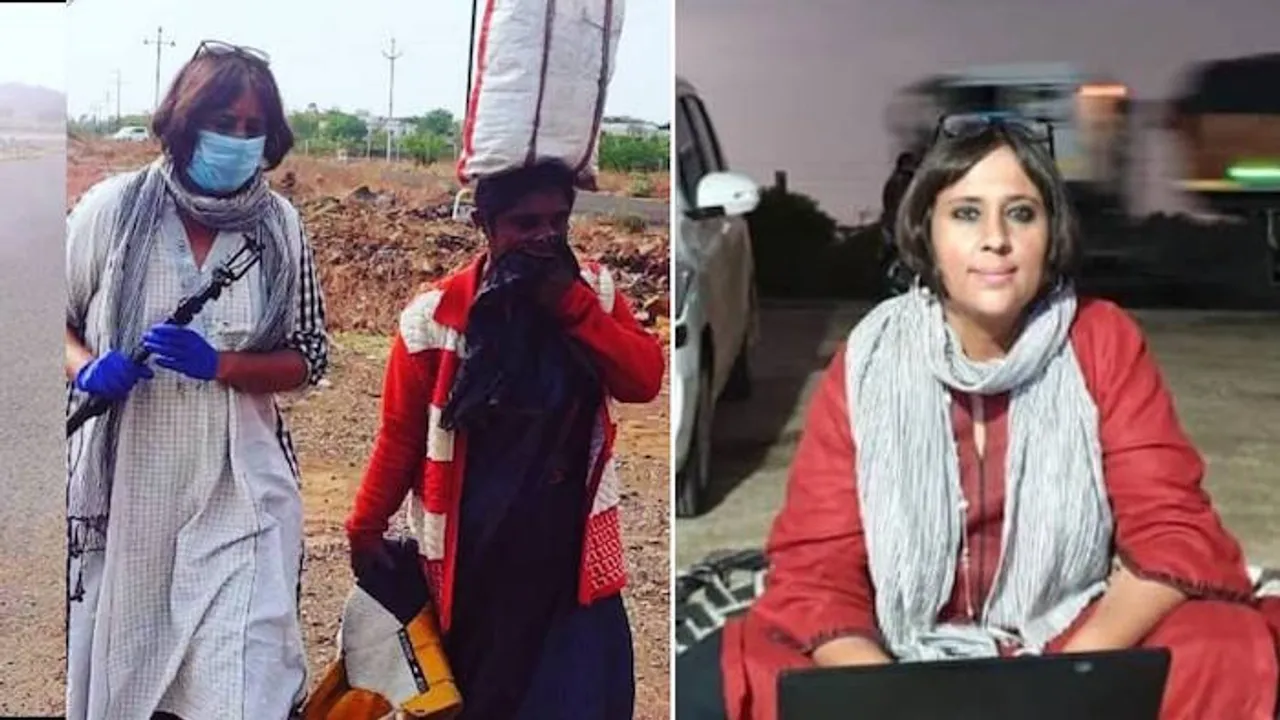 "There are some stories that you just know you can't understand sitting in your office or sitting in your house. You need to go out there," Barkha Dutt tells me on the phone. "And once I went out there, I understood the magnitude of what was unfolding."
She's been on the road for ten weeks now, covering the effects of the coronavirus lockdown, centrally the humanitarian crisis of migrant labourers suddenly out of work, walking along national highways to make it to their hometowns, children and possessions in hand, no reliable sources of food, water, shelter, or money.
"In the oddest places, you'll turn to a new road and you'll find people walking," she says. "You'll stop at a police barricade at 3 in the morning to be checked and you'll find people walking. It's like this repetitive experience: the expanse, the highway, the migrant walker."
As soon as the lockdown was announced, she began traveling around and eventually out of Delhi, to meet these worst affected, these "45 million Indians being rendered invisible," as she puts it.
She's reported from small towns and big cities and hospitals and trains and stretches of highway across the Delhi region, and then Punjab, Haryana, Madhya Pradesh, Uttar Pradesh, Rajasthan, Gujarat, Telangana, Maharashtra, and Karnataka.
Here's her primary takeaway: "The humanitarian crisis is being underestimated. People are living in penury, people are struggling for food… We're talking about survival and existential crises of the kind that are worse than what this pandemic can do to us."
She tells me about meeting the family of a house painter from Bihar who committed suicide. He pawned his phone for ₹2,500, spent ₹500 on a small fan and a little bit on rations, gave the rest of the money to his wife, and then he hung himself from a bamboo pole.
"When you see something like that, you think – this just isn't making sense anymore," Barkha says.
She tells me about another man, unwell and in need of a kidney dialysis, who was denied treatment because all local hospitals had been converted to COVID wards. Hospitals required that he be tested for coronavirus before they'd treat him and, in the three days of waiting on test results, he died. After his death, his COVID tests came back negative.
"The most depressing part," she says, is talking to the children of the migrants. "When you ask a child, do you get food? He says: I get food when the NGO comes and gives. The mother is domestic help, the memsahib has said don't come to work. There's no money, so there's no data on phones. There's no data, so there's no online classes."
"It's wrenched open an existing class divide, and it makes a certain class too uncomfortable," she says. "You have to tell a good story so people will care about it despite themselves, despite their guilt, despite their discomfort."
Telling those stories isn't easy: "You have five minutes with someone to capture the moment, to tell their story right. In that moment, you're just trying to be efficient while being empathetic. But then you carry the suffering home. You become an insomniac. You become volatile emotionally. I'm quick to laughter, quick to tears, quick to anger sometimes. I'm even-keeled in telling the story to camera but aside from that, there's no even keel left in me."
"My job has damaged me as a person," she laughs. "I'm not going to pretend. I think of myself as damaged in all manners, in all ways."
Still, she wants to be clear that telling the stories is infinitely easier than living them.
When I spoke to her, on her 50th day on the road, she was at her home in Delhi for a few hours' pause. Earlier that evening, returning from a day of reporting, she'd gone to Defence Colony and bought herself twenty boxes of Cadbury Nutties – an "obscene indulgence," in her own words.
"There are creature comforts that I enjoy and I have access to them and I can afford them. And then I go into these homes where someone has killed themselves, or a family has no food. There's dissonance. There's guilt," she says. "But I'm old enough to know there's nothing I can do about it, except do my best to tell an authentic story."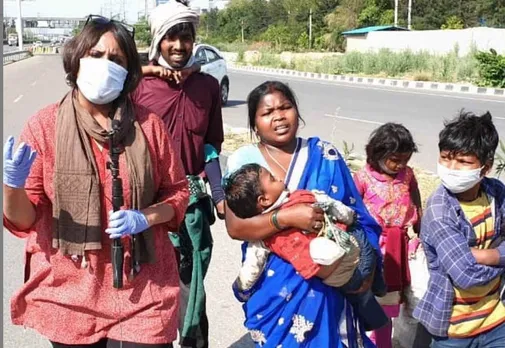 Barkha Dutt Reporting on India's Migrant Crisis/ Image Credit: Barkha Dutt
And so Barkha Dutt has travelled back and forth between the two Indias we've been split into: she's meeting those Indians starving on the highways, the migrants on trains, the grieving families huddled together in slums ("In this country, social distancing is such a luxury. It's stupid even telling someone in a slum, distance rakho," she says) and she's delivering dispatches to those of watching from our guilty homebound social distance, trying our best to be useful from afar.
"It's scary. I'm not going to bullshit you," she says. "There is that moment you say to yourself – 'what the fuck are you doing?' It's a complete mythology that someone like me is fearless. It's not that I don't shut my eyes sometimes and think – 'tomorrow, you're going to wake up with COVID.' But you tell yourself that you have to take every precaution that you can, you can't be an idiot, you have to be adult and be careful, you have to take care of the other 3 people you're traveling with. As a journalist, you can't give in to the fear. We signed up to do this. This is the biggest story of our lifetimes. How can we sit it out because we're scared?"
I think of her report from a mortuary in Indore, interviewing a group of men who've been performing last rites for those who have died of coronavirus. In it, she asks them: aren't you scared of getting sick? One of them tells her: "We do feel scared. But we do this because it's our duty."
But there are challenges aside from fear. Practical, tangible challenges.
There's the lack of bathrooms on open stretches of highway.
"My advantage in this is that this masterclass happened for me long back," she laughs. When she was reporting on the Kargil war at 28, she was on her period. Her car got shelled, her bag was taken away from her, she had no sanitary pads. "I had to manage," she says. "I had to go with a bottle of water in the mountains and wash myself. I had to use tissue paper instead of pads… I grew to develop a lack of self-consciousness. I'm now able to tell my male cameraman – stand here, I need to go take a leak. Cover this tire stand, I'll be back."
I think of the millions of women rendered homeless, walking along those same highways with no access to pads or bathrooms, without even car tires to hide behind or bottles of water to wash up with, or tissue paper to use.
Then there's the struggle to find shelter. "Even in war zones, there are places to stay," she says. "But here, now, everything is shut. And if you stay in some random place, there's a greater chance of contracting the virus. You can't control the sheets, you can't control the surfaces."
She tells me about being tired. "Everyone feels like they need a day off, and I'm not a saint. I crave clean sheets, clean loos, a good cup of coffee… You're soaked in mud, your shoes are breaking, your back is hurting."
But her exhaustion, her struggle to find food and shelter, her aching back – these are only windows to her, through which to understand the ongoing million-fold suffering of the people whose stories she's out to tell.
And along with seeing their suffering, she's also seen their generosity. When she's sat with broke and broken grieving families in their single-room homes, they've offered her chai.
"We've been surviving on the kindness of strangers," she says. "That's how I would characterise this experience – driven by other people's kindness and generosity."
She tells me about the dhaba owner who agreed to open up his kitchen at 3 a.m. despite it being illegal, so her team and her could eat daal and rotis. She tells me about the reporter in Indore who she'd met only once before in her life, who let her sleep at his home for three hours when she was feeling unwell after a day of reporting in PPE. The acquaintance in Kota who opened their guesthouse for her team. The people in Ludhiana who offered her shoes when they saw online that hers were torn.
"If there's a lesson here that's been redeeming, it's that people have cared. We've always heard that people don't care. But people do care," she says. "I wouldn't have been able to do this without these random acts of kindness."
When she posted a report about children who've had to pause their schooling because their families don't have phones or data plans, two different phone companies contacted her asking for details so they could help. Every time a report goes online, she receives calls and messages from people asking where they can donate to help the people she's just featured.
In the void left by effective, compassionate action by our government, India's citizenry is rising up to help one another.
When asked how those of us at home can help, Barkha says: "Feed four people every day and that would matter a lot," she says. "And if I'm in your neck of the woods, you can offer my driver and me a cup of tea."