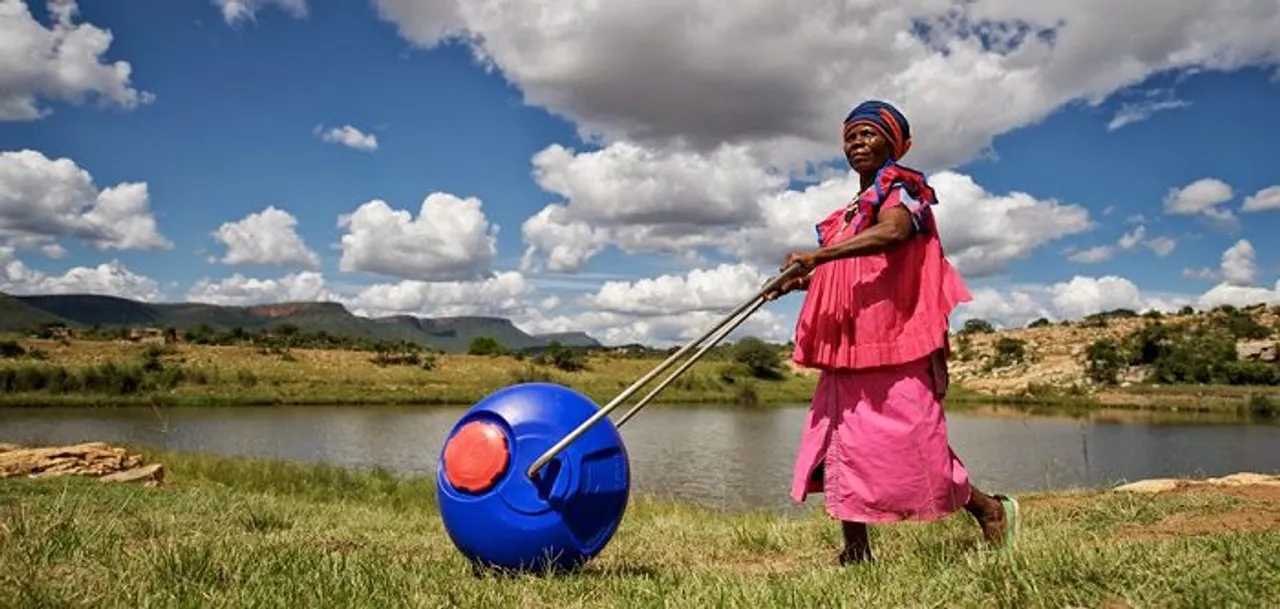 This water wheel invented by two individuals from South Africa, is saving a ton of time and effort put in collecting safe drinking water by women in rural Africa.
You can watch the video ">here
Also called the 'wheelbarrow' or the 'hippo water roller'. it consists of a  mechanism where there is a round container, through which water can be rolled from wells, and eliminates the act of carrying water on the head.
While some of you may wonder what this videos is about and why is it relevant in the Indian context, let me put forward a figure that will blow your mind. A United Nations Children's Fund report stated that women and girls across the globe collectively spend about 200 million hours every day collecting water. Shocked? In India, this is a reality and a daily routine for millions of girls and women.
Also read: Maharashtra women undertake 4 km walkathon to fetch water
A United Nations Children's Fund report stated that women and girls across the globe collectively spend about 200 million hours every day collecting water
Imagine a movie scene in a rural village, near a community well. Who all do you see? Women. Yep. It's an every day task for these ladies to fetch water for the household. They have to walk for miles before they even reach their destination.
UNICEF's Global Head of Water, Sanitation and Hygiene Sanjay Wijesekera told yourstory.com, "Just imagine: 200 million hours is 8.3 million days, or over 22,800 years. It would be as if a woman started with her empty bucket in the Stone Age and didn't arrive home with water until 2016. Think how much the world has advanced in that time. Think how much women could have achieved in that time. When water is not on premises and needs to be collected, it's our women and girls who are mostly paying with their time and lost opportunities."
Melinda Gates in one of her articles stated the time gap that women have to suffer with. The time spent in household chores collectively amounts for a huge number of hours that just go unaccountable. The time work gap amongst men and women is something that nobody talk about because it remains as a stated fact that people tend to overlook. Imagine if men and women could share their household work and balance out that time, women too could achieve better and more fulfilling things.
Also read: Tribal woman denied water access, digs well in UP village
Safe drinking water is precious, and the women who transport this water daily know its significance. As per  statistics, diarrhoea is the fourth leading cause of death among children under five and a leading cause of chronic malnutrition, or stunting, which affects 159 million children worldwide. It is caused due to consumption of dirty water. A lot of time is wasted in collecting and storing water, and if the water itself is contaminated then the effort spent in procuring it also seems like a waste.
Incidentally, a report by The Guardian a couple of years back mentions a similar contraption that was introduced in Rajasthan, credited to a US based social venture. While no data is available to confirm whether this product actually kicked off in India or not, the fact remains that this would definitely would be a life saviour for all the women in rural India.
Feature Image Courtesy: openbar.jp