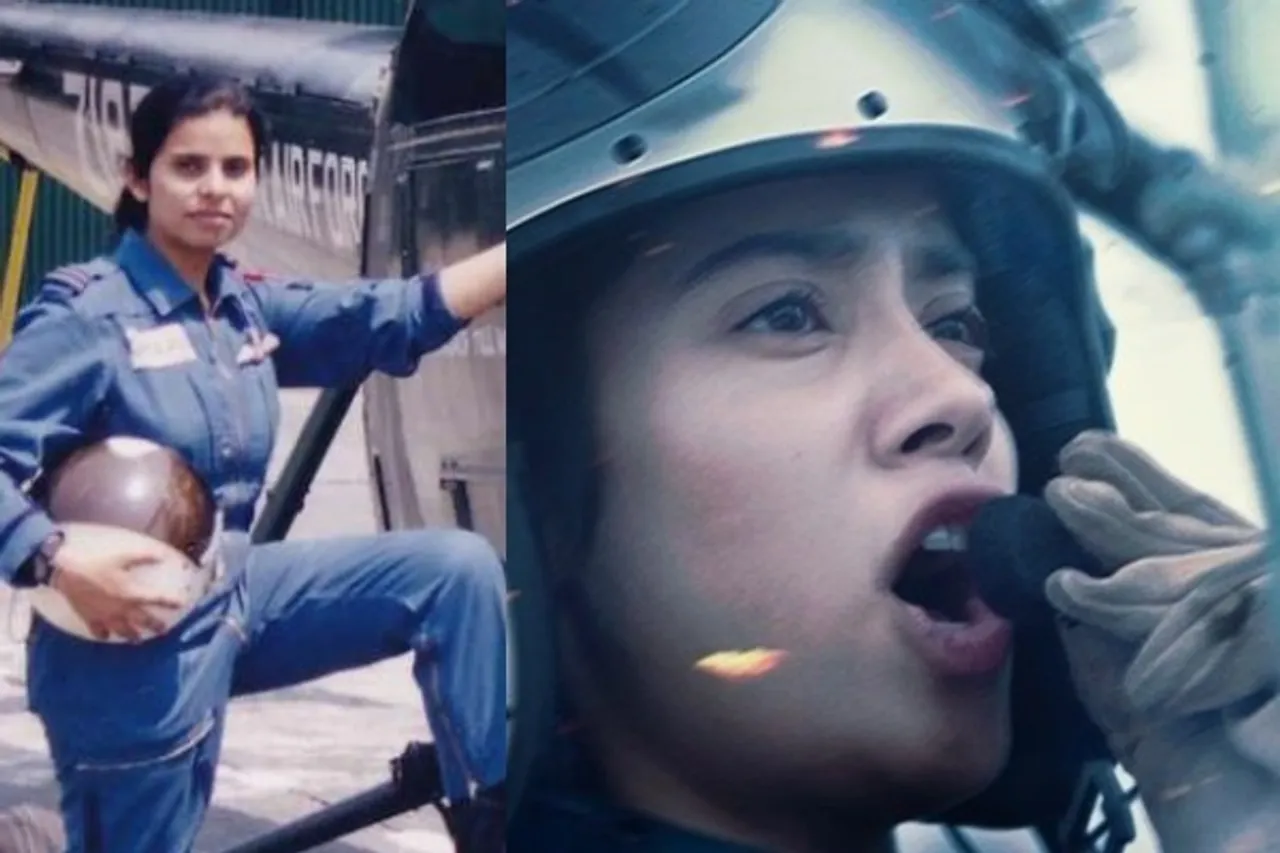 Flight Lieutenant Gunjan Saxena, long known as the "Kargil Girl" for being the first Indian woman pilot to fly in a combat zone during the Kargil War of 1999, has responded to the controversy surrounding her recently released biopic that has been come under attack for its "undue negative portrayal" of the Indian Air Force (IAF). The Dharma Productions film Gunjan Saxena: The Kargil Girl, which sees Janhvi Kapoor playing the titular role of the former officer, has become the object of ire for many air force officers since its release on Netflix on August 12.
In a blog written for NDTV, Saxena has testified in length about the claims and aspersions being cast on her, saying that it was "time to clear this dust." She writes that even though "some cinematic liberties" may have been exercised by the filmmakers and director Sharan Sharma, "what they did not miss or exaggerate was me, the real Gunjan Saxena."
Also Read: Gunjan Saxena, salute the first Indian woman who flew in Kargil's combat zone
IAF Is Not Discriminatory, But Individual Experiences Must Be Accounted For
As reported earlier, the IAF also wrote to the Central Board of Film Certification (CBFC) and Karan Johar's Dharma Productions, complaining that certain scenes and dialogues in the film were "misleading" and that they portrayed "an inappropriate work culture especially against women in the IAF." The letter led to many social media users condemning the film and asking for its boycott.
Saxena in her blog elaborates about the claims of gender bias in the IAF as shown in the film, writing, "The IAF as an organization is not into institutional discrimination, be it on gender or anything. I can speak for myself. When I joined there was no discrimination at the organizational level. But yes, individually, no two people are the same..."
Saxena adds that completely denying the presence of any gender prejudice in the forces would speak "of a feudal mindset" and undermine "the grit of women officers." She writes, "I also combated the difficulties of prejudice and discrimination at the hands of a few individuals for being a woman."
Also Read: To Watch Gunjan Saxena: The Kargil Girl Or Not, Should Nepotism Debate Be The Deciding Factor?
"Those Were My Credentials, My Achievements, They Are Not Lies"
Retd. Wing Commander Namrita Chandi in a piece for Outlook wrote that the film shouldn't "peddle lies in the name of creative freedom." She claimed that "Srividya Rajan was the first lady pilot who flew to Kargil – not Gunjan."
Saxena has rubbished these rumours, writing, "Those were my credentials, my achievements. That is my hard-earned trophy and I will never let anybody with vested interests point a finger at it." She goes on to say that an article by a "so-called expert on my affairs has even claimed that I was not the first woman pilot in the Kargil war," and that calling her achievements "peddling of lies" would mean "questioning the very authenticity of the Air Force."
Also Read: 'It's Offensive' – Air Marshal Reveals What Reel life Gunjan Saxena Gets Wrong About Air Force
"I Didn't Want To Crib About Mundane Issues Like Toilets"
In an exclusive interview with SheThePeople, Air Marshal Dhiraj Kukreja, Retd. Air Officer Commanding in Chief of Training Command, said that "teething problems" such as proper infrastructure and toilets for women officers were a problem in the academy earlier. But he added that "necessary facilities such as toilets and changing rooms" for women officers were prepared "on a war footing."
Saxena in her blog attests this by writing, "Never in my initial years of service did I ever complain of infrastructure issues, be it the lack of a separate toilet or women's changing rooms... The movie has not shown my character complaining about the non-availability of toilets. It is important, yes, but too mundane an issue to crib about."