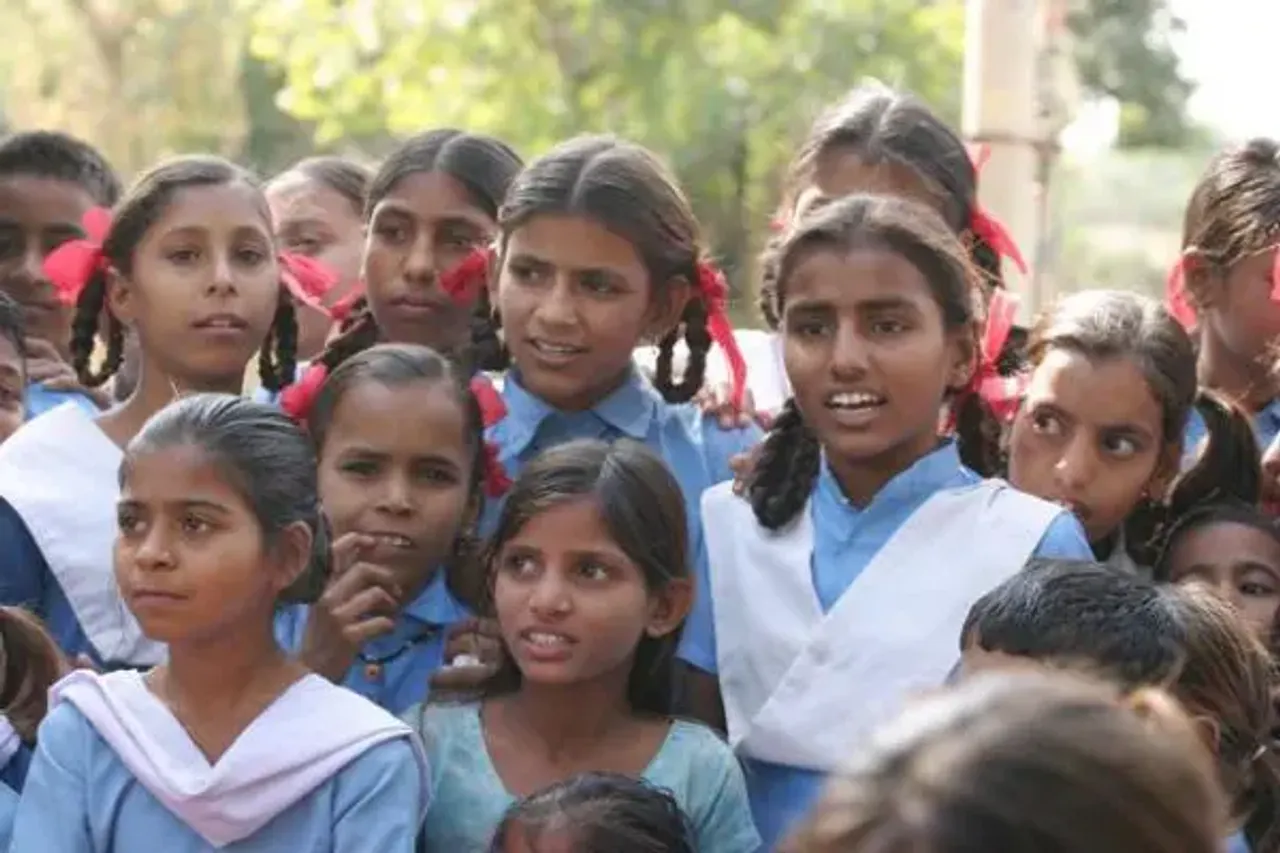 With a literacy rate of just 64.60 percent ( as per data collected in 2011) women's education continues to be one of the most important issues in India. At both rural and urban levels, the education of girls still lacks the desirable jump that will indicate a change in mindset. This is why the government has even launched initiatives like Beti Bachao Beti Padhao. But has this rise in awareness led to any concrete changes in the educational status of Indian girls? Let's take a look at how India fared in this area in 2019.
The Age Of Digital
The year 2019 saw some major steps being taken to both educate and digitally empower schoolgirls of the country.
In October, the Delhi government launched a mobile-learning app called STEM for schoolgoing girls. The app aims at removing the gender disparity in the field of STEM (Science, Technology, Engineering and Mathematics) owing to the stereotyping that girls are not competent enough to study science, which eventually affects their choice of subject and career.  Through STEM, Delhi Government wants to encourage girls to study science and technology.
Nazara Technologies, a leading game developer in the country has made a heavy investment in Paper Boat Apps, a company focusses on digital education in India, in November.
Also Read: Delhi Gov Launches STEM App For Girls 
Celebrities EndorsingWomen's Education
Everyone knows how much influence celebrities, especially actors, have in India. So when they support something as important as women's education, it tends to set the right precedent.
 La Trobe University in Melbourne announced a scholarship in August in the name of actor Shah Rukh Khan. The PhD Scholarship aims to inspire female researchers from India. The candidate will be funded a four-year research scholarship valued in excess of $200,000.
Toilet Ek Prem Katha actor Bhumi Pednekar gave two lakh rupees for the construction of three new toilets in the Abhyudaya Ashram (an educational institution for tribal children) in Morena district of Madhya Pradesh. She also helped in the establishment of nine refurbished hostel rooms of a school-cum-hostel for tribal girls.
Ayushman Khurrana joined UNICEF's fight against the sexual abuse of children.
Governmental Takes Steps In Right Direction
In October, Defence Minister Rajnath Singh approved a proposal for admission of female students in Sainik schools. This will be put in effect from academic session 2021-22 in a phased manner.
The government released a draft policy for women empowerment which focuses on improving the standard of living of women. The area of women's education was specifically prioritized in the draft.  It was constructed by the Ministry of Women and Child Development.
The Brihanmumbai Municipal Corporation (BMC) schools included a special session in their school curriculum to tackle gender-based stereotypes in children. The program aims to undo the gender roles seeded in young children's minds through a combination of dance and sports.
Also Read: Girls To March Into Sainik Schools 
Progress In Terms Of Numbers
The Annual Status For Education Report (ASER) Rural 2018 came out in January with some findings about the state of rural education. The overall proportion of girls that are out of school was 4.1 per cent in 2018. The number of schools with usable girls' toilets doubled and stands at 66.4 per cent in 2018.
Also Read: Girl's Toilets In Schools Doubled In The Last Year 
Women Who Broke Barriers
Irmim Shamim, from the village of Dhanore in J&K,  became the first girl from "Gujjar" community to crack the AIIMS (All India Institute of Medical Sciences) Entrance Exam. Despite political tensions as well as financial instability, she managed to get through by sheer determination.
Stuti Khandwala cracked all the competitive exams from NEET to JEE (Main). She also managed to get into the US' Massachusetts Institute of Technology.
Hansika Shukla from Ghaziabad and Karishma Arora from Muzaffarnagar topped CBSE exams with both scoring 499 out of 500 marks. In 2019, girls outperformed boys by nine percent.
North-East educationist Shahnaz Ahmed was in the Forbes List of Globally Recognized Indian Business Leaders. She is a human rights activist who runs a school in the interiors of Assam called Springdale High School.
Lack Of Safety For Female Students
Despite the positives, 2019 also saw some issues in the education sector that limited girls. It is crucial to make sure that women's education can take place in spaces that are safe for women. In June, a girl was allegedly raped by four of her cousins, in a government school's campus in Sitapur because she was better than them in studies. It is also reported that a teacher not only aided her cousins in the act but also participated in the sexual assault.
Discrimination Against Girls
In May, it was reported that some colleges in Bengaluru have set a higher cut-off for girls than boys.  The Times of India reported that admissions in Pre-University colleges of the city have set a different cut-off for girls and boys, with the percentage being higher for the former.
 St. Francis College Hyderabad imposed a dress code on girl students which forced them to wear only kurtis of knee-length or longer and not sleeveless. The students protested against the patriarchal dress code of the college. They blocked the entrance of the college and stood with placards protesting against moral policing.
Disappointing Statistics
Statistically, there is not much growth in top institutions in terms of number of female students. According to the All India Survey on Higher Education (AISHE) 2018-19, female students are massively outnumbered, at just 24 percent in 127 institutions of national importance. Of this, the number is approximately eight out of 16 in higher education.
Women students in BE/BTech courses are also not impressive. An overall poor enrolment in technical education has been observed. The biggest gap is at the undergraduate level, where there are 26,736 females as compared to 96,724 males. Similarly, at the postgraduate level, the number of females is just 12,819 in a population of 50, 201.
Image Credit: LiveMint
Prapti is an intern at SheThePeople.TV.