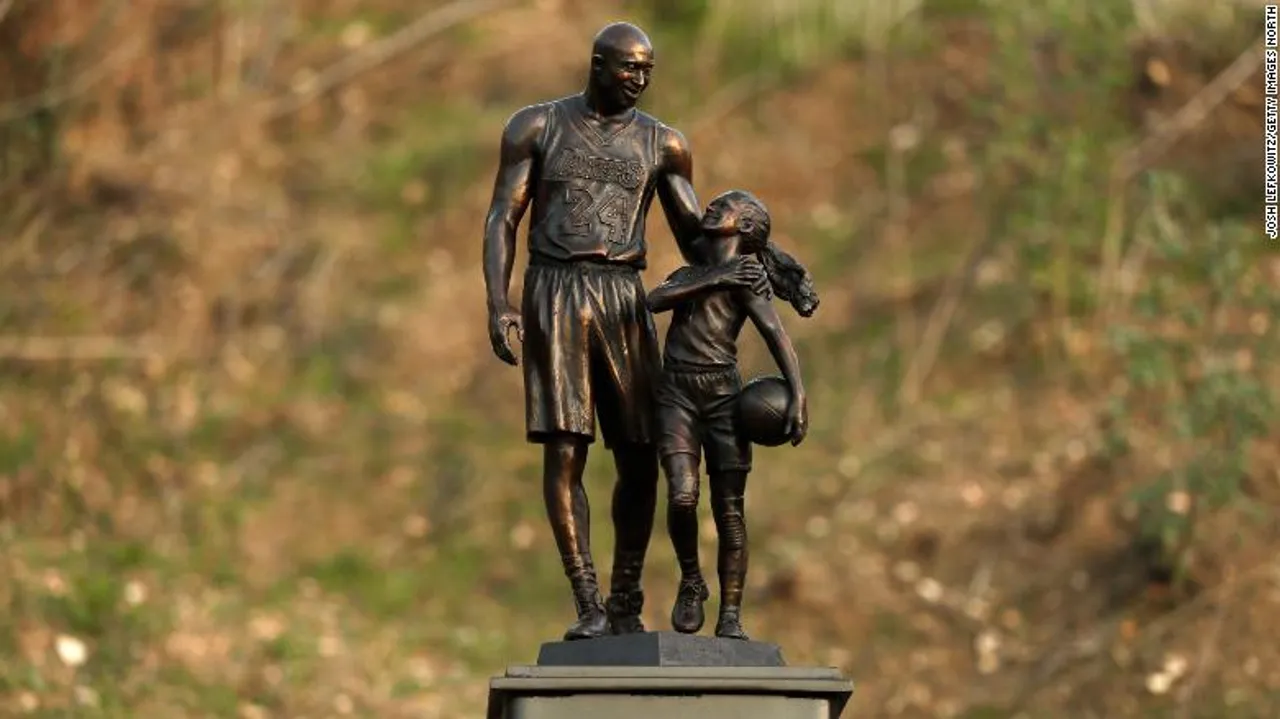 Gianna Bryant and Kobe Bryant Statue has been installed at the LA Lakers Jersey at the helicopter crash site. The statue has Kobe Bryant's hand on Gianna Bryant's shoulder.
Gianna Bryant is in her uniform with a basketball in her hand and both father and daughter smiling. The statue is sculpted by Dan Medina.
"This is all on my own, no one asked me to do it," said Medina. "Today was special because I witnessed a lot of that. People would come up and they would leave with some sort of satisfaction."
Gianna Bryant and Kobe Bryant Statue
Additionally, the statue also has the names of the other seven victims who died during the helicopter crash.
The 160-pound statue is brought to a hilltop in Calabasas on Wednesday and will stay there temporarily.
The bronze statue is placed at the crash site on the two years day since the helicopter crash.
Fans were seen visiting the crash site to view the statue.
The Helicopter Accident that killed Kobe Bryant and Gianna Bryant 
On January 26, 2020, a helicopter carrying Kobe and his thirteen-year-old daughter Gianna as well as seven others crashed in heavy fog in Calabasas killing all the nine people who were aboard.
There was also 56-year-old John Altobelli, a longtime baseball coach at Orange Coast College in Costa Mesa, his 46-year-old wife Keri and their 13-year-old daughter Alyssa. Also aboard was 38-year-old Christina Mauser a wife, mother and basketball coach from Huntington Beach.
Kobe Bryant's widow, Vanessa Bryant, sued Zobayan's estate and the charter company that owned the helicopter, Island Express. She alleged that Zobayan failed "to use ordinary care in piloting the subject aircraft" and negligence.
Further, Vanessa Bryant had turned to court to obtain the names of four Los Angeles sheriff's deputies who shared "unauthorised" graphic photos of the helicopter crash.
"Defendant Island Express Helicopters authorized, directed and/or permitted a flight with full knowledge that the subject helicopter was flying into unsafe weather conditions," the lawsuit says
Bryant was 41 and his daughter 13 when they were met with an untimely death. In his two-decades-long career as a basketball player, the Los Angeles Lakers player won five National Basketball Association (NBA) championships. He was accused of sexual assault by a 19-year-old hotel employee back in 2003 when he was also arrested in the case.
---
Suggested Reading : 
Why Are People Uncomfortable To See A Woman Breastfeeding? Even On Social Media?
---