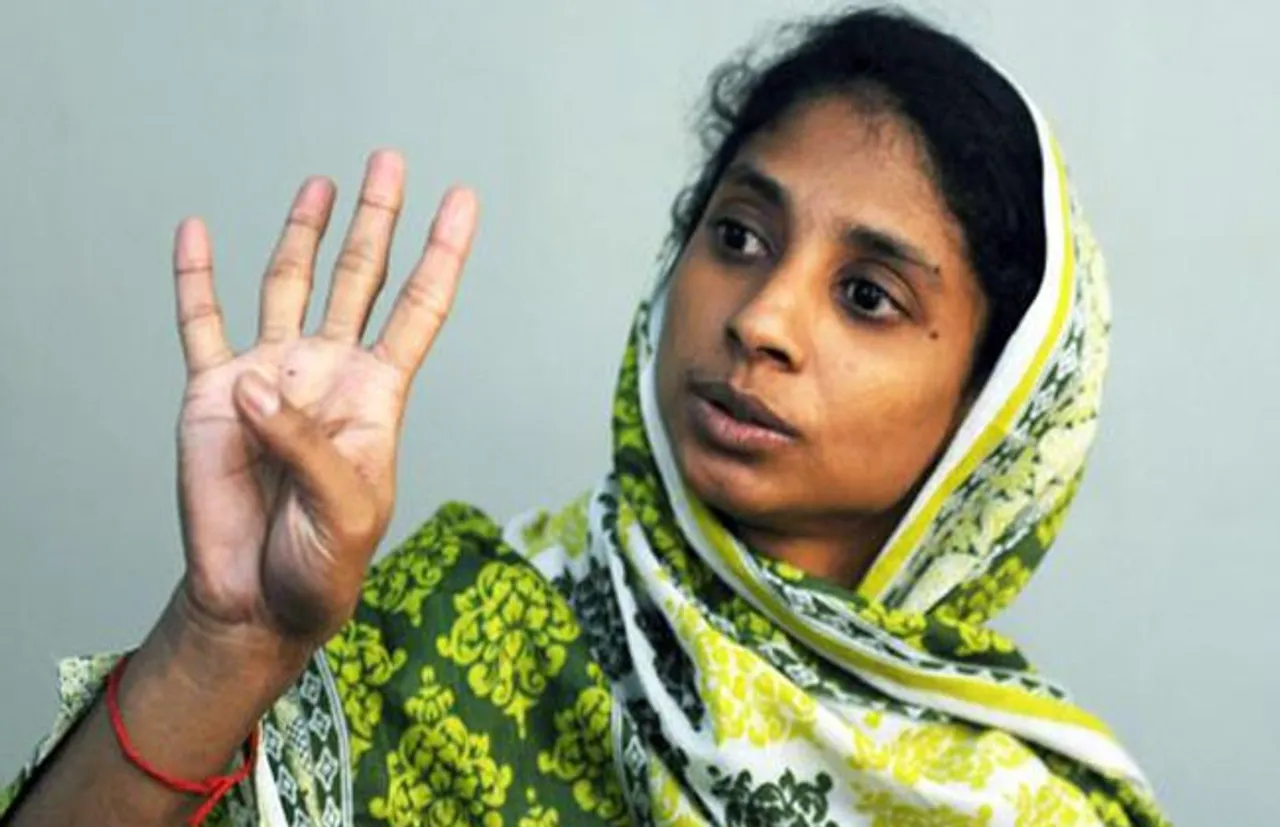 Nearly 15 years after she accidentally crossed the border, young deaf-mute woman Geeta will arrive in Delhi on Monday to be reunited with her family in India.
According to an NDTV report, Geeta was dressed in a red and white salwar kameez and her head covered with a dupatta as she boarded a Pakistan International Airlines flight from Karachi to Delhi Monday morning.  The 23-year-old re-united with her family after 11 years.
A daughter returns home. Geeta arrives in New Delhi accompanied by members of Edhi Foundation pic.twitter.com/v0CIu7RWmc

— Vikas Swarup (@MEAIndia) October 26, 2015

Geeta is hearing and speech impaired. She has lived in Pakistan ever since she accidentally crossed the border as a child. Earlier this month, she identified her father, step-mother and siblings from one of many photographs sent to her by the Indian High Commission in Islamabad.
Geeta was adopted by the Edhi Foundation's Bilquees Edhi and lives with her in Karachi reports Times Of India. The Indian high commission said that Geeta would be handed over to her family only if their DNA test matched, the paper reported.
In the evening, Pakistan high commissioner to India Abdul Basit and his wife will host a reception for Geeta and those accompanying her.
NDTV reports Janardhan Mahto from Bihar, the man Geeta identified as her father, is waiting in Delhi to receive her. "I am very happy and back in the village it is just like Diwali, the atmosphere is festive," he said.
Mr Mahto has five sons and two daughters. Geeta, he has claimed, is his first born Heera, who was lost in a fair in 2004.
The similarity to Salman Khan's blockbuster Bajrangi Bhaijaan is palpable. A speech and hearing impaired woman who was stranded in Pakistan for 11 years after accidentally crossing the border, will finally come home today.
Geeta broke down in tears on watching "Bajrangi Bhaijaan" and yearned for home, something she shared with actor Salman Khan on NDTV. As Geeta's story gained fresh media attention after the film, the Indian government vowed to bring her back in a movie-style happy ending.
Picture Credit: OnlineIndus