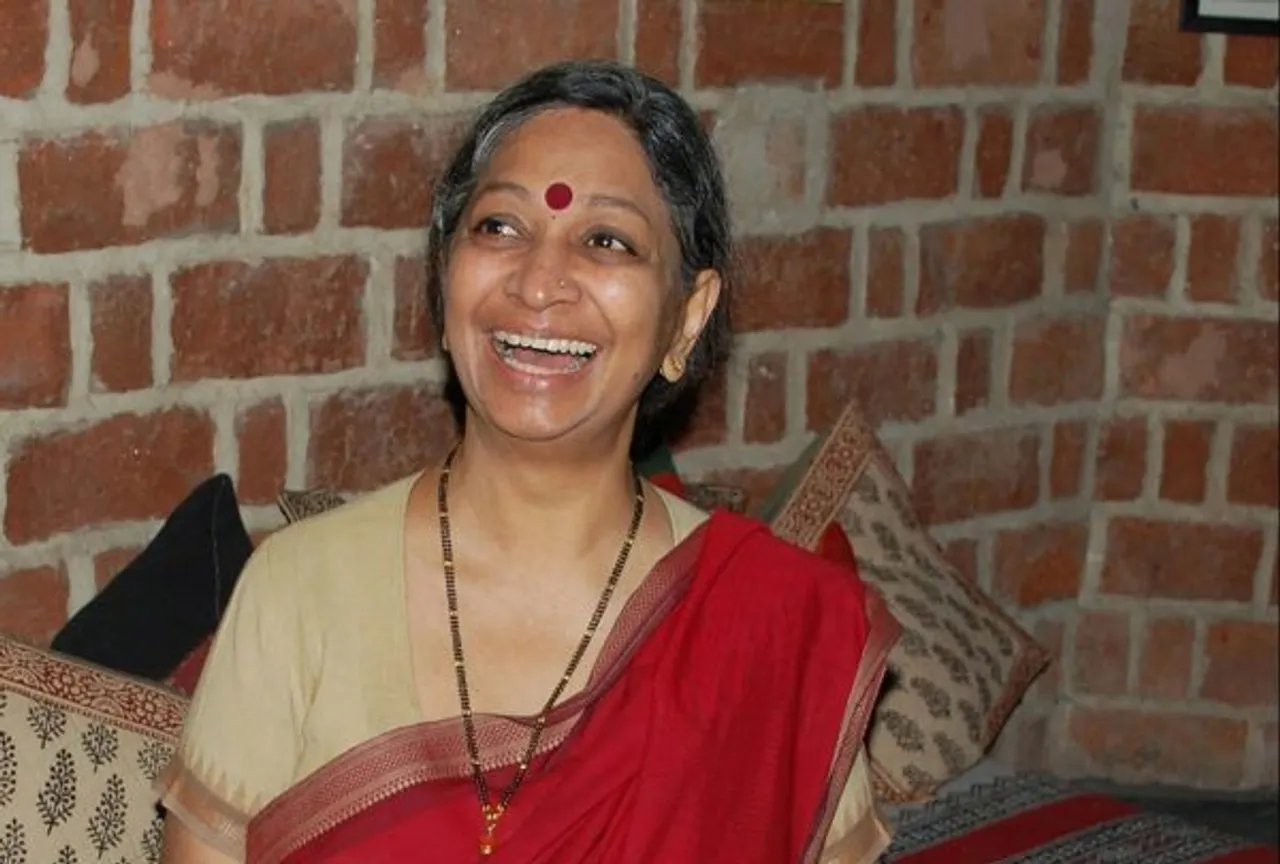 Mahatma Gandhi said, "Find purpose and the means will follow" and that is what seventy-one-year-old Geeta Dharmarajan believes in. In 1988, she founded Katha based on this idea and in the last three decades, she has been able to find the purpose every time. Dharmarajan is a well-known writer, social entrepreneur and an educationist. She was honoured with the Padma Shri award in 2012. While speaking to her you cannot miss her infectious laughter, her ability to make you feel at ease, her zeal for life and love for children. As she took us through her journey there was hardly a dull moment. She spoke to SheThePeople about the ongoing lockdown, migrant labourers, book publishing, her journey with Katha, social entrepreneurship in India, and her love children. Geeta feels the migrant labourers have been really wronged, and says "I was really outraged in the way the lockdown was announced. I went to reading Ramchandra Guha to understand what is it in the Indian psyche that makes us so oblivious of our rights and responsibilities."
Dharmarajan grew up in a middle-class family in Chennai, with a father who was a doctor, mother who was a homemaker, three sisters and a brother. She has fond memories of her maternal grandmother and grandpa – who were a very large part of her upbringing. Before founding Katha, for two years, she worked for the Pennsylvania Gazette at the University of Pennsylvania, while in the US.  Before she began her sojourn with the Pennsylvania Gazette, some people had told her "You won't get a job writing in English; you can be a typist if you want to," she shares.
Also Read: Children's Day Special: Must-Read Books with Child Protagonists
Katha recently came out with an E-book on coronavirus awareness it is called, The Mystery Of The Missing Soap. The book was made in six days, and translated into five languages. About this book and what went behind making it Geeta said, "We were getting such garbled information. I was thinking of a storyline that children will want to read. I didn't want to burden them with too many pedantic facts, of 'do this and don't do this'. But I wanted a storyline where they have agency. Side by side I was doing my research on the disease." Geeta warns, "The internet is a great place to start with but you need to check out your internet sources."
Research for a book
About the research process, she said, "There is intense research. Side-by-side thinking of what kind of story will our children like, how do I excite their interest in turning the page. Then there is finding the illustrator, then you have the editing and the translation and then making it into an Ebook and sending it out for people to read it. It was a very unusual experience but unusual times call for unusual experiences."
As a publisher during the lockdown
We are currently living in a peculiar time, so we asked Dharmarajan what she has been reading during the lockdown, and what is her reading of the lockdown. She responded, "I started with the works of Dr BR Ambedkar and Savitribai Phule. We have worked on caste and worked with children in overcoming these social barriers, prejudices and stark discrimination in our country. We have never felt these social stereotypes so deeply as we felt them during this lockdown."
She said as a publisher she is reading a lot of stuff for children. At Katha there are no textbooks that are used for children's learning. "We have stories about being bold and being fearless – and this is to do with inner courage," she adds.
Are more people buying books, but fewer reading them?
We asked her if she thinks that more people are buying books, but that fewer are reading them. Geeta says she does not agree. She believes, "When we say children are not reading we are looking at the elite group where children have other distractions and where parents don't read so there is no hunger for reading. They are brought up on western literature and here reading on a phone or a tablet is catching up. I know of children even within these groups who are ardent readers."
Also Read: Moms Share A List Of Books You Can Read Together At Home With Kids
Geeta adds there is a second group of children who are very keen readers, and adds, "These are children who don't have any books. They have not grown up in a book-rich environment. They have nothing to read and they know a book can be magic. Now how do you provide to these children?"
She believes when we say children are not reading, "a bulk of our children are not getting books, which is a very different problem. The demand is there the supply is not there. While for the other children the supply is there, but there is no demand because they are doing other things but not reading. I think we need to relook at how there can be an equitable sharing of books and reading between those who have and those who have not, and whether and how technology can help."
Importance of Technology in teaching
Dharmarajan says, looking at it from a point of children living in poverty "Technology becomes an extremely important way in which children prepare for the 21st Century and we can't leave any child behind. Technology is a very useful tool when we are looking at taking children out of poverty. The poverty is not economic poverty alone. Poverty can be the poverty of imagination, learning, or literacy."
Also Read: Publishing Trends in 2020: How To Get Your Book Published
Screen Time for children
However, she too agrees, that "Too much of screen time is not good. I think somewhere we also have agency as parents, and we need to exercise that. I think having a dialogue with children rather than 'do this' or 'don't do that' can work for today's young children. It is the role of the adult to explain the matter in a way that makes sense to the child. I think this is not something that parents of today are doing. We don't spend the time or have the energy or patience or even the words to explain such things to our children. As parents, we need to gently explain to our children why something is right."
Roadblocks in finding Katha
Geeta says, "Starting Katha was a major roadblock. I would keep running to the Town Hall and they would send me back saying you need a 'the' over here and 'an' over there and they sat on things. I thought I could do what was required on my own but then I realized I needed to take a man with me, and once I did that everything fell in place."
She also says that early on, finding teachers was a problem because nobody wanted to come and work in a slum. She adds, "Then I found teachers from the slums and they make the best teachers. So, for the last 20 years, I have been working with the same group of teachers."
She continues, "When I started the school there was an 85 percent dropout rate. Today 85 percent of the children continue."
Also Read: Sunny Singh: Creating Mechanisms For Inclusion In UK Publishing
Katha's StoryPedagogy
Geeta shares Katha's StoryPedagogy is influenced by Bharata's Natya Shastra. StoryPedagogy enables children to move from an oral tradition to a written tradition, and the story helps children to ask questions. She says, "This is probably the first and only treatise on dance, and I see it as a treatise on communication. Bharata's Natya Shastra forms the bases of StoryPedagogy. Along with this there is my own art and craft as a writer combined with  questions, such as, "How do you begin a story?' and 'How do you keep the child's interest alive?' and my own knowledge of working with children in poverty. I think using the oral tradition and moving into a written tradition is a unique way of teaching kids because most of our children, who live in poverty, are comfortable with an oral tradition, not a reading and writing tradition. Their parents have never gone to school, their families have never gone to school so they learn better by hearing (shravana shakti) rather than by reading."
Social entrepreneurs In India
Geeta says, "I think social entrepreneurship is still looked down upon. If you are a profit-making start-up you tend to gain more respect than if you are a social entrepreneur. But oddly enough, many private entrepreneurs are also social workers on the side, and most people who work in the social sectors are entrepreneurs, who have set up organizations from scratch. Our bottom line is not focused on making more money but social change."
She adds, "Also, as we look around, the importance of the social sector and the non-profit world becomes clear – if it was not already – in the midst of this current crisis. While money is necessary for life – money-making is not the be-all and end-all of life, and that I think is one of the very important things that the pandemic has shown us. Managing a crisis, taking the correct decisions in the midst of a crisis, maintaining one's composure, being resilient, and making sure that the poor are not the ones who are left in a lurch – these have little to do with money-making or profit-making as ideals. When the pandemic hit us – it was the non-profit organisations, which came in to solve all kinds of immediate and unprecedented social problems. Thus, in today's India, we can see for ourselves how the non-profit sector continuously demonstrates key features of entrepreneurship in action."