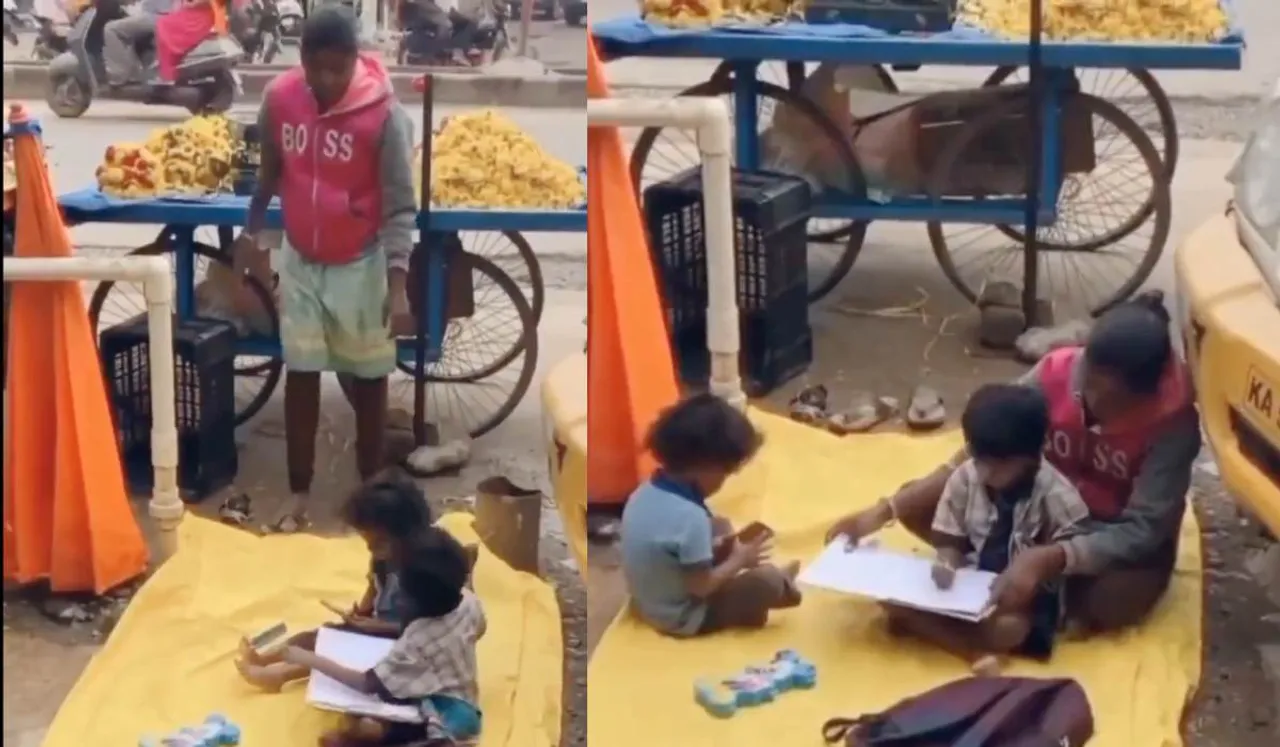 A video of a fruit seller has been going viral across social media lately. The video shows a woman standing behind the fruit cart while teaching her children alongside by the road.  
The netizens reacted to the video differently. While some had a lot of questions, others were just in awe of the woman as her actions touched their hearts. 
Fruit Seller Teaches Children Managing Roadside Stall
Social media is a great medium to draw the attention of the masses to things that we often miss. One such heartwarming video has surfaced on the internet where a young fruitseller woman can be seen teaching her children while managing work at her roadside stall.
A video shared by X user @dc_sanjay_jas shows the woman trying to make ends meet by selling fruit roadside in what seemed like her daily routine. She then turns behind to two children sitting on a yellow plastic that seems like a sheet used on her cart itself. The two children can be seen studying sitting with books, pencils, and school bags around them. 
The woman then proceeds to sit beside one of her kids, takes him in her lap and guides his hand to write something in a book while also helping another kid beside her. 
This was a touching depiction of a mother who is dedicated to imbibing education in her kids to improve their lives.The video has received a lot of reaction with more than 116k views. The video was captioned as "Today I have no words for caption!!"
Many users commented and reported the video expressing respect for mothers around the world, while one other user asked if someone could directly help the lady and her kids. Another user commented Indian education awareness slogan "padhega India jab hi toh badhega India." 
आज कैप्शन के लिये मेरे पास शब्द ही नहीं हैं..!!
💕#मां #Respectfully 🙏 pic.twitter.com/8A3WEFmAMg

— Sanjay Kumar, Dy. Collector (@dc_sanjay_jas) August 29, 2023
---
Suggested Reading:  Unseen Hands: The Invisible Labour Of Women In Our Economy