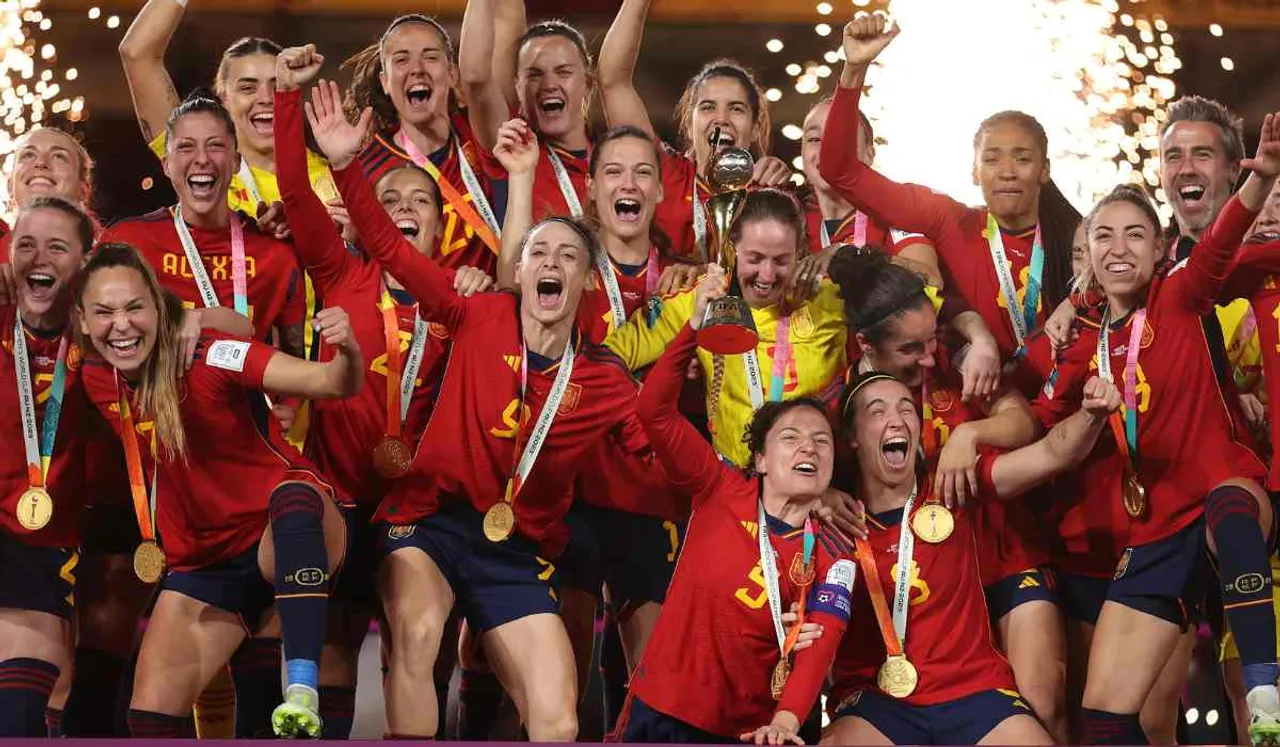 Amid thunderous applause, Spain secured their maiden Women's World Cup title with a 1-0 win over England at the 2023 FIFA Women's World Cup final in Sydney on Sunday (20 August). Skipper Olga Carmona's wonderful 29th-minute strike proved to be the winner. 
A month-long FIFA Women's World Cup 2023 wrapped up on August 20 with Spain bagging its first-ever World Cup title with a victory over England by 1-0, becoming world champions.
Spain FA President Sparks Outrage After Kissing Player On Lips During Celebration:
However, the celebrations have come under scanner after the Spanish Football Association president Luis Rubiales was caught on video kissing Spain player Jenni Hermoso on the lips on the podium, The incident occurred as members of the Spain women's football team were collecting their medals from FIFA president Gianni Infantino.
Rubiales initially dismissed his critics, calling them "idiots," but he apologised for his behaviour on Monday in a video, saying: "I made a mistake, for sure."
Rubiales noted that he didn't act with "any bad intention or bad faith, what happened, happened, in a very spontaneous way." He added, "It was done without any ill intention in a moment of the highest exuberance. Here we saw it as natural and normal but outside it has caused a commotion."
Hermoso told Spanish TV network La 1 she "did not enjoy" being kissed on the lips by the head of Spain's football federation.
Video of the incident surfaced online where Rubiales can be seen giving Hermoso a long tight hug lifting the player off the feet and swinging her in the air. The two can be seen conversing something when Rubiales grabbed Hermoso behind her back and kissed her on the lips, patting her back before she walked away. 
Le bisou du président de la fédération espagnole, Luis Rubiales sur la bouche de Jennifer Hermoso🇪🇸❌.

Jennifer Hermoso : 🗣️ "Eh eh mais je n'ai pas aimé le geste, ça ne me plaît pas." pic.twitter.com/Ldo41TATrt

— Sport Passion Info (@SportsPassionI1) August 20, 2023
After the incident sparked outrage, many videos surfaced on the internet purportedly claiming Rubiales grabbed his crotch repetitively the whole night of the game.  
However, Hermoso later explained that the gesture was an expression of pure affection. She attributed the unexpected moment to the overwhelming joy of winning the coveted World Cup. "It was a totally spontaneous mutual gesture because of the immense joy that winning a World Cup brings," Hermoso clarified.
La Roja expertly had possession of the ball throughout the game starting from the kick-off failing all the attacking threats from the Lionesses. The game began getting interesting as the 2022 European Champions managed to get an early chance to score, however, the ball hit the bar. 
Mary Earps, England's goalkeeper did a good job denying Spain its first shot for the goal in the 17th minute of the game through her incredible save. However, it all went in vain when Spain's left striker Olga Carmona secured the first and the winning goal with a thunderous strike at half-hour into the game. Carmona has scored back-to-back goals in World Cup tournaments for Spain, while Spain has their tournament-best 18 goals in this World Cup.
Spanish maestro midfielder Aitana Bonmati was given the Golden Ball award, while England's goalkeeper Mary Earps got the Golden Glove award, with Spanish 19-year-old teen sensation Salma Celeste Paralluelo was awarded the Best Young Player award.
Spain marked its first-ever victory over the major title by maintaining its hold on the game becoming the second nation after Germany to be bagging both men's and women's FIFA World Cup titles home. 
---
Suggested Reading: Women's World Cup: 5 Issues Holding Back The Female Game