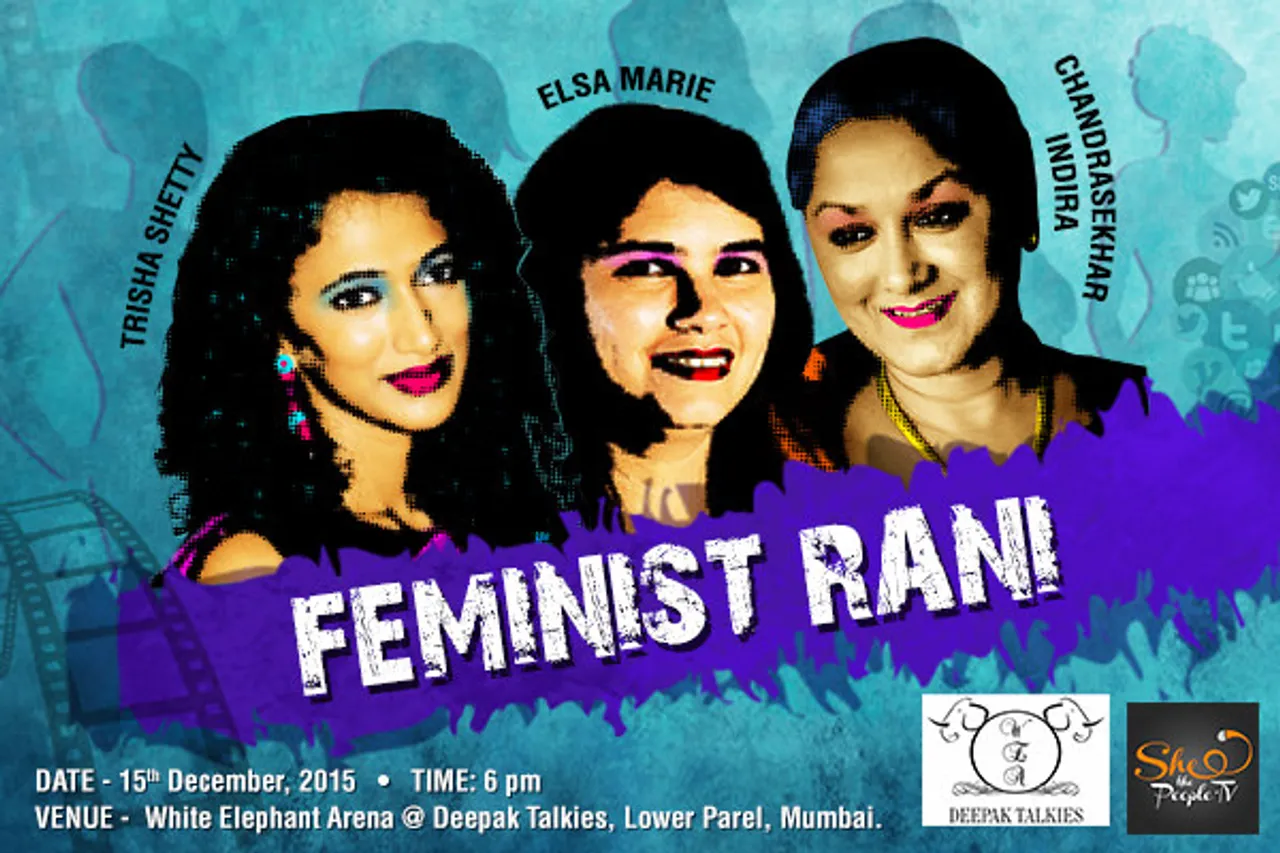 Feminist Rani put the spotlight on women's safety in public spaces at its December edition. For women to become leaders in society and contribute meaningfully to the economy, safety is an issue that must be addressed. Three firebrand women were at the centre of this discussion: Trisha Shetty of SheSays, Indira Chandrashekhar of Mapping Sexual Violence, Elsa Marie D'Silva of SafeCity spell the need to making public places such as music fests, concerts and malls alert to safety of women.
While Trisha's NGO provides legal aid and any information on laws, landmark judgements and rights that women might need, Elsa runs a mobile application called 'Pin the Creep' that maps unsafe spaces in public for women. (It also partners with the police in Mumbai, Delhi and Goa to improve safety based on data trends by location mapping harassment sites).  Indira Chandrashekhar c0-runs a website where women share their experiences, called Mapping Sexual Violence.
Three main issues emerged. One, the need for women to stop being tolerant towards teasing, molestation and harassment. "We need to report them. Speak up," asserted Shetty. The fact that women themselves ignore or shrug off any form of harassment often makes it harder to improve safety. Reporting harassment is at the centre of finding a solution. Trisha  ointed out how we are sometimes okay to ignore "if someone brushes through us in a public, its a problem only when we are pinched." The idea is not to feel shame. You haven't done anything to feel ashamed of, so don't remain silent.
Two, part of the issue of safety is connected to marital rape. Most women don't know their rights there and marital rape in India is not punishable. Statistics cited by the speakers were numbing : a woman is raped in India every 20 minutes, while 1 out of  every 3 women has experienced sexual abuse in her lifetime. In many cases the rapist is a personal known to the family of the woman. "Marriage does not imply consent", said one of the panelists.
Three, while technology and other offline efforts are helping making people aware of harassment issues, there are some real discussions due in India on our 'rape culture.' The topic of post-traumatic stress (PTSD) came up, and that how psychiatric care is still alien to our culture. This taboo needs to be broken as it could really help rape survivors gain speedy recovery.
Delhi police publishes a sex offenders' list on its website with names and pictures of the perpetrator. So should every city I believe. Speakers urged women to go out there and get their hands on this list. Information is power and such information can drastically improve one's surroundings. Feminist Rani saw a real drive to help shift the culture of shame to putting the blame on the perpetrator. This was a rare discussion where people had come together to discuss focused solutions, rather than highlighting existing problems, ones which have existed for long.
But as women, despite the anonymity that is available to us, are we willing to share our experiences, assist and participate in the pursuit of solutions, that stand in the way of our public orientations? How many of us click on survey emails? How many of us actually make the physical effort of being a part of a dialogue? At Feminist Rani, we hope to change that. In the next few editions, we shall discuss more about cyber sexism, cyber laws and how patriarchy bleeds into the digital space through intimidation of women. Start a dialogue, that's the first little step all of us can take towards change.
Share your comments, would love to know.