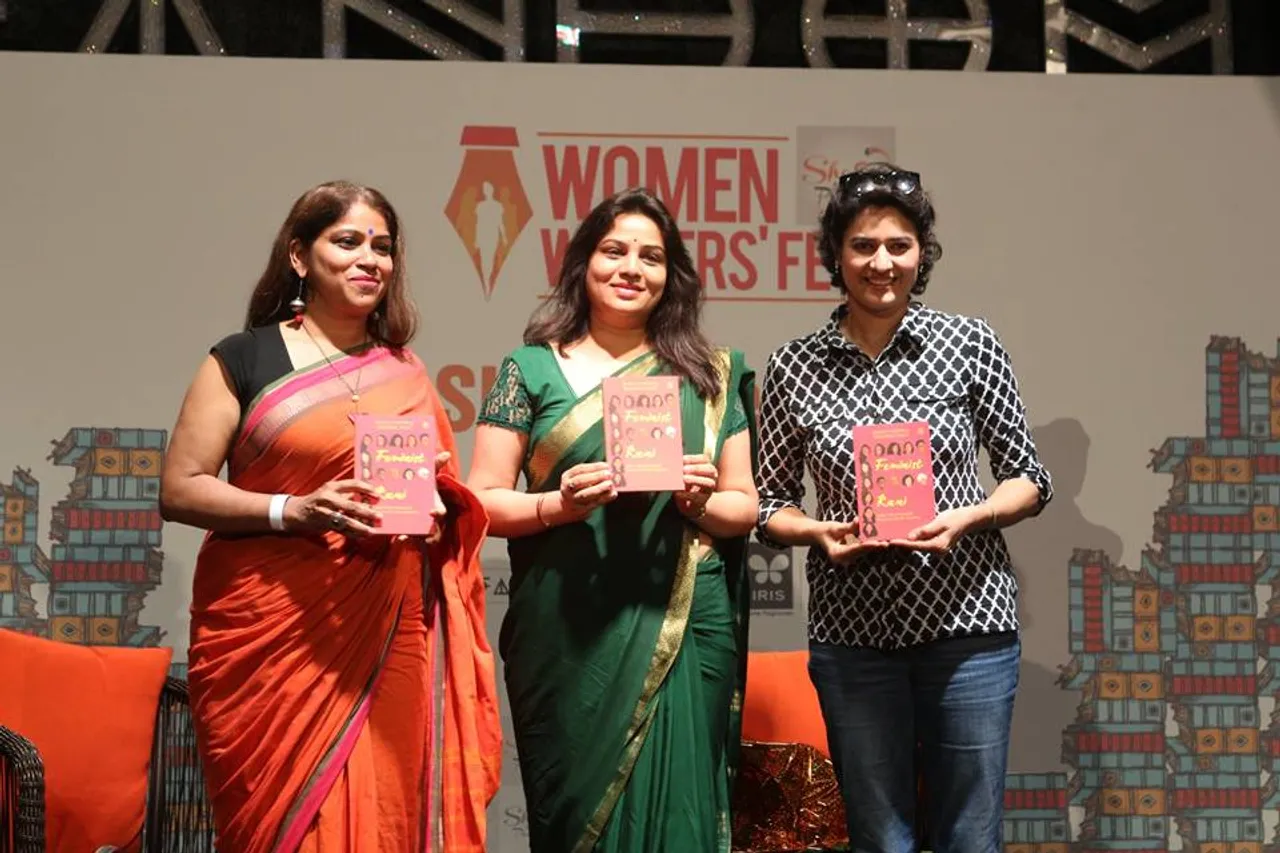 The #WomenWritersFest has put the spotlight on a deeper definition of feminism. The discussion ranged from gender equality, leadership, social change, men in the kitchen to how feminazi is different from actual feminism.
At the launch of the Feminist Rani book, author Shaili Chopra, Founder of SheThePeople.TV, and Vasanthi Hariprakash, who founded Pickle Jar, shared their beliefs about feminism. They delved into questions like what defines feminism? Why women and men in life and business still resist feminism? Why the 'F word' is still the most misunderstood term?
READ: How Archana Doshi Captures Flavours With Food Writing
"When we decided to put together the ideas of Feminist Rani, the core motive was to put forth the design that feminism shouldn't be looked at something that is spoken of just as a stage," explained Chopra. "We elaborated the conversation about feminism that are more everyday. I thought it'd be a disservice to us all if we thought feminism is merely a western concept we Indians have adopted recently. That Indians had to suddenly imbibe into it -- no it's not true. Our history, mythology, and at every level of everyday lives women have shown a great sense of feminism and are adept to its diverse nature," she claimed.
"Coming from an Army background, I always say that the wives of soldiers had to be feminists to survive what they did. I think in our country, in certain ways, Feminism is labelled as an international baggage that we should trade carefully, talk about it but with a sense of prudence and moderation. We really wanted to break that thinking," said Chopra on why she chose the title of the book
.@shailichopra Talking about her #book #FeministRani
Stories on women through a woman's lens #womenwriters #feminism #writing #voice #womenwritersfest pic.twitter.com/jgZ4oYVkID

— Bhumika K. (@BangaloreBhumi) September 1, 2018
"You can be the same kind of feminist in any language, from any background, in any given circumstances."
Agreeing with the opinion, Hariprakash said that "even in rural areas women have done out-of-the-box jobs, going beyond their reachability without even realising it that they are the feminists of our society. They didn't make a big deal about it. But today the word feminism is suddenly mischievous."
Giving an example, Chopra said: "Even today, men aside, women come and ask me why do we need a separate women's festival? The same comment goes for feminism. No matter how advanced you are, how progressive you are, what all your achievements are or aren't, even then questioning women's lives and their behaviour of settling down or having a man in life are very much talked about."
Hariprakash is one of the many who had read Feminist Rani. She pointed out the best examples from the book where it's clearly chronicled that one can be queer and a feminist, a man and a feminist at the same time. She told the audience that the kind of stories the book covered are shining example of the F word and not in a cerebral way. The book documents the drive of feminism in a general way.
Book Launch of #feministrani
with @D_Roopa_IPS @vasanthihari @shailichopra pic.twitter.com/m7V2OTmRMs

— SheThePeople (@SheThePeopleTV) September 1, 2018
So how did Chopra and co-author Meghna Pant select the people they featured in the book? What were the parameters they had in mind for the feminist ranis and rajas?
To this, Chopra said, "Honestly, we didn't really spend days thinking about it. It wasn't an elimination round. The concepts were clear though. The book should be inclusive. We definitely wanted this book to be a formula for men to be a part of this dialogue. Because I think they had spoiled the equation over the years and should be part of it to rectify the scenario. Men, no matter how much they try, sometimes when they hear it from other men, it resonates better. We don't mind it at all. I need this concept to drive it home, whoever carries it. So let's make men into champions for that," she hailed.
Founder of @SheThePeopleTV @shailichopra talks about her book #FeministRani, co-authored with @MeghnaPant. pic.twitter.com/UUMg1aM3Xm

— Kiran Manral (@KiranManral) September 1, 2018
"The other factor was to be inclusive for those achievers who had gone through big hurdles, life changing moments. The book especially brings forth the stories that are unheard and equally rewarding despite all odds. How women in different platforms have resurrected their lives, how they have empowered themselves are the core features here. The book touched different lives in many ways. The conversation goes beyond the perceptive feminism," she added.
I believe in equality but I am not a feminist is one funny statement I have heard people make on feminism - @shailichopra #WomenWritersFest pic.twitter.com/zQD7YILUL5

— SheThePeople (@SheThePeopleTV) September 1, 2018
Taking the conversation further to how social media has impacted feminism and how women keep dealing with the uninvited comments, Chopra said, "Social media has definitely helped us connect with a far more wider circle. It gives you a corrective measure where you can quickly call out chauvinists. On the other hand, because it has given a certain kind of power to faceless empowerment, the trolls against feminists and their moves are vengeful."
Idea of feminism is ageless - @shailichopra at #WomenWritersFest pic.twitter.com/eMh6JFxYv9

— SheThePeople (@SheThePeopleTV) September 1, 2018
Chopra asserted that not only women, but men too suffer in the world of trolls. While women are judged by their looks, men with a certain look too face similar criticism. "I have a son and part of my daily routine goes on to juggle my work and also educating my son to be raised as a feminist. At times it's quite a struggle to put that idea in somebody's head. You teach them something at home and in outside the world, he learns something totally opposite of that from the peers."
Elaborating on this, Chopra said: "Kids learn from everywhere and even at school, they are taught by friends that people who play the guitar for example are predominantly men. So it's an overwhelming job. So in a very strong way, I keep not letting him fall in the natural trap this world has set. Because in any manner the world will talk about men vs women and that's dangerous for kids' early minds. They need to be raised as feminists so the nature of patriarchy is out of the dictionary. And, it should be at the early stage."
https://www.facebook.com/SheThePeoplePage/videos/545636759225539/