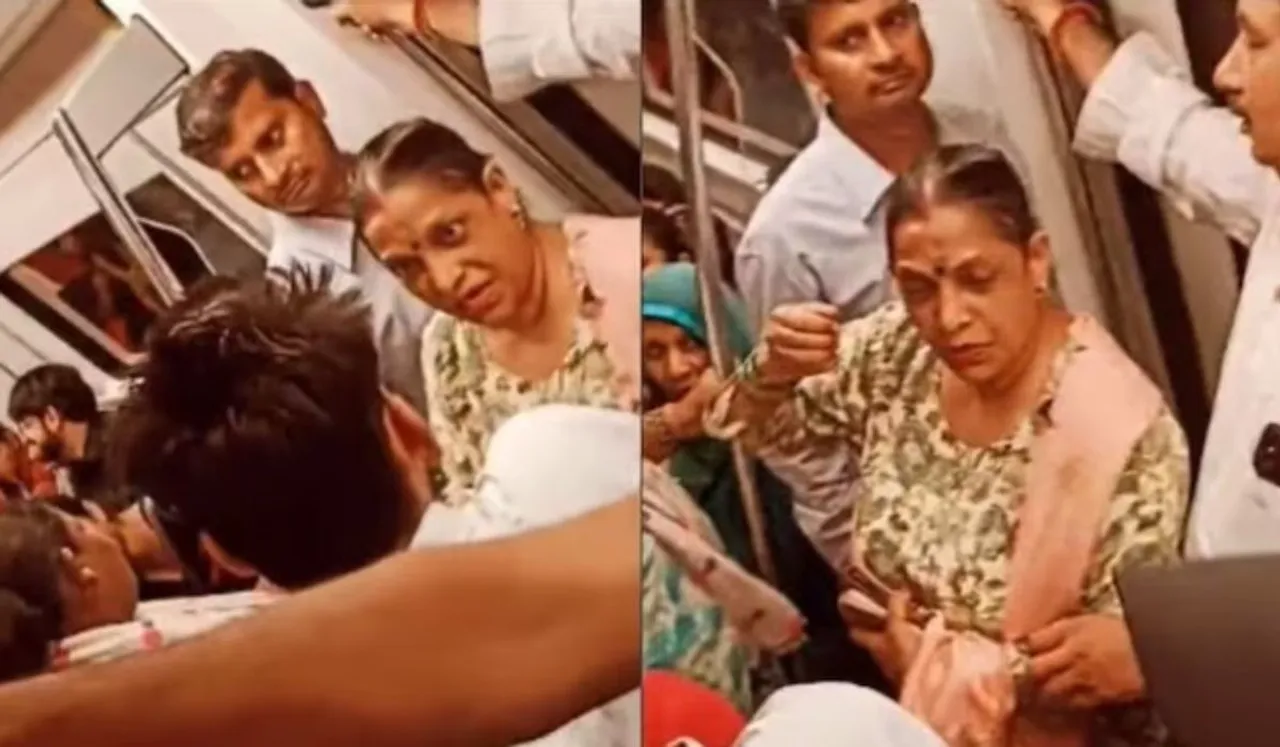 The chaos at the Delhi Metro seems to be a never-ending one. Yet another incident of a couple allegedly exhibiting a public display of affection (PDA) has surfaced on the internet. This time, an older woman is seen "schooling" the couple for being all lovey-dovey on the metro.
The recent incident has sparked a debate on social media over boundaries and personal space. In the viral video, a couple were shamed by an older woman for engaging in a little romantic action on a moving metro train.
Elderly Woman Objects To Couple PDA On Delhi Metro
The video showed the woman schooling the couple for holding hands and fondly pinching each other's cheeks. She is seen insisting that such a display of affection should be done somewhere else, outside, and not inside a metro train in the presence of several other passengers.
The video showed some co-passengers defending the couple by engaging in an argument with the older women. "Baahar jake karo ye sab," the woman is heard saying when a co-passenger tries to intervene and reason with her.
Not surprisingly, the video went viral and garnered several comments and different points of view on social media. While some people supported the woman's perspective that displaying affection in public was wrong, others defended it, opining that it was the couple's right to express affection anywhere, including public spaces. Many netizens told her that she should "mind her own business" instead.
Couple Defend Themselves To Two Elderly Women
This is not the first time someone has called out PDA on Metro. Earlier in June, a video from the Delhi metro went viral, showing a couple engaged in a heated argument with two elderly women. The couple were allegedly standing too close to each other, which the women considered a public display of affection and reprimanded the couple.
The women were heard saying, "This kind of behaviour is not acceptable in public." The couple rebuked the women's claims and defended themselves by arguing that they did not do anything objectionable. Again, public opinion on the incident was divided.
Couple Kissing Inside Delhi Metro
In May, a young couple were caught kissing each other on the floor of the Delhi Metro, which led to the Delhi Metro Rail Corporation's appeal to its passengers to "refrain from indulging in such obscene activities."
---
Suggested Reading: Couple Kissing In Delhi Metro: 6 Women's Take On Normalising PDA