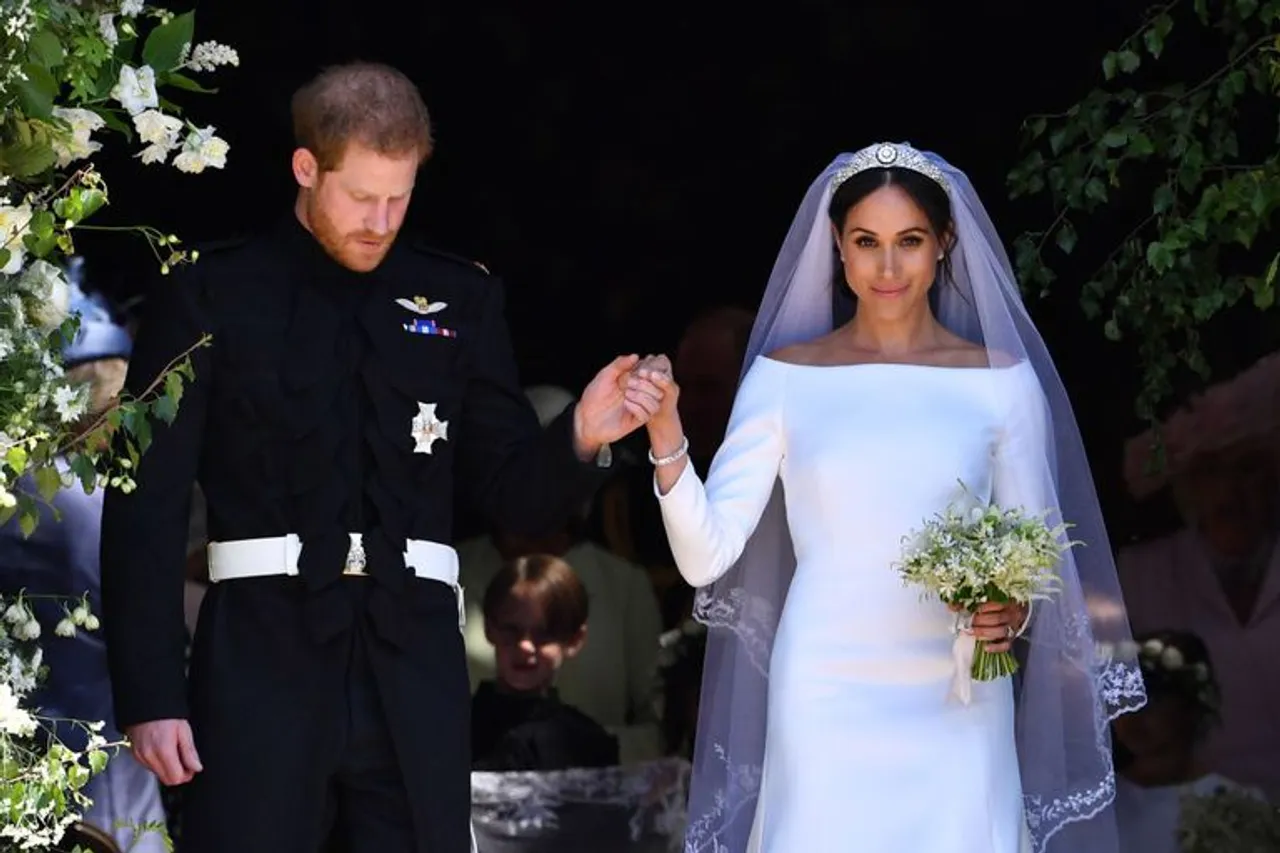 Meghan Markle and Harry gave a long sit down interview to Oprah Winfrey talking about their rift with the Royal family. Did the couple blind side the queen, asked Oprah. Harry said he would never do that to his grand mother. "We were desperate," he said of his own situation as a couple up against British press, seeking support within the Buckingham Palace. "We were asking for help and couldn't get it."
The Oprah Interview brought out many facets of the fight between Meghan and Harry who have since given up their royal duties and now live in California. Here are some of those highlights.
Buckingham Palace, on Feb 21st, made the explosive announcement that Prince Harry and Meghan Markle would not return to royal family duties and their roles as Duke and Duchess of Sussex respectively. The two would not be returning as "working members," stepping away from a "life of public service."
The statement from the royal house noted, "honorary military appointments and Royal patronages held by The Duke and Duchess will therefore be returned to Her Majesty," with the family "saddened by their decision."
What began in 2019 as the Megxit crisis (named after Markle) appears to have come to a close, with the young couple - formerly Duke and Duchess of Sussex - confirming their resignation.
Here's looking at a timeline of the family feud between the Duke, Duchess of Sussex & the British Royals:
Meghan Markle and Prince Harry began seeing each other in 2016, got engaged in 2017, and a year later were married, officially being conferred with the titles of Duke and Duchess of Sussex. It was widely noted how unconventional their ceremony was in comparison to other royal weddings.
When the couple was expecting their first child, they chose to move from Kensington to Windsor. It was then that talk buzzed of a rift between brothers Harry and William.
In May 2019, the Duke and Duchess welcomed a son named Archie Harrison Mountbatten-Windsor.
Through 2019, rumours bubbled of the couple possibly leaving the UK, surrounded by ruthless media and tabloid speculation on Markle.
In October that year, the couple took a trip to Africa, where in a documentary titled Harry & Meghan: An African Journey, the Duke admitted his brother and he were on "different paths." Markle, meanwhile, got teary about her coverage in the British press.
Even as Markle spoke up on the critical coverage of her, Prince Harry too issued a statement condemning the "racial undertones" the media took when it came to his wife.
Kensington Palace has issued a statement this morning about the harassment currently being experienced by Meghan Markle and her family. pic.twitter.com/EuFZ4fmUIj

— The Duke and Duchess of Cambridge (@KensingtonRoyal) November 8, 2016
January 2020: Duke and Duchess of Sussex seek "independence"
On January 8, 2020, the Duke and Duchess issued a statement, saying they would "step back as senior members" of the British royal family, seek financial independence and split their time between the US and UK.
The break was popularised as 'Megxit' - a portmanteau of Meghan and exit/Brexit, with global scrutiny directed at Markle for motivating what was being called the royal family feud.
After the royal family's Sandringham Summit' to convene on the matter, Queen Elizabeth - for the first time - issued a first-person statement saying, "My family and I are entirely supportive of Harry and Meghan's desire to create a new life as a young family."
Prince Harry, after the agreement, noted, "The decision that I have made for my wife and I to step back is not one I made lightly. It was so many months of talks after so many years of challenges ... there really was no other option."
In February 2020, the couple said they would no longer use their royal titles and in March, shifted base to the US.
Harry-Meghan, Duke & Duchess of Sussex: A Life Away from Royalty
A lot happened during the year, centre of which was a tight legal tiff between Markle and Associated Newspapers, the parent publisher of UK tabloids Daily Mail and Mail on Sunday, over some private letters she sent her father. The former Duchess of Sussex won that case in February this year. Read more here. 
The couple, since abdicating royal duties, has chosen to remain largely out of the public eye.
In a piece for The New York Times dated November 2020, Markle opened up on the "unbearable grief" of having suffered a miscarriage that year.
Earlier this week, via representatives, the former Duke and Duchess of Sussex announced that a second baby was on the way. Full story here.
Now, the same week, the couple has confirmed they would not be returning to their role as royals.