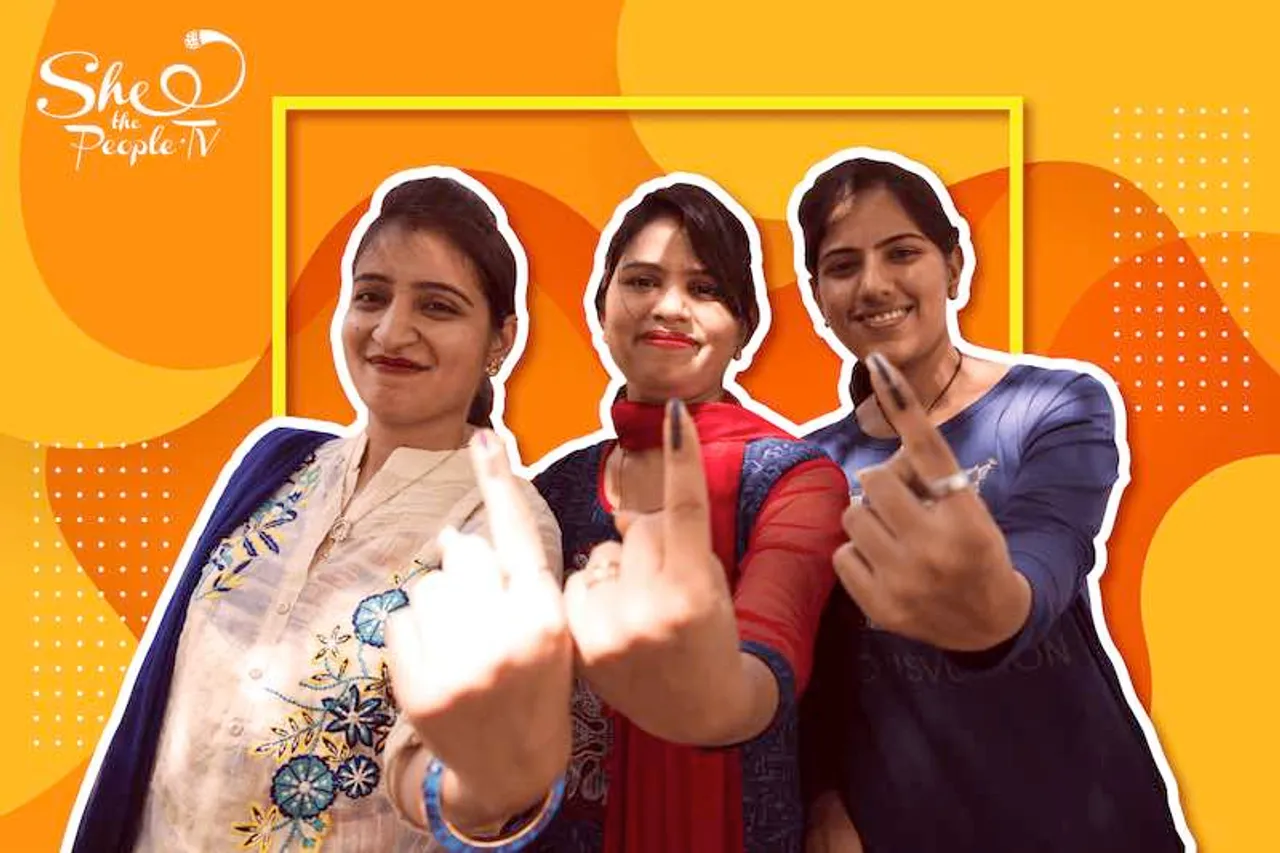 The ensuing Delhi Assembly Elections amidst the ongoing protests over CAA-NRC-NPR across the city have made it notably crucial. The current Arvind Kejriwal-led Aam Aadmi Party is not just knocking every door, but making appeals for people to invite them over in their houses as part of their campaign. On the other hand, the BJP has called their star campaigners from across the country, including UP CM Yogi Adityanath to hit the roads of the capital city. Congress, which ruled the capital for so many years before AAP came into power, is struggling to find its feet.
While campaign mud-slinging and alluring the public is in full swing, SheThePeople asked Delhi's women what they expect and demand from their upcoming government. As per them, AAP's work in ensuring safety for women has worked somewhat, but it also embodies a patronizing way of protection. They still feel that mobility and accessibility is an issue. And that the government hasn't walked the talk in making entrepreneurship approachable for women in the sense that women who have tried to avail the state's schemes, haven't had much luck.
Also read: This Unnao Rape Case Lawyer Is Contesting Delhi Election Independently
Women's safety needs to be relooked
"One of my key expectations from the Delhi Government is to do with women's safety. There is no way I want my daughter to grow up in the city with us reiterating to her that Delhi is the crime capital and that she must watch every single move of hers. Other than this I would want them to focus on real, on-ground issues that further the cause of the common man and woman. We are going through turbulent times as a country. It's about time we recognise our priorities and stay away from divisive politics," says Rinku Paul, author and life coach. She is a resident of Rajouri Garden in West Delhi.
Maitreyi Jha, who is a student of St Stephen's College, Delhi University and a member of Pinjra Tod says, "These are extremely crucial election keeping in mind all the protests going on all over the country. Specifically talking from a woman's perspective, the initiatives taken by the current government are largely appreciable but the whole conversation around women's safety is looked either from the perspective of seeing women as a mother, daughter, sister, etc. or increasing surveillance. With the installation of CCTV cameras everywhere, we also need to understand that these things can cause further issues and might not contribute to women's safety as they think."
We need progressive politics beyond the rhetoric of development, the 21-year-old  states, adding that she votes from Timarpur constituency.
Dolly Singh, founder of the Delhi Poetry Festival has her trust in AAP and says, "They have not only spoken and promised but actually done it. Schools, healthcare, electricity and water supply became really accessible for citizens of Delhi. I have lived in Delhi for all these years and so I have also witnessed varied kinds of governance. What sets AAP apart is that they focus on their work. Arvind Kejriwal has also matured over the years. While the party has already laid the path for safety for women, more focus needs to be paid on better waste management, transforming the city into a world-class space."
Delhi's sex workers' demands
The progress of a city can be judged by the progress of the marginalized communities in that city. Delhi's strong sex workers community has been ghettoised for decades but in the last few years, it has gained a voice that demands equal rights from its government. The sex workers of Delhi have also laid down their demands from the upcoming government.
Consider opening

Single Window to help sex workers, transgender, single women, homeless, HIV Positive to access all social entitlement services, free from discrimination as well as redressal from violence perpetrated by different stakeholders. 
Detention centres

, women correctional homes need to be improved. Sex Worker's shelter homes should be provided with basic support services including Anti-Retroviral Treatment for HIV Positive Women, medical care and support for other health conditions. 

Medical facilities

without discrimination should be made available to Transgender Population in addition to sex workers in the Govt Hospitals. 
Also read: Delhi Elections: Here Are The Eight Women AAP Is Fielding Out Of 70
Push towards women's entrepreneurship schemes
Deepa Pant, runs a startup called Svatanya - a social enterprise that empowers underprivileged women by upskilling them to make handcrafted products. She finds Delhi's entrepreneurship schemes for women quite unfriendly. "They have so many schemes and they promote them as well but when a woman gets down to availing them, suddenly so many roadblocks appear that it becomes really hard to beat them. For instance, they had a scheme where they were supporting women entrepreneurs in areas like marketing. They were providing assistance for women entrepreneurs to travel for work and exhibitions, etc. I tried to apply for that and travelled to different cities displaying my work but when I returned they outright denied that the support won't be provided to me," Pant states matter-of-factly.
There is no way I want my daughter to grow up in the city with us reiterating to her that Delhi is the crime capital and that she must watch every single move of hers. Other than this I would want them to focus on real, on-ground issues that further the cause of the common man and woman.
Pant adds, "Rolling out schemes is good but they must maintain transparency at every level. They need to figure out a way to make those schemes also available and accessible to people otherwise it defeats the purpose." She belongs to Munirka constituency.
Voting in Delhi is slated for 8th February and counting will be done on 11 February so there aren't many days left for the suspense around Delhi's new Chief Minister and the ruling party to be lifted off.