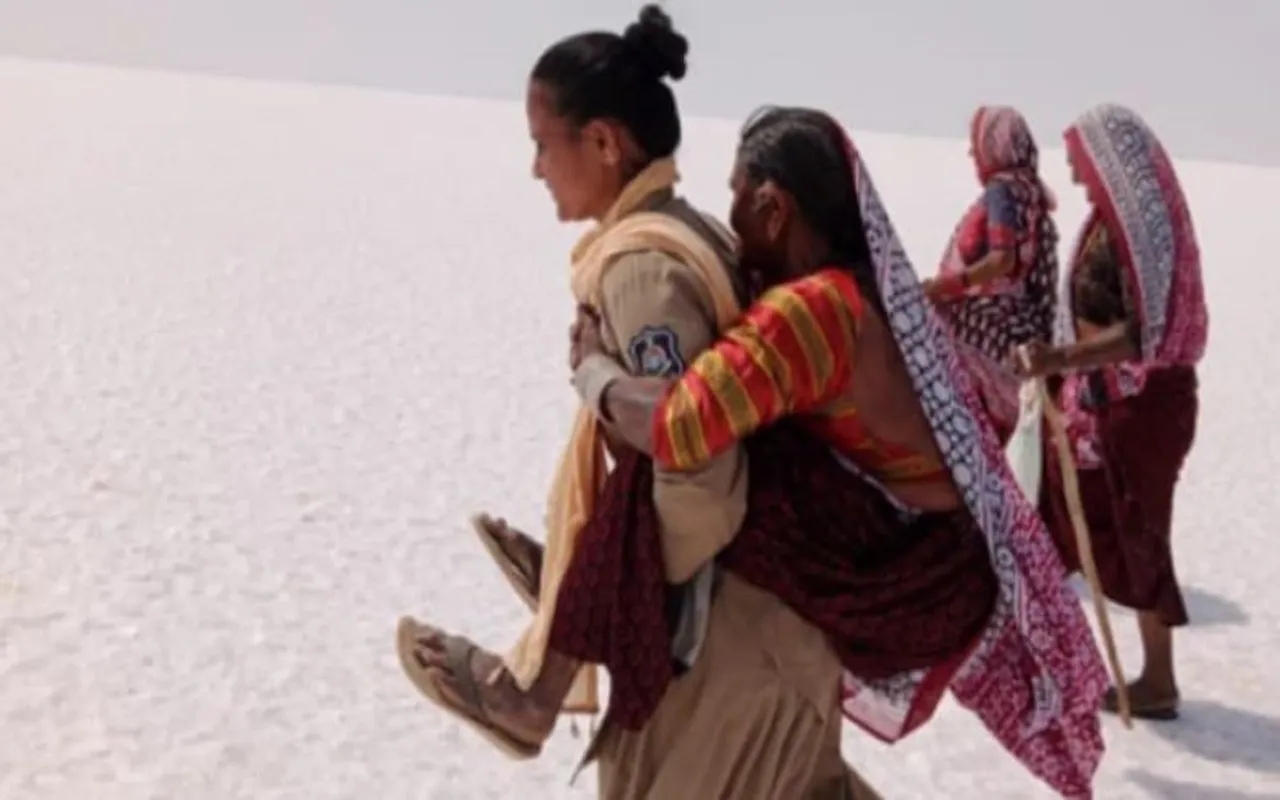 All it takes is humanity and empathy for a person to go beyond her duty and help others. A newly recruited woman constable from Rapar police station in the Kutch district of Gujarat proved this to everyone. With her presence of mind and a kind heart, 27-year-old Varsha Parmar did not think twice before picking up an 86-year-old woman and carrying her for five kilometres straight to safety.
Rapar police station marks Parmar's first posting as a cop. While performing her duty, she came across a woman lying unconscious in the unforgiving arid white desert of Kutch. She volunteered to carry the old woman to safety as no vehicle was available and she chose not to wait for help to arrive, as it could cost precious time.
A video of Parmar carrying the woman on her back went viral on social media and netizens cannot stop applauding the sheer empathy that the cop showed toward the elderly lady. The video has even prompted senior officials in the Gujarat police force to recommend her name for an award.
---
Suggested Reading: Five Badass Female Spies Who Stepped Into Enemy Territory Undeterred
---
Woman Cop Saves Old Woman in Kutch
Reacting to the applause, Parmar said, "I did it for humanity and had no intention of becoming famous." She also added, "I thought that the elderly woman needed some help and it's my duty as a cop to help the society. I saw that she was not in a position to walk and sans possibility of getting any vehicle lift in the desert, I did what I thought was the only best solution--lift her on my shoulder and reach safety as fast as I can."
Parmar hails from the Udrana village of the Tharad taluka and is the only earning person in her family of four, which includes her father, who is a small-time cattle breeder, her mother and a younger brother, who is studying. She did her graduation in arts and is married. Her husband works in a private company. Parmar was posted in Rapar in May 2021. In 2019, she was selected for the Lok Rakshak Dal.
Parmar told the media that she comes from a poor family and is used to carrying bundles of grass for the buffaloes. For this, she used to walk from five to ten kilometers. Hence for her lifting a woman and walking the same distance was not much of a challenge. On the video going viral, she said that a passerby had taken permission to take the video and must have uploaded it online.
The incident that has made her popular for her integrity took place in late March this year. At that time she was assigned bandobast duty from March 19 to 27 at the Ramkatha by Morari Bapu in Dholavira village of Bhachau taluka. The venue lies atop a small hill in the desert.
Three elderly women, one of whom fainted, had gone to offer prayer at the temple around 11 AM, and the incident took place while they were returning. A passerby informed that a woman fainted because of heatstroke at the venue where Parmar was on duty. Immediately, she rushed to the location with a water bottle and decided to carry the woman to safety.
Feature Image Credit: Harsh Sanghavi/ Twitter