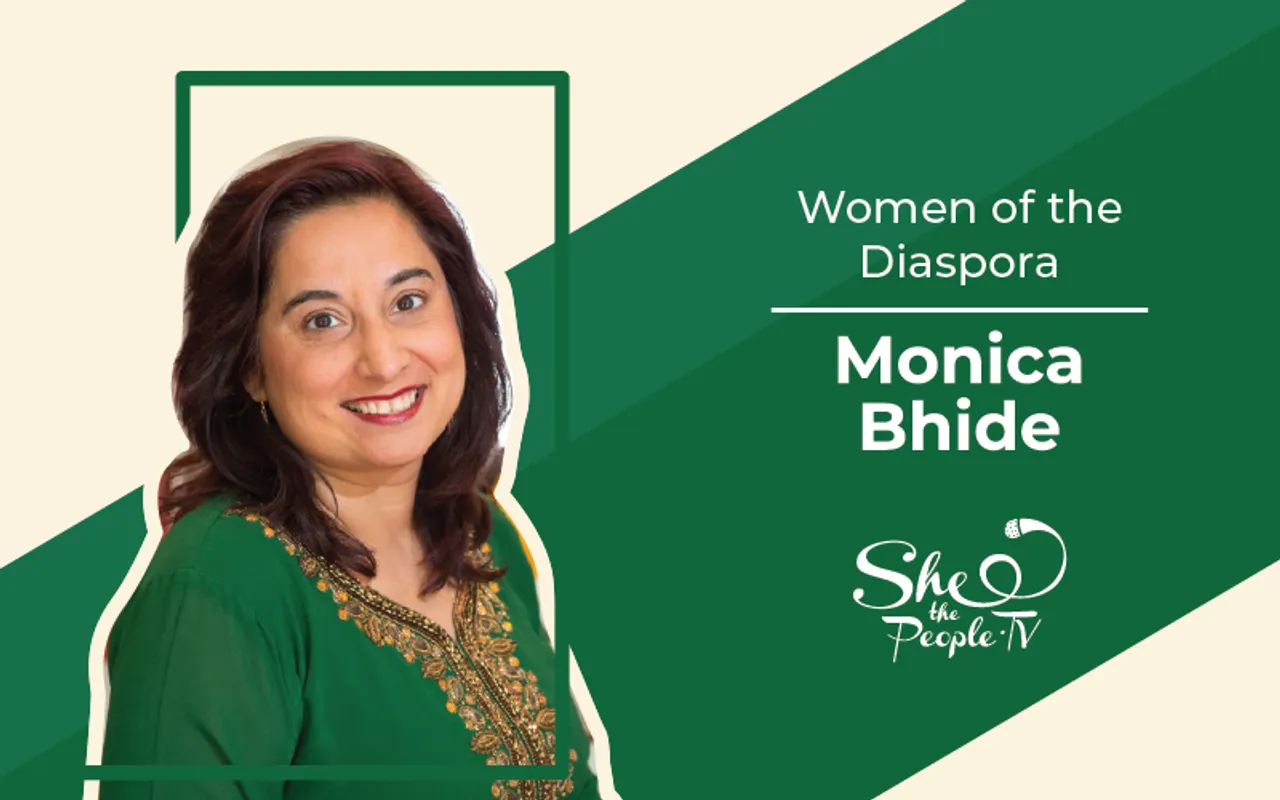 A bestselling fiction and internationally renowned cookbook author, Monica Bhide is known for sharing food, culture, mystery, and love in her writing. As a noted international food writer, Monica has built a diverse and solid audience through her books and articles in top-tier media such as: The New York Times, The Washington Post, Christian Science Monitor, Bon Appétit, Town and Country Travel, Food and Wine, Cooking Light, Better Nutrition, and many others. Her work has garnered numerous accolades and has been included in four Best Food Writing anthologies (2005, 2009, 2010, and 2014). Her memoir, A Life of Spice, was picked by Eat Your Books as one of the top five food memoirs of 2015. Top Chef's Padma Lakshmi picked Bhide's Modern Spice (Simon & Schuster, 2009), as one of the "Best Books Ever" for Newsweek in 2009. The Chicago Tribune named Monica "one of the seven food writers to watch in 2012".
A respected writing authority, Monica appears regularly on NPR and conducts sold-out workshops on writing, food, culture, and scheduled speaking events at prestigious venues as the Smithsonian Institution, Sackler Gallery, Les Dames d'Escoffier, Georgetown University, and Yale University. She has taught all over the world including conferences in London, Dubai, US etc. She has also been the "Writing Coach in Residence" for the annual conference of the Association of Food Journalists.
A graduate of the George Washington University (Washington, D.C.), she holds a master's degree from Lynchburg College (Lynchburg, VA) and a Bachelor's degree from Bangalore University (Bangalore, India). She gives back to the global community by serving on committees and volunteering for Les Dames d'Escoffier, The International Association of Culinary Professionals, and at her children's schools in Northern Virginia. SheThePeople.TV spoke with Monica about her journey from India to the US, the multicultural influences that have shaped her, crossing genres and formats in her writing, and making her passion her career.
You have lived in India, Bahrain and now live in the United States. How did the shift in the very varied cultures in the three places you lived in affect you?
I was going to give you a very serious response but your question reminded me of a trip I took in 2014. I was at Washington Dulles airport and a lady in the immigration thought I was Afghani, my plane companion thought I was Brazilian, the stewardess asked if I was Pakistani and the cab driver in Dubai (where I landed) asked if I was Indian! That is how I feel about living in such beautiful diverse places – I feel like a global nomad. I feel like I belong to all these places and they each hold a special place in my heart.
Also Read: Art Is My Place Of Healing Says Artist Sharmistha Ray
India has given me my identity, Bahrain gave me the gift of a dream-like childhood on the beach and in the US, I finally discovered how to stand up for myself and my identity as a woman, a woman of color and a writer. The people, I find, are the same most everywhere. Same worries, same concerns, same ambitions. What is different is how the environment and culture affects our responses to the situations.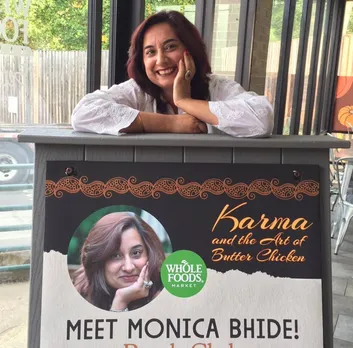 India has given me my identity, says Monica Bhida
You trained as an engineer and then moved into writing. What prompted you to start exploring cooking and food as a passion, and then a profession?
I always wanted to tell stories. From when I was a little kid. I used to make up tales of fairies and monsters and angels and demons and the special genie who lived in the bedposts! It was my way of making sense of this complex and complicated world. I never quite fit in and my stories gave me a voice and a way to interact with the world. I wanted to write fiction when I quit my engineering job. But you know, as they say, man plans and God laughs! I started writing online (in a food group) about food that I loved. Someone from an illustrious newspaper read my work and asked me to start writing formally about food. One thing led to another and I started writing food stories and eventually published a few cookbooks, the main one with Simon & Schuster. It was called Modern Spice and Mark Bittman from the NYT was kind enough to write the foreword for that book. It was later released in India by Random House.
India has given me my identity, Bahrain gave me the gift of a dream-like childhood on the beach and in the US, I finally discovered how to stand up for myself and my identity as a woman, a woman of color and a writer.
As someone who didn't train professionally in food or food writing, did you feel you had to prove yourself doubly hard in the field? And also as a WoC, did you find any prejudices or boxing in that you needed to disprove?
Oh, yes. When I first pitched stories, editors often lectured me on not having enough experience. But, I am persistent and did not give up. One of my stories was rejected 17 times before it got published. When I had a few articles under my belt, I actually created a hand-made tray: it included copies of the articles, a few spice sachets, and my resume. I had 15 trays. I took the train to New York and hand-delivered the trays to every single food editor I had ever heard of. Some were kind enough to talk to me. Some gave me work. I knocked on so many doors that never opened. But, I knew if I did not knock, I did not have a chance. I waited for several hours for many of the editors. In the end, it was worth every single moment I spent waiting, hoping and wishing for one shot to write a story!
I learned quickly that writing was not a profession for the thin-skinned and faint-hearted (and I was both). I had to work on my tenacity and quickly learned that tenacity trumps talent every time. I had no credentials as a writer when I started but I had a dream and I knew it was my "soul purpose" to write. I took writing classes, I read books on writing, I practiced, I read as much as I could. During my first five years, I think I wrote over a 100 pieces a year. Each story taught me something. I have been writing for fifteen years now and, ten books later, I feel like I have barely scratched the surface of this amazing art. So much to yet to learn.
Also Read: Was Secretly Dreaming of Winning National Award: Singer Bindhumalini
In answer to your second question: My pet peeve is when I get introduced as a speaker and the introduction (almost invariably) includes: Monica is an Indian woman and food writer. I mean, how many boxes are they going to put me in! I have had to fight to write stories about cuisines other than Indian, about topics other than spices, about whatever it is that I want to talk about that has nothing to do with my gender or color or anything else. Things are much better now but when I started, I felt very claustrophobic – I felt like I was only "allowed" to write about certain topics. But, I knew that wasn't me. I refuse to fit in. I am a writer. Period. That is my identity. It isn't that simple, I know but in some ways it is. We teach people how to treat us so now I insist on being introduced as a writer. And as a writer, I write poetry, fiction, travel, inspirational, and cookbooks.
As an Asian American writer on food, what are the challenges or the advantages you feel you face?
I feel lucky to come from such a diverse culture that has so many layers. Each time I think I know something about India, I find that that there are a million things I don't know. I adore our rituals and celebrations (like Holi) and feel blessed that I can write about the ones that I mess up (like Karva Chauth- I fasted on the wrong day for my first Karva Chauth fast and never fasted again!)

Karma and the Art of Butter Chicken by Monica Bhide
Shifting across genres from writing cookbooks to writing fiction was an immense leap, what made you make this shift and what were the challenges you faced, both in process and perception when you did so?
I wrote my first collection of short stories in 2014 and they actually did fairly well. I had a hard time convincing publishers to let me jump from cookbooks to fiction so I published it through my own publishing company. I took ten years to write that collection and I knew in my heart that that collection was my true calling as a writer. The readers responded and I have since focused more on fiction and inspirational writing.
I knocked on so many doors that never opened. But, I knew if I did not knock, I did not have a chance. I waited for several hours for many of the editors. In the end, it was worth every single moment I spent waiting, hoping and wishing for one shot to write a story!
I love/hate the process of short story writing and writing novels depending on the day! When the words flow, it is awesome. Then there are days when I stare at the blank page and I am not sure why I got into this profession. I marvel at how useless I am and how easy it is for other writers! It is a crazy ride for sure.
The biggest challenge has always been not to give up. I was getting offers to write cookbooks but my heart was in my fiction writing. Saying no book deals seemed insane. But, as the old saying goes, sometimes you have to follow your heart and the vision that only you can see for yourself. It took a lot of faith, a lot of sleepless nights, a lot of questioning of my lack of common sense, and a lot of blind faith that the Universe was guiding me to where I was supposed to be.
Also Read: Social Media Helped Me To Make My Business Better: Chef Aanal Kotak
You've written very poignantly about trying for a second child and the miscarriages and the procedures that you went through. How important are these stories for women out there who face difficulty in conceiving and why should we talk more about these?
Monica Bhide with Chef Sanjeev Kapoor
No one used to talk about this when I was younger. It was really hard for me when I went through these procedures and the horrid miscarriages. I suffer from severe endometriosis and debilitating chronic pain. I wrote a story about it once and another writer called to warn me and told me not to write such things or I would not be able to get work as people would think I was incapable of writing due to my illness. I think that is such stupidity. If we don't share our experiences, our darkness, our difficulties, how will we learn? I met the lovely and talented Padma Lakshmi at her home a few years ago. In addition to all her television work and books, she is the spokesperson for endometriosis here in the US. I take such inspiration from her. She has debilitating pain and despite that has created an amazing career and life for herself. I admire her and her story gives me solace, strength and grace. If she had never talked about it, so many women who suffer would never have learned about her courage in facing this illness.
In your short story collection, The Devil in Us, your stories move between both India and the US. How did you decide upon the short story as your form of preference over the novel and what advantages do you feel this format has over the others?
I love short stories. I loved reading them as a kid and I think I just naturally lean towards them. My next collection is a collection of love stories! Short stories, to me, feel like teasers. They bring you in, evoke your senses and then leave you as quickly just as you are making yourself comfortable! Good short stories leave you wanting more!
With Karma and the Art of Butter Chicken, you merged food writing with fiction. How easy or difficult is it for you to genre hop and do you think this an advantage or a disadvantage when it comes to building your personal brand as an author?
I could pretend and tell you that I planned Karma to have food in it! I did not. It was a story inspired by the work of my friend Chef Jose Andres and it just felt right to have food tied in. We created a free cookbook to go with the novel so I was able to put my recipe writing skills to some good use! Writing the novel was hard work. It did not flow easily. I remember at one point I called a novelist friend of mine and told her nothing was happening in my book. I could not move it forward. The plot was stuck. She asked to read it and then said: throw in a wedding. That always messes things up! I did and the story moved forward but it took a lot of effort and a LOT of editing. When I finished the book, I felt that it lacked soul. I struggled and did not know how to fix it. The same friend read it again and said she wanted to "feel" the main character and did not feel him. "It is as if he is behind a glass wall," she noted. So I took three weeks and wrote new sections in the book – personal poetry written by the protagonist. That helped as he showed up on the page in his own words.
Short stories, to me, feel like teasers. They bring you in, evoke your senses and then leave you as quickly just as you are making yourself comfortable! Good short stories leave you wanting more!
I researched a lot for this novel in 2014 and 2015. I was lucky enough to find a particular scent in Chandni Chowk that became a central thread in the story. The scent, saundha (petrichor), reminds the chef of the importance of the fields and the gifts that the green fields give us after it rains. An old merchant in Chandi Chowk explained the relevance of this scent to me: the smell of the earth after the rain – the scent of hope! I spent a lot of time at a monastery in Delhi, where the book is based and did a lot of tours of the nooks and crannies of Delhi. And, again, was reminded at every step how little I knew about my birth city and how it loved to share it's secrets, one bylane at a time.
You've been through immense life-changing events and emerged stronger for them. For every woman out there, could you tell us what keeps you going and how you motivate yourself or what is it that gives you strength?
The past few years have been life changing. I guess not everyone gets beautiful forever afters. There were moments that I wanted to give up and almost did. But, I am blessed to be surrounded by an understanding family and strong friends who kept me steady and gave me the time, space and support I needed to recover. I did not anticipate being a single mom. Yet, here I am.
Also Read: Archana Hebbar's Kitchen Is An Online Cookbook For Busy Millennials
We tend to define ourselves with labels and I think that is where we get into trouble. If one of the labels is removed (or taken away), then who are we? If we are not a wife, a mother, a daughter, or whatever, if that label goes away, who are we? That is the most important question that I had to answer. Who am I? What is my purpose here? Why has the Universe blessed me with another morning? What am I here to do? I had to learn that the labels are fluid. They change. The core stays the same. I had to go deep into my core. To define who I was without the labels that society had placed on me.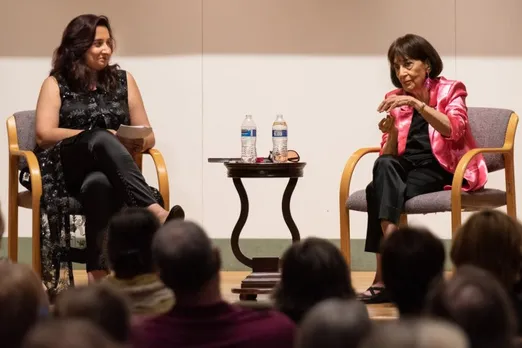 Interviewing Madhur Jaffery at Smithsonian
My children and my writing motivate me and keep me sane. I went through an extremely dark period of three years, my own personal dark night of the soul. There are days now, when I see the light sometimes. The biggest lesson for me has been to trust myself, my instincts and my voice. To never give my power away. To be bigger and stronger than my circumstances. And to make the difficult decisions (that often have painful consequences) I need to make.
We don't get a redo on our whole life. But we do have the blessing of the present moment and the ability, if we choose, to make it our best/worst moment ever. And, i have learned, that it is these small moments put together, that define our life. Every single moment counts. Every single moment is a choice -- to choose what matters, what defines us, what moves us, what motivates us and what will, eventually, be the legacy we leave behind.
Earlier this year, out of the blue, I got a call from NPR's café. The chef loved my novel and decided to cook up dishes that the fictional chef would have cooked. They served my recipes in the café that day and gave copies of my book to everyone who came to the café. I don't know how to describe the feeling of seeing my fictional world come alive in food! People were talking to me about things that only lived inside my head! We talked about the character, his food, the dishes that the chef had created and it all came together full-circle. I knew then and there that I was on the right path: to tell stories, to engage people in conversation about life, love and longing.
And finally, you quit a corporate job to write full time. Would you recommend that to aspiring writers? What is the point at which you decide to take a leap of faith and when would you not recommend it? And now that you're back, what do you miss most about not being able to write full time?
There is an old Arabic saying: Trust in Allah but tie your camel.
I had stopped writing for three years. I am starting again now. With a different path ahead of me, with a past that I am learning to let go and with the belief that there is only one thing that will ever define me: I am a writer. And that is the purpose of my soul.