What's better than celebrities using their popularity to create awareness on issues that affect us and our surroundings.
Especially, when people from Bollywood come out to show support for various causes, it does a little right to the humongous wrong that is the industry. Why I pick Bollywood is because people in the industry hold way too much popularity and respect.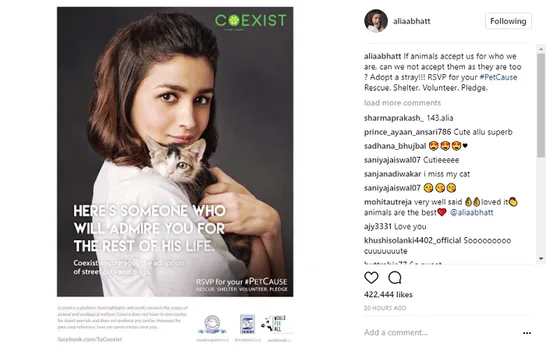 Alia Bhatt's new initiative -Coexist
So when someone like Alia Bhatt starts "Coexist By Alia Bhatt", it is imperative that people will listen to her. The young actor is more than the character she plays onscreen. With a following of 17.1mn, she can influence people's opinion and she is doing justice to it by promoting animal welfare and tackling environmental issues.
Alia, also voiced her concern for a 90 kg green sea turtle 'Queen' whom she helped to be released into the ocean.
The actor herself is in fostering and keeping pets. She has three cats (Pika, Sheba and Edward) and three dogs and not just pedigree but also rescued stray dogs. On most days, Alia can be seen Instagramming her cats and basically just chilling with them.
A regular at Adoptathons for stray cats and dogs, the actor also calls for adoptions whenever she sees stray cats and injured animals on roads. She brings the animals home, neuter/spays them and then reaches out to people for adoption.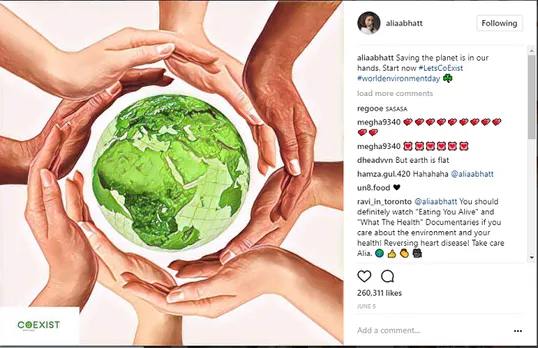 Coexist by Alia Bhatt (pic taken from her Instagram)
Earlier today at 12 noon, she released a video on the Facebook page of Coexist where she says, "I strongly believe in our ability to create a better and safer environment for homeless cats and dogs," adding that she is excited to swap animal stories with her fans.
ALSO READ: Why Women Are Opting For Pets Over Parenthood
Animals mean us no harm, we need to respect their space and give them dignity.
A noted advocate of wildlife and nature, Prerna Singh Bindra feels delighted, "to see this effort to highlight this issue, to be the voice of animals, to co-exist in peace."
She said, "Our civilisation is dependent on plants and animals that provide natural ecosystem, services that range from crop pollination to watersheds for rivers to preventing soil erosion to producing the very air-oxygen that we breathe. Animals mean us no harm, we need to respect their space and give them dignity. All species are co-travellers on Planet Earth, each of us have a role to play, a niche to fill. The mark of man is kindness, compassion...and our world view must be inclusive."
Many animal enthusiasts second Bindra's view on wildlife. Founder of Heads Up for Tails, a lifestyle story for pets, Rashi Narang also lauded Alia's effort. She said, "A worthy endeavour, coexisting peacefully is the only way forward. Having respected public figures such as Alia Bhatt spreading the right message will certainly help the voiceless."
The owner of PETA approved Shoe brand—Kanabis, Devika Srimal Bapna feels glad that awareness is on the rise. "Animals and humans to 'co-exist' absolutely. We are glad that awareness is on the rise and people like Alia Bhatt can add their powerful voice to this movement," said Devika.
Here's wishing many congratulations to Alia for her initiative.
Join Us on https://www.facebook.com/SheThePeoplePage
Follow Us on https://twitter.com/SheThePeopleTV