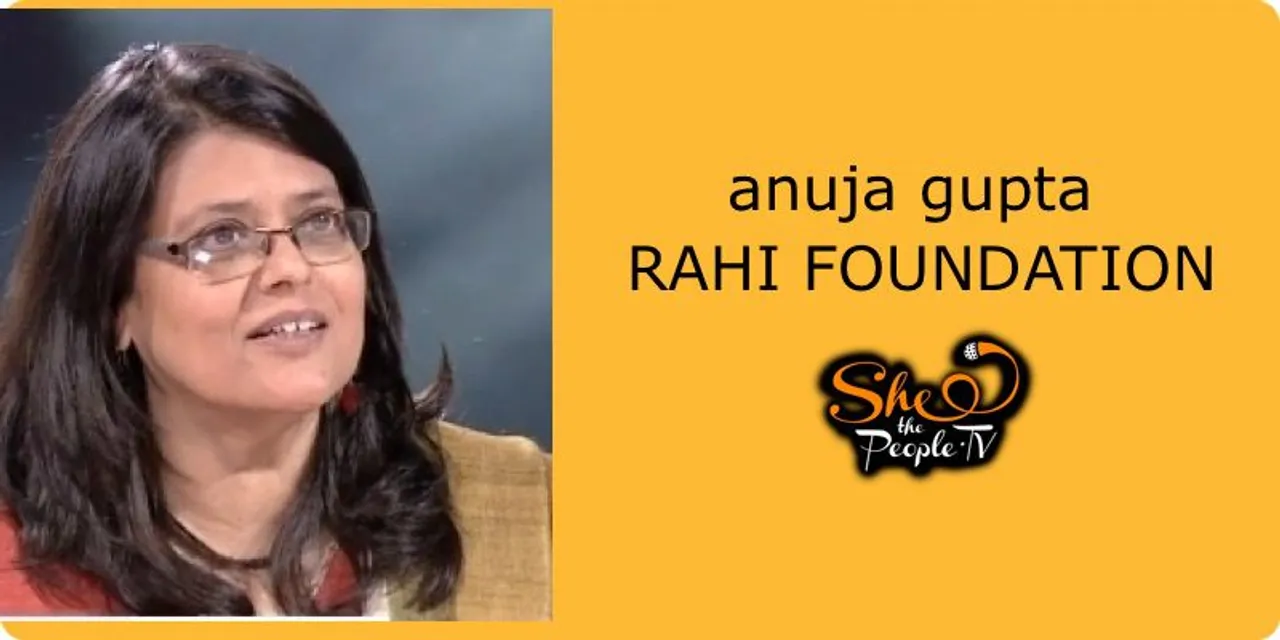 Before the end of April -- Child Sexual Awareness and Prevention Month -- I wanted to make sure to do an interview with Anuja Gupta, the founder and executive director of RAHI, which has been doing incredible work with adult survivors of child sexual abuse here in India, for the past two decades. 
I have met and worked with Anuja and co-founder Ashwini Ailawadi at RAHI for years, as a reporter, and have benefited greatly from their 'working on' me, without my even knowing it! To make me more empathetic and sensitive as a journalist. I am now collaborating with them and Vaishali Sood, co-producer slash creative director, on a documentary that has five powerful women talking with gut-wrenching honesty about the surviving child sexual abuse... and going on to thrive. 
1) Firstly, congratulations for all the work you've been doing at RAHI for the past 20 years.  
Thank you. I am so proud of this journey. It has been tumultuous, with ups and downs, joys, sorrows, tears, wonder and hope, so much like the recovery journey of a survivor. It  has been rich with learning and experience.
There have been many key learnings.
2) One of the big challenges seems to be the pre-conceived notion that child abuse happens in "other families", not families "like ours". What would your message be about this? And how important is it in the effort to prevent child abuse?
Child sexual abuse happens only in "other families" is a myth that puts children at great risk. One of the first steps to prevention is to believe it happens or can happen in our families and is not a problem "out there". 
If we do not believe that, we are unlikely to put protective mechanisms in place for our children or pick up signs of abuse should it have taken place.
Also Read: Why are Indian women shy of reporting sexual abuse
My message is very clear — we need to fully acknowledge the reality of CSA in our homes, no matter how uncomfortable, if we want to protect our children. Our denial can cost them their childhood.
3) It's a tough journey for survivors — from acknowledging the violation that happened, to learning to heal and at times confront the perpetrators. Would you say that healing is possible for everyone? 
And in a linked question: If you could elaborate on what you've said in the past, on the importance of therapy. "It gets worse before it gets better?"
It is a difficult journey for survivors, but it is also one that is enriching and empowering as survivors remember, tell their stories, mourn their losses, own parts of themselves, forgive themselves, learn new behaviours and reclaim their lives.
It is not a linear process and often gets worse before it gets better because it is about opening up wounds and repressed memories. Before the wound can heal, there is pain. I have been through this myself and have also taken many survivors through it. So, yes, I do believe healing is possible for everyone. It begins with acknowledging the abuse and its impact on one's life, taking the decision to heal and seeking help. 
Abuse happens in isolation, recovery does not. It happens in connection with others and therefore support for survivors is critical. The unfortunate thing is that though healing is possible for everyone, services for survivors in India barely exist and are not easily accessible for everyone.
On the other hand, counselling or therapy is important but mental health professionals or other service providers also need to have a clear understanding of how to take a survivor through her/his journey. Otherwise it can re-traumatise or will simply be ineffective. A word about confronting perpetrators - it is not necessary for healing unless the survivor believes it is. In which case, it has to happen at the right time, when survivors have the internal and external resources and support structures to take care of a likely negative outcome.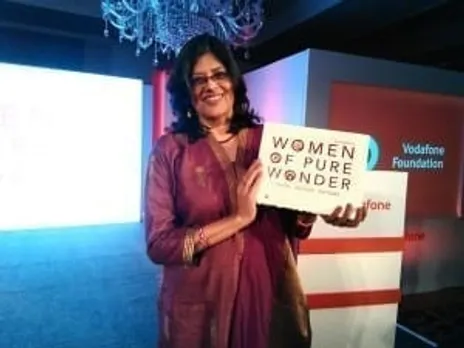 Anuja Gupta being recognised by the Vodafone Foundation as one of their 50 women achievers this Women's Day 
Photo Credit: RAHI (on Facebook)
4) Why do you feel that gender equality or empowering women is so important in addressing the challenges of child abuse?
Because it is gender inequality that allows CSA to happen in the first place. For us at RAHI, the most adequate explanation of why incest/CSA takes place is found  in the interaction between existing social structures, unequal power relations and differential gender socialisation in a patriarchal society. These factors manifest themselves and get reinforced through patriarchal social institutions like the family where they get internalised.
Once internalised, they create conditions and behaviours that offer little or no protection against sexual abuse of children. For example, in a culture where men are socialised to view women and children as their property to exploit at will, including sexually, incest/CSA becomes just one expression of 'normal' and acceptable behaviour. Moreover, given the reality that women are the primary caretakers of children, if they are not empowered they are unlikely to be able to adequately protect their children or take action if abuse happens, as we have seen in so many cases that come to RAHI.
5) Lastly, if there were a message you wanted to share with the media, when it comes to all the cases we see and report on, what would that be?
"Normalise" child molesters and do not portray them as monsters because it serves to perpetuate the myth that they are not like us. This puts children at risk.
When you report on CSA, you put the problem "out there". One of the things for you as the media to understand, is that when we talk about CSA happening in our families, it is inclusive of your families. You need to apply it to yourselves,  personalise the issue, to know and understand, in all its deeper implications that child molesters are in your families as well - they are also your fathers, brothers, uncles and grandfathers; it could have happened to you or your  loved ones.
So when you portray the abuser as a monster or scream for his blood, when you portray a survivor as a poor sorry victim cowering in a corner, think of how you would portray them if they were your family members as this. When you ask for 'case studies', would you encourage survivors in your family to come out?
When you apply this to yourself, the entire approach will change and the quality of reporting will become more real and sensitive.
Take time to educate yourself on this issue and its nuances. We at RAHI are willing to help you with this. As we did with you (Amrita) for RAHI's film that you anchored. Otherwise it is easy for the wrong message to go out despite good intentions. 
(You will find more on the RAHI Foundation here)