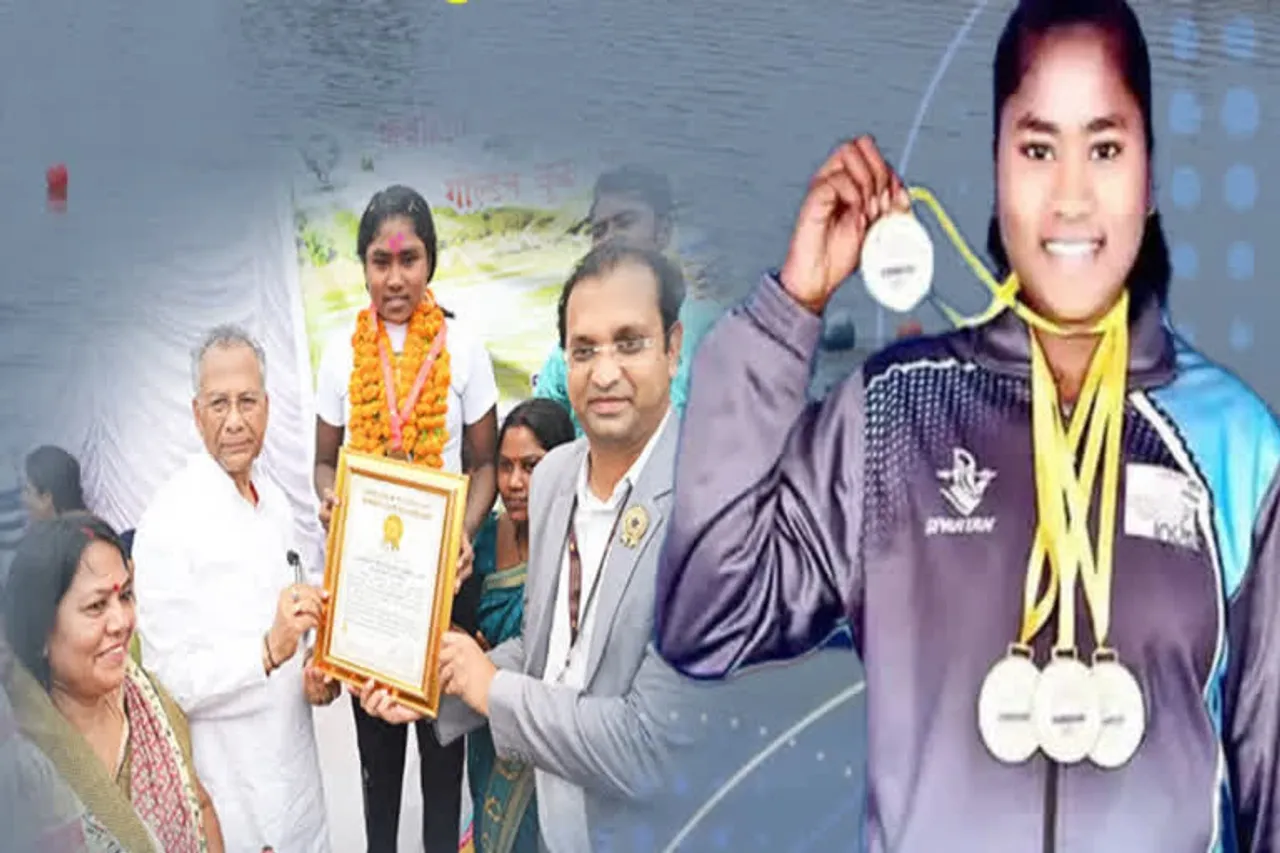 A 15-year-old from Purai village in the Durg district of Chhattisgarh inscribed her name in the Guinness World Records by swimming tirelessly for eight hours.
She made India proud and brought glory to the nation. She asserted that swimming is her passion which she relied upon since her childhood and her long-driven perseverance is one of the pivotal factors which eventually landed her in the stead.
Chandrakala Guinness World Record
Chandrakala, a Class 10 student, has been swimming since she was 5 years old and comes from a lineage of athletes who concur at the national and state levels. In junior open national and state competitions, she brought home three gold and two silver medals. Her younger brother Siddharth is a state player, and her older sister Bhumika is a national swimmer.
In addition to striving for a swimming career, Chandrakala hopes to improve the swimming abilities of other young people in the state. To help the aspiring swimmers, she suggested that their hamlet build a pool and an academy.
Chandrakala Swam For Eight Hours Continuously
As per reports, after doing her morning rituals including prayers, Chandrakala began swimming in the pond of Purai village around 5.10 am. She continued swimming there until 1.10 pm resulting in inducting the Guinness World Record. Residents of Purai and India as a whole are elated by the splendid news. Chandrakala has been showered with the blessings of elders and esteemed personalities, On Twitter as well, innumerable esteemed personalities felicitated her with greetings and pomp and show.
Emerged as the Epitome Of Empowerment
Chandrakala practised for 10 to 12 hours each day in order to set this new record. Om Kumar Ojha, her trainer, claimed that her entire community helped her, with one group keeping an eye on her meals and another on her sleep to make sure she got enough exercise.
Everyone praised Chandrakala when she emerged from the ocean after 8 hours of nonstop swimming. State Home Minister Tamradhwaj Sahu presented her with the Golden Book of World Records certificate and medal after Dr Manish Bishnoi, Asia Head of the Golden Book of World Records, revealed her accomplishment.
As the newest member of the record-breaking sports community Purai, she entered her name in the Golden Book of World Records. There are 103 young swimmers in Purai right now who are burning the midnight oil to make their country proud. Chandrakala is the epitome of empowerment for all fellow girls who are aspiring to accomplish their dreams. 
---
Suggested Reading: Woman Sets Guinness World Record For The Largest Afro: 'Conscious Decision To Embrace Natural Hair'