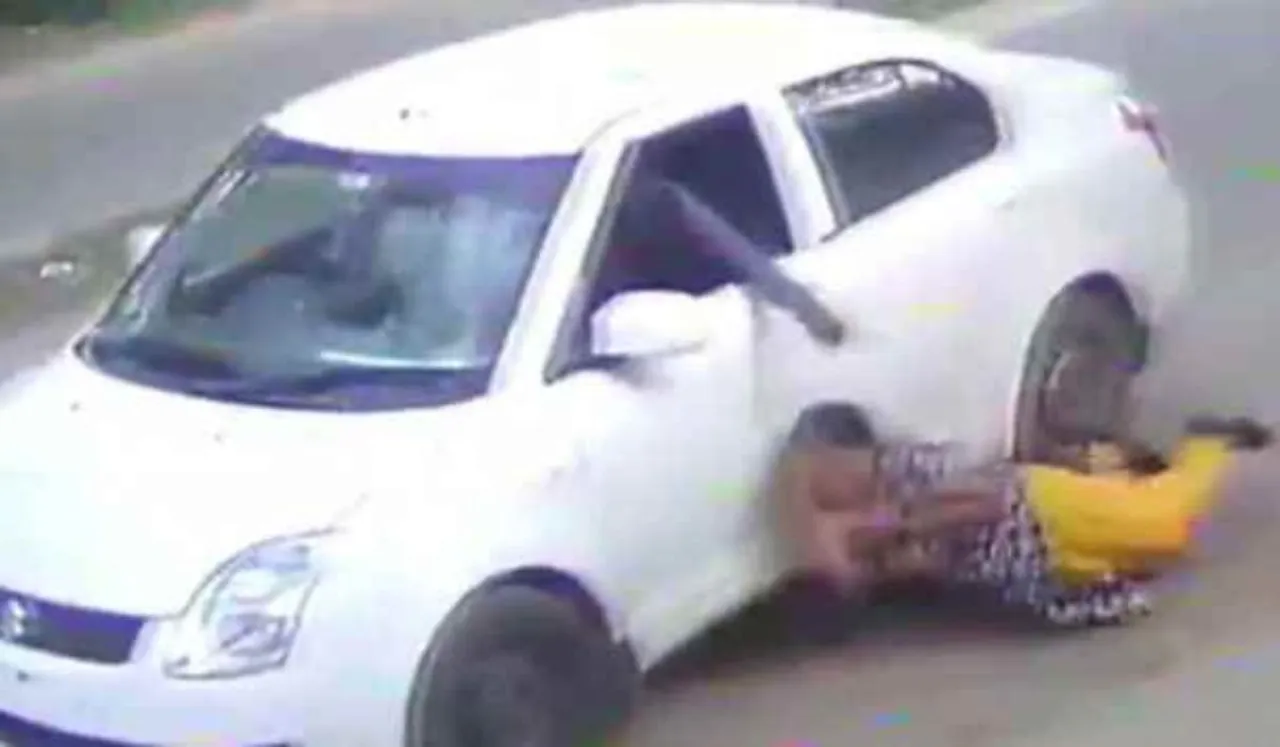 A 38-year-old woman was slightly hurt when males in cars attempted to steal her gold chain at GV Residency in the city on Monday. Before she slumped to the ground on the road, the woman was dragged for a brief distance.
On Monday, a woman was out for an early-morning walk in Coimbatore, Tamil Nadu, when she was almost struck by a car that dragged her along the road while one of the passengers tried to grab the chain she was wearing around her neck. Around 6.30 am, the incident—which happened close to GV Residency—was also caught on CCTV.
The two accused were arrested in connection with the incident, The Deputy Commissioner of Police (South Range) K Shanmugam identified the accused as 29-year-old M Sakthivevl and 25-year-old Abishek Kumar.
As per DCP Shanmugan, Abhishek works with a doof delivery company and has already cases of chain snatching registered against him. The other accused is a taxi driver.
Chain Snatching On Rise: Chain Snatchers Almost Runover Woman
R Kausalya, a resident of Peelamedu, has been identified as the victim, as per the report. A white car came up behind her, as seen in the clip. A man in the front passenger seat of the car leaned out and grabbed her chain as it got close to her. She repelled the attempted grab by holding her hands quickly close to her neck.
She was dragged behind the automobile for a few metres before falling to the ground and almost colliding with the vehicle's left rear wheel. A closer glance at the video revealed that the car had no licence plate.
A CCTV camera caught the incident on video. The video was posted to social media, and by evening, it had gone global. Inspector Meenambigai of the Singanallur police had earlier hurried to the location and begun the investigation. To find the culprits, a special team has been created.
Similar Incident:
Similarly, a 10-year-old girl bravely defended her grandma from a chain snatcher in CCTV footage from Pune, Maharashtra, which has gone viral on social media. The footage shows the child walking along the roadside with her grandma and sister. Suddenly, a young man on a scooter stops by her grandmother and tries to grab the girl's chain. The elderly woman and her 10-year-old granddaughter, however, bravely fought the alleged kidnapper in combat. Read more about the case here.
Feature Image Credit: The Indian Express
---
Suggested reading: Delhi Woman Fights Back Chain Snatchers