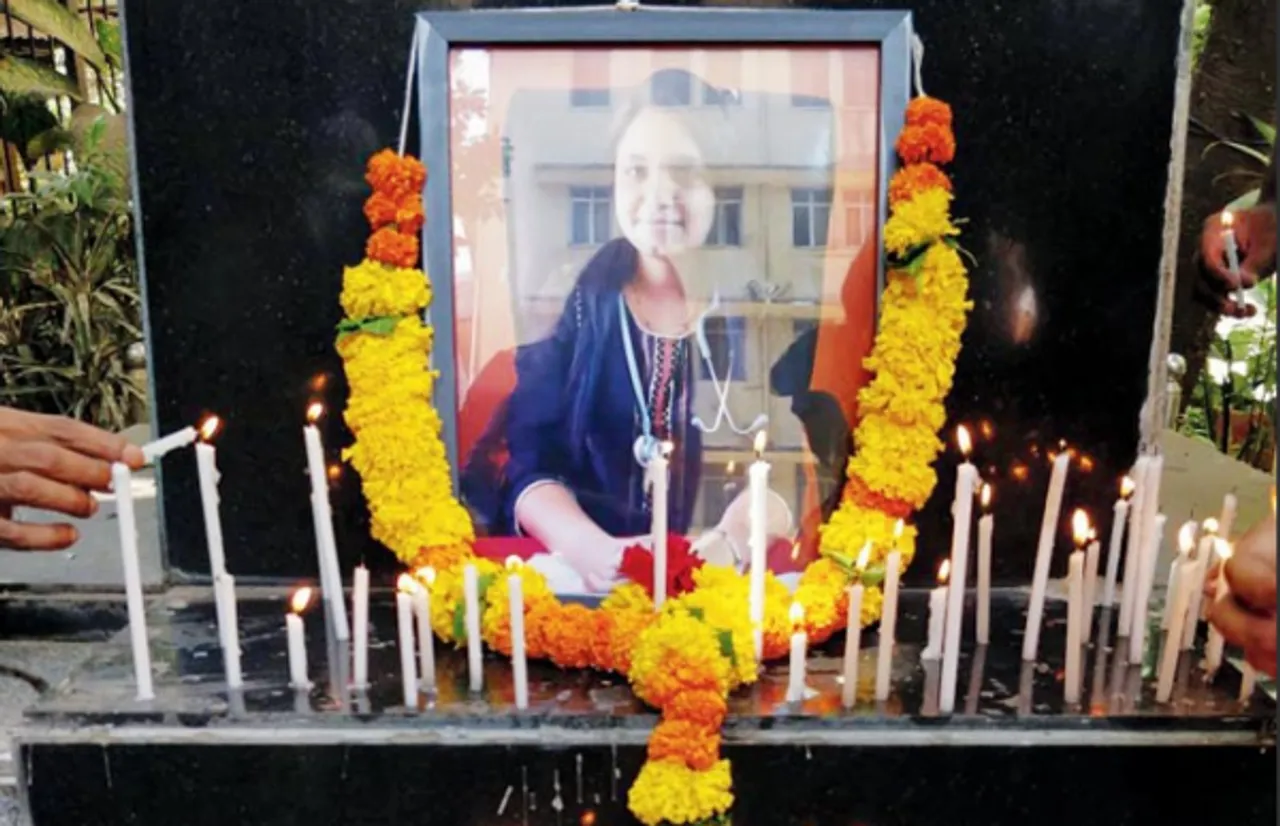 Amidst fresh cases of caste based violence against women, the tragic case of Dr Payal Tadvi has emerged in the news again. Citizens on social media are asking : Where is the justice for women like Tadvi? This aspiring doctor died by suicide on 22nd May 2019 allegedly driven to death due to mental torture and casteist slurs by her senior colleagues. Tadvi, who wanted to be a gynaecologist to treat women of her village, may have been the first doctor in the Bheel Tadvi tribe.
Tadvi was a postgraduate student of gynaecology in the Topiwala National Medical College, which is attached to the BYL Nair Hospital in Mumbai and she died by suicide after allegedly being tortured and bullied by three of her seniors. Reports say there were repeated complaints by deceased medical student Tadvi and her parents against casteist slurs, bully and mental torture,
The fact that she belonged to the Muslim Bhil Tribal community of Maharashtra allegedly became the reason for her bullying by other doctors. They were allegedly taunting her on the basis of her caste and that she got the admission through reserved quota since last year. In December 2018, Tadvi told her parents about the ragging for the first time which is when they took immediate initiative to inform the college authorities about it and urge them to make it stop. Below is her mother's perspective.
This bring tears. Payal Tadvi mother talking on IADF webinar (19 July 2020)@WadekarDisha @AmbedkarCaravan pic.twitter.com/XZUhBXKelj

— Ravi Ratan (@scribe_it) July 19, 2020
Prolonged negligence by authorities led to suicide
Her father Salim told Mid-Day, "The first six months were fine; some words had been exchanged between seniors and juniors, but Payal never thought it would lead to torture. As soon as it happened in December 2018, she told us about it. We discussed this with her husband, Dr Salman , who said things like these keep happening and she should just ignore them."
"We had started reporting this to the officials concerned. We had even met a lecturer and the hostel warden, who had called these three seniors and asked them not to behave this way with Payal," her mother Abeda Tadvi, who is suffering from cancer and is seeking treatment from the same hospital, said.
"I had called her in the afternoon of May 22, when she told me her seniors were still torturing her. I told her that her father and I were coming to Mumbai to file a complaint at the hospital and the police station, but she couldn't bear it any longer," she added.
Apart from her parents, her husband Dr Salman also reported this issue to the department after which the authorities changed her unit but after some time she was reinstated in her previous unit when the bullying started again.
Reports say that on the day Tadvi committed suicide; she had performed two surgeries after which she went to her room. A few hours later, her body was found tied by a dupatta from the ceiling fan. She was taken to the emergency ward but the doctors declared her dead. Her mother claimed that she spoke to her at 4 pm and accused the doctors of ignoring her plight.
ALSO READ: Dalit Parents Of Gang Raped Girl Allege Delayed Police Intervention
First in the community to become a doctor
"My daughter was the first woman in our community to pursue post-graduation and the first in our family to become a doctor. She was a bright student and had worked hard to reach where she was," Abeda said.
Tadvi, who hails from Jalgaon district of Maharashtra, joined the post graduate course on May 1, 2018. She did her MBBS from the Government Medical College in Miraj then she went to Sangli for a year for her internship before joining the PG course at the Topiwala National Medical College. When she had just joined the PG course and shifted to Mumbai, she was asked to share her room with Dr Hema Ahuja and Dr Bhakti Mehar. "The two began harassing her soon," Tadvi's husband, Dr Salman, said. "The two doctors would go to the toilet and wipe their feet on her mattress and litter it. When she would be away, they would taunt her that she was spending time with her husband," he said.
Aside from Dr Ahuja and Dr Mehar, Abeda has also accused Dr Ankita Khandelwal of harassing her daughter in the FIR. The three absconding doctors have been booked for abetment to suicide and under sections of the Maharashtra Prohibition of Ragging Act and the Prevention of Atrocities Act.
It has also been reported that the mother had alerted the head of the department of the bullying that was being done by the three doctors against her daughter but no action was taken. "My daughter was extremely strong. But this constant abuse eventually broke her. The three accused should be punished so that it sets an example for others who traumatize and torture students like Payal," Ms Tadvi said. "I hope the police arrest them soon."
State government responds; forms an anti-bullying committee
The medical fraternity has been under fire after Tadvi committed suicide case. Dr Ashok Dhawale, the president of the All India Kisan Sabha (AIKS) and Central Committee Member of the Communist Party of India (Marxist) took to Twitter to promise an intervention. Dhawale said, "A very serious and disturbing case. We will intervene."
Several friends of Tadvi are sharing her mother's last formal written complaint to the authorities that she submitted on May 10.
Payal Tadvi's mother had lodged a formal complaint to the Nair hospital on May 10, and still the hospital administration took no action. Why? pic.twitter.com/8D35pyAJ8Z

— Tejas Harad (@h_tejas) May 26, 2019
After the case garnered attention, state government has decided to form a committee at the state level to look into the anti-ragging mechanism in the medical college. The committee will focus on forming new anti-ragging guidelines.
"The state government has ordered to form a committee to frame new rules and punishment related to ragging in medical colleges in the state. It is not an inquiry committee. A three-member committee, which comprises of the head of Directorate of Medical Education and Research (DMER), Dr Dileep Mhaiskar, Vice-Chancellor of the Maharashtra University of Health Sciences (MUHS), and dean of the local government hospitals, has been set-up to look into ragging mechanism in college," said Dr Tatyarao Lahane, director of Directorate Medical Education and Research (DMER), DNA reported.
"I had called her in the afternoon of May 22, when she told me her seniors were still torturing her. I told her that her father and I were coming to Mumbai to file a complaint at the hospital and the police station, but she couldn't bear it any longer,"
Dr Kalyani Dongre, Central President of MARD, added, "We have decided to suspend all the three accused doctors from Maharashtra Association of Resident doctor until further notice. We have also demanded suspension of Head of Unit, Dr Yi Ching Ling for not taking action when Tadvi approached him with a complaint against the trio alleging harassment."
Payal has become a new face of caste-based atrocities which have become a norm in the country. A person shouldn't have to die for people to realise that caste-based and communal atrocities are real and that marginalised communities need to be safeguarded.
Picture credit- Twitter/Vishal Sonara