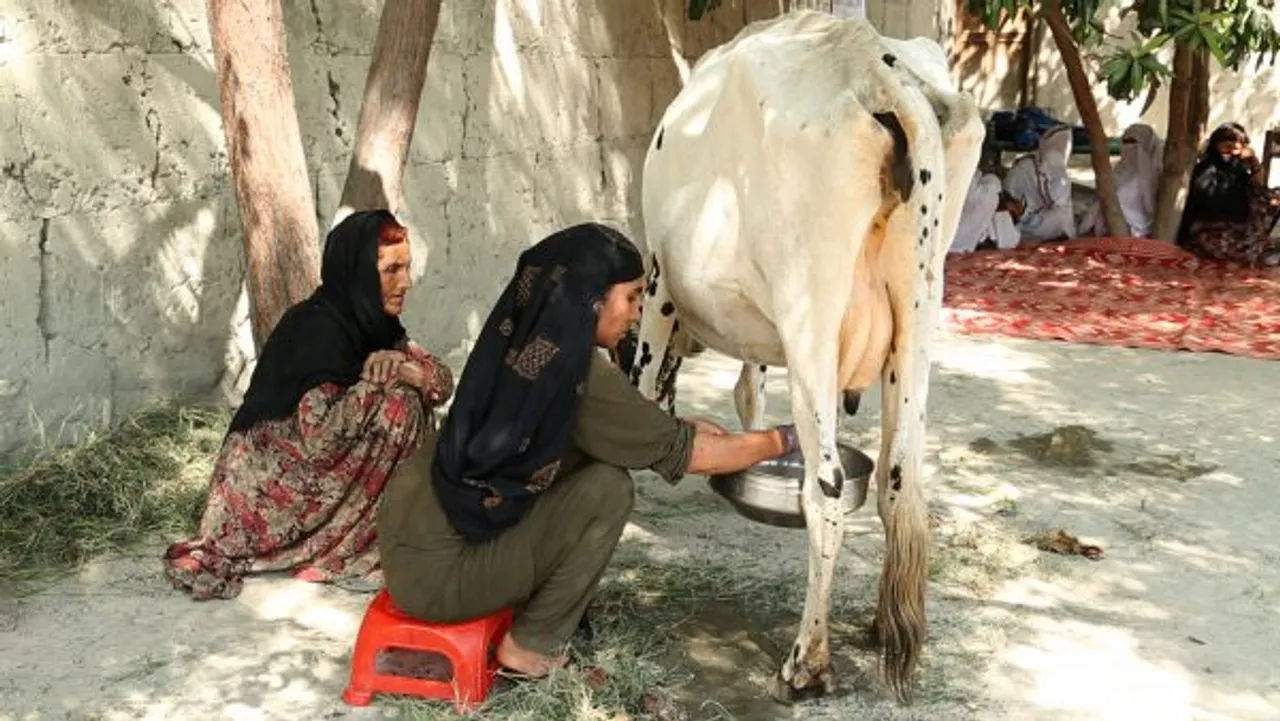 Every morning Rajasthan's Bhilwara district wakes up with the assurance of proper nutrition since a woman took upon her the charge of a dairy co-operative. Hemlata Rawat, 45, runs a dairy cooperative society in the district and has inspired many women to join in. Rawat started-up the venture so there's no lack of milk in the villages.
Hemlata founded the micro-dairy in the non-descriptive Dhapda village of Mandal block in 2014. She provides nearly 2 to 2.5 lakh litres milk per month from 1500 litres milk collected from nearly 200 households on a daily basis.
READ: Ankita Kumawat, IIM Graduate Who Found her Calling In Dairy Farming
"In 2012, Foundation for Ecological Security (FES) had developed pasture land development committee in a neighbouring village. They organised a visit to Bhilwara dairy, which inspired me to do something in the field," said elated Rawat who is not limiting herself and the society into dairy only but spreading the wings to the market of spices, NDTV reported.
The Dhapda Masala Udhyog Samiti was launched in 2016. Their net earnings is around Rs 30,000 to 35,000 monthly for the society, of which women are paid Rs 20 per hour for grinding spices manually.
READ: Meet the Sister duo behind this Organic Farmstay – Dyo
What started with one cow, later expanded with other women of the village showing interest. And subsequently, a dairy cooperative society was set up. The society now provides work to 11 women.
"As I started earning from the milk that I sold in the neighbouring Gyangarh village, I purchased more cows and also motivated women to contribute, which helped them to stand on their feet," Rawat said.
The Dhapda Dugdh Utpadak Sahkari Samiti, Bhilwara district recognized the initiative and has started procuring the milk. They have also set up bulk coolers in Dhapda village for the preservation of milk.
READ: Avantika Jalan, on Sustainable Management of her Family's Tea Estate
"Dhapda is a remote village and the efforts of the society are appreciable. People from other villages also supply milk to the society. In short span of time, the society had earned good profit," Manager (procurement), Bhilwara Zila Dugdh Utpadak Sahkari Sangh Limited, Rajendra Udawat said.
Needless to say, this women-run dairy is a revolution for the state as it offers jobs to women in need. Hats off Hemlata!
Read Also: Striking a chord with nature: Preeti Narula, Founder of Living Balconies