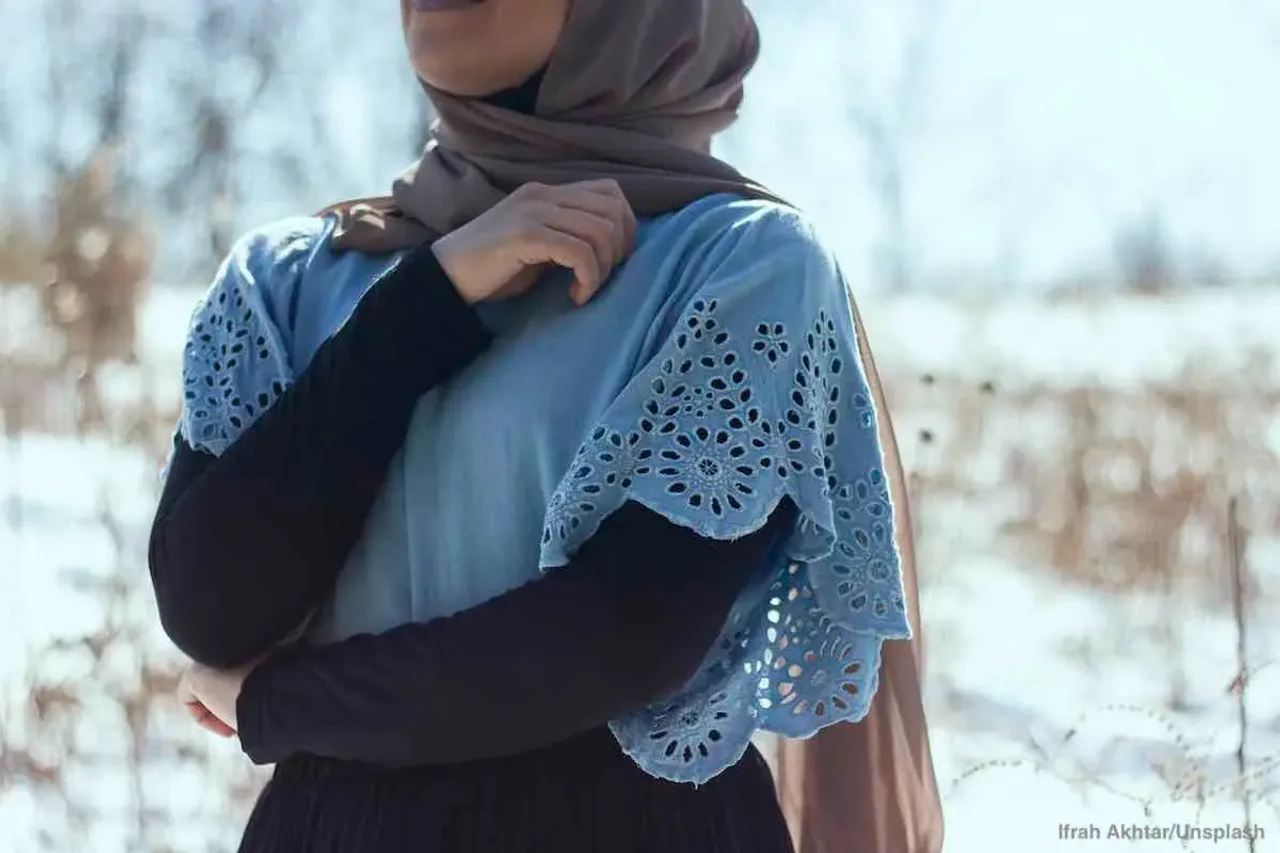 The outrageous Bulli Bai harassment episode comes mere months after its predecessor, the Sulli Deals app, created similar havoc. Both platforms available through open-source software GitHub, which allowed for India's Muslim women to be 'auctioned' off as 'deals of the day,' were blocked after anger and fear flooded the internet but not before they chest-thumped as communal vehicles attempting to shut down women who have voices.
"They want to threaten us... scare us," Khushboo Khan, a Delhi journalist whose name showed up on the now-removed 'Bulli Bai' app, tells SheThePeople over the phone. "To diminish a community, the first thing you do is target its women."
On January 1, while the rest of the country scrolled through radiant forwards to kick off a new year, Khan's WhatsApp pinged with notifications from a friend sending her pictures of herself. She had apparently been listed on an 'auction' site along with tens of other Muslim women like herself.
"'Your Bulli Bai of the day is...' read the page alongside a picture of the woman when you clicked on any name on the list," Khan, who managed to access the horrific app before it was pulled, recalls. Reports place the names of Muslim women linked to the controversy at 100.
What is the Bulli Bai app and how does it work? 
'Bulli' appears to be a variation of the derogatory term 'sulli' used commonly for Muslim women on the internet (especially Twitter) to evade detection under community guidelines on hate speech. The app was platformed on GitHub, which has an interface that allows people to collaborate and develop software. One can build apps on it for fun, profit or other business.
The 'Bulli Bai' app, created by yet unidentified persons and hosted by GitHub, displayed a list of women whose names were hyperlinked to separate profile pages that deplorably identified them as the 'deal of the day.'
---
Suggested Reading: Sulli Deals Harassment: The Double Jeopardy Of Being A Muslim Woman Online
---
Several prominent journalists and activists have written on social media about being alerted of their own names on the list.
"I went numb," journalist Arshi Qureshi tells us of the moment she realised what she was looking at when she opened the app where her name and picture flashed. "I did not know how to process it." Two days have passed since the harassment first came to light and, though essentially unsure of what she would do, Qureshi says this episode "won't stop from speaking ever."
In what has come across as particularly disturbing for many amid the controversy, Fatima Nafees, the mother of missing Jawaharlal Nehru University (JNU) student Najeeb Ahmed, who has been seeking justice for five years was also allegedly named on the 'Bulli Bai' app. Qureshi calls it "heartbreaking."
First Information Reports (FIRs) have been filed with the Delhi and Mumbai police teams that have begun a probe. Information Technology minister Ashwini Vaishnaw, responding to a tweet from Shiv Sena's Priyanka Chaturvedi who has consistently amplified the matter by writing to the centre, said the government was working with police organisations on the matter.
---
Suggested Reading: Know What Is 'Bulli Bai': App Targeting Muslim Women For 'Auction' Resurfaces
---
"The whole aspect of it is a lot like a game. But it is dehumanising, it is playing with people's lives. It shows the idea of 'trying to put women in their places'," author Andaleeb Wajid tells us. (Her name is not on the list.) This kind of targeted harassment appears to be hounding people who are speaking up, who have a voice and are using it to create awareness, who have agency and want to show it, Wajid says.
Though she says she is "in awe" of the women fighting the harassment head-on, despite repeated attempts to shut them down, Wajid says, "This sort of thing will lead to self-policing. People will start saying, this is why you shouldn't share your photos... We come from conservative families and it's going to be difficult. It's sad that putting up a display picture - an expression of individuality - is being used this way. Things are just looking bleaker."
Indeed, Muslim women active on social media and whose profiles have been picked out for the app are being sanctimoniously being asked to rid their online presences of photos, especially since such cyberbullying is occurring at least the fourth time around.
---
Suggested Reading: "Will Not Take It Sitting Down," Say Women Targeted In 'Auction' Harassment: A Case Timeline
---
Last year in May during Eid, many Muslim women were allegedly put up for 'auction' on a livestream by a YouTube account named Liberal Doge run by one Ritesh Jha. After netizens brought attention to the issue amid rising fear and anger among women, the account was reportedly suspended but no solid police action was reportedly taken. Not even a full month had passed before a similar 'auction' surfaced again, this time in the form of a full-blown app.
'Sulli Deals,' hosted on GitHub, used Muslim women's names and photos, offering them up as 'deals of the day.' This harassment was accompanied by ugly offshoots on social media, which included rape threats and downright depraved remarks. Some women raised a police complaint and an FIR was filed against the creators of the app but again, no arrests were made.
Sania Ahmad, a social media user who was targeted during 'Sulli Deals' and was one of those who filed a complaint, tells SheThePeople that "absolutely nothing" happened in the police complaint and its follow-up FIR in the previous 'auction' case.
Qureshi was spared the last time this 'auction' took place. But she remembers her father messaging her about it: "Tum mat karna iss tareeke ka kuch. Don't speak up so much... Because we won't be able to save you, given the kind of state we live in right now," he told her. Qureshi's parents are not aware her name materialised on 'Bulli Bai.'
---
Suggested Reading: Women Abused, Stalked, 'Auctioned' Online On Eid. But They're Refusing To Be Silenced.
---
"The 'Bulli Bai' app is the consequence of the lack of action taken in the 'Sulli Deals' case because these criminals become emboldened," Ahmad says. "They can see that despite Members of Parliament raising the issue, despite FIRs in multiple states, they know they can get away with it."
"This time, they tried to give it a Sikh angle considering the farmers' protest and how they have been trying to malign the protest and drive a wedge," she says. People who accessed the 'Bulli Bai' app said text on the app reflected in Punjabi and English both. Ahmad says the interface had been made so as a tip-off of sorts that the people behind the app belong to a certain community.
The 'Bulli Bai' case has rocked many out of the complacence that has persisted for every time that Muslim women have been targeted or harassed in recent times. And this time around, there seems to be more momentum to the agitation than was generated last year, given the relentlessness and frequency of this brand of harassment.
While there are many across communities standing in solidarity with those persecuted, Muslim women are making it clear that this moment of protest is theirs and not up for hijacking.
Khan said in a tweet, echoing the sentiment of her many Muslim sisters, "#SulliDeals & it's new version #BulliBai is an issue of Muslim women. So let us speak for us, let us assert our identity, let us take stand for our own struggle. Yeah it's a women issue but of MUSLIM WOMEN, so don't try make it about urself in the name of solidarity."