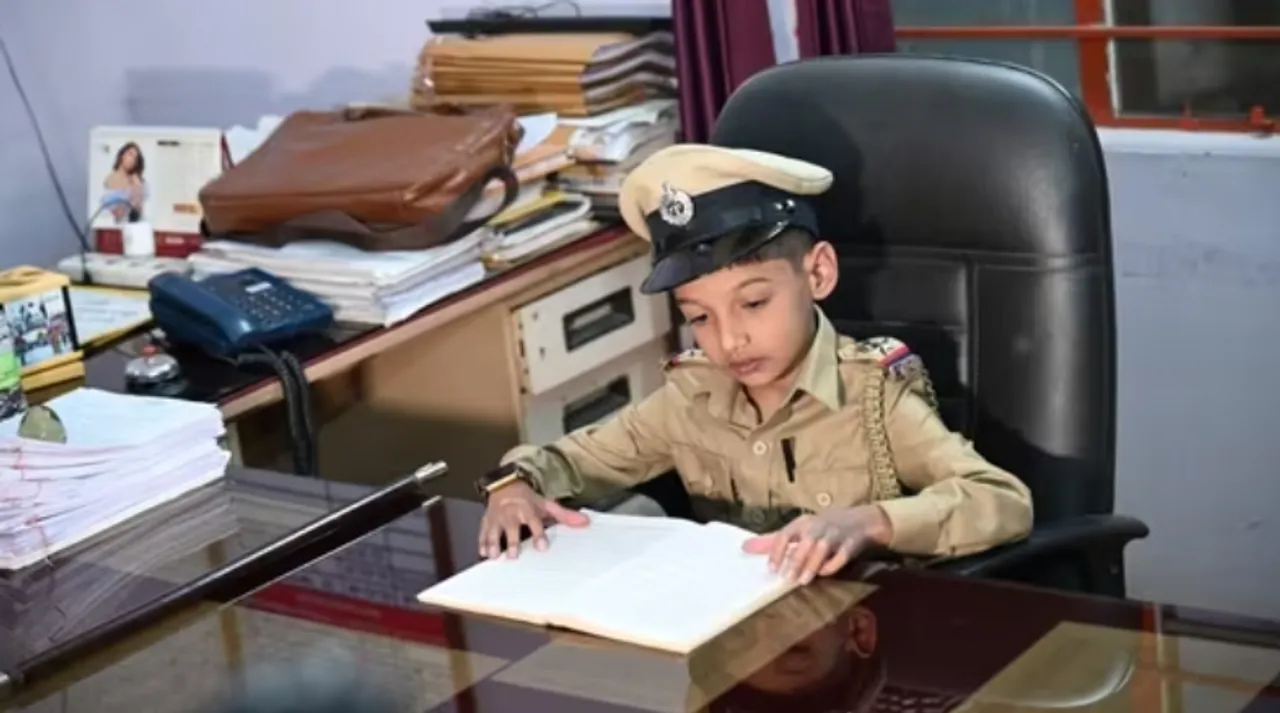 In a touching incident, the police in Shimoga, Karnataka, fulfilled the wish of an eight-year-old boy on Wednesday. The young boy had the opportunity to wear a police uniform and step into the role of a police inspector for a day in Shimoga's Doddapete area.
Ajaan Khan, from Shimoga district, aspires to become a police officer despite battling a serious heart ailment at such a tender age. Shimoga's Superintendent of Police (SP), Mithun Kumar, learned about Khan through his parents. Upon learning of his dream, SP Mithun Kumar swiftly instructed officials to grant him the honorary position of inspector for a day.
Social Media Post
In a post on the social media platform X, he stated, "Ajaan Khan, an 8-year-old boy from Shimoga town, is grappling with a heart condition and aspires to be a police officer. As per his and his parent's request, the young boy was given the opportunity to wear a police officer's uniform and symbolically hold the position of Police Inspector at Doddapete police station today."
Mithun further explained, "Upon receiving the request from the child's father, we decided to grant this on compassionate grounds. Ajaan displayed immense enthusiasm for the role and possesses significant aspirations in life. He even signed the visitors' record and approved leave for a staff member."
ಆಜಾನ್ ಖಾನ್ 8ವರ್ಷ ಶಿವಮೊಗ್ಗಟೌನ್ ಈ ಬಾಲಕನು ಹೃದಯಸಂಬಂಧಿ ಖಾಯಿಲೆಯಿಂದ ಬಳಲುತ್ತಿದ್ದು,ಪೊಲೀಸ್ ಅಧಿಕಾರಿಯಾಗಬೇಕೆಂಬ ಇಚ್ಛೆ ಇರುತ್ತದೆ. ಆತನ&ಪೋಷಕರ ಕೋರಿಕೆ ಮೇರೆಗೆ ಈದಿನ ದೊಡ್ಡಪೇಟೆ ಠಾಣೆಯಲ್ಲಿ ಬಾಲಕನಿಗೆ ಪೊಲೀಸ್ ಅಧಿಕಾರಿ ಸಮವಸ್ತ್ರವನ್ನು ಧರಿಸಿ,PI ಹುದ್ದೆಯನ್ನು ಸಂಕೇತಿಕವಾಗಿ ಅಲಂಕರಿಸಲು ಅವಕಾಶ ಮಾಡಿಕೊಡಲಾಯಿತು @DgpKarnataka pic.twitter.com/ckwQJtpSa9

— SP Shivamogga (@Shivamogga_SP) August 16, 2023
In images shared by the police, Ajaan can be seen engaging with police personnel and even examining some files within the police station. The Shimoga police garnered praise from the public for their heartwarming gesture.
The Last Wish-Granting
In a similar moving incident from North Carolina, USA, 10-year-old Emma Edwards married her childhood sweetheart, Daniel Marshall Christopher, affectionately known as "DJ" Williams. The wedding ceremony took place on June 29, a mere twelve days prior to Emma's passing on July 11 due to her illness.
The wedding took place in the backdrop of a garden setting and was attended by over a hundred guests. DJ, Emma's beloved, made a delightful entrance. Among those in attendance, Emma's closest friend played the role of maid of honour. Emma's mother characterised the little girl as a social enthusiast, finding it challenging to be apart from people.
Consequently, her school friends, teachers, medical professionals, and nurses were present to witness the occasion. A family friend officiated the ceremony, reciting biblical verses in the process.
---
Suggested Reading: Assam Police Uses AI To Alert Parents On Sharing Kids' Photos Online