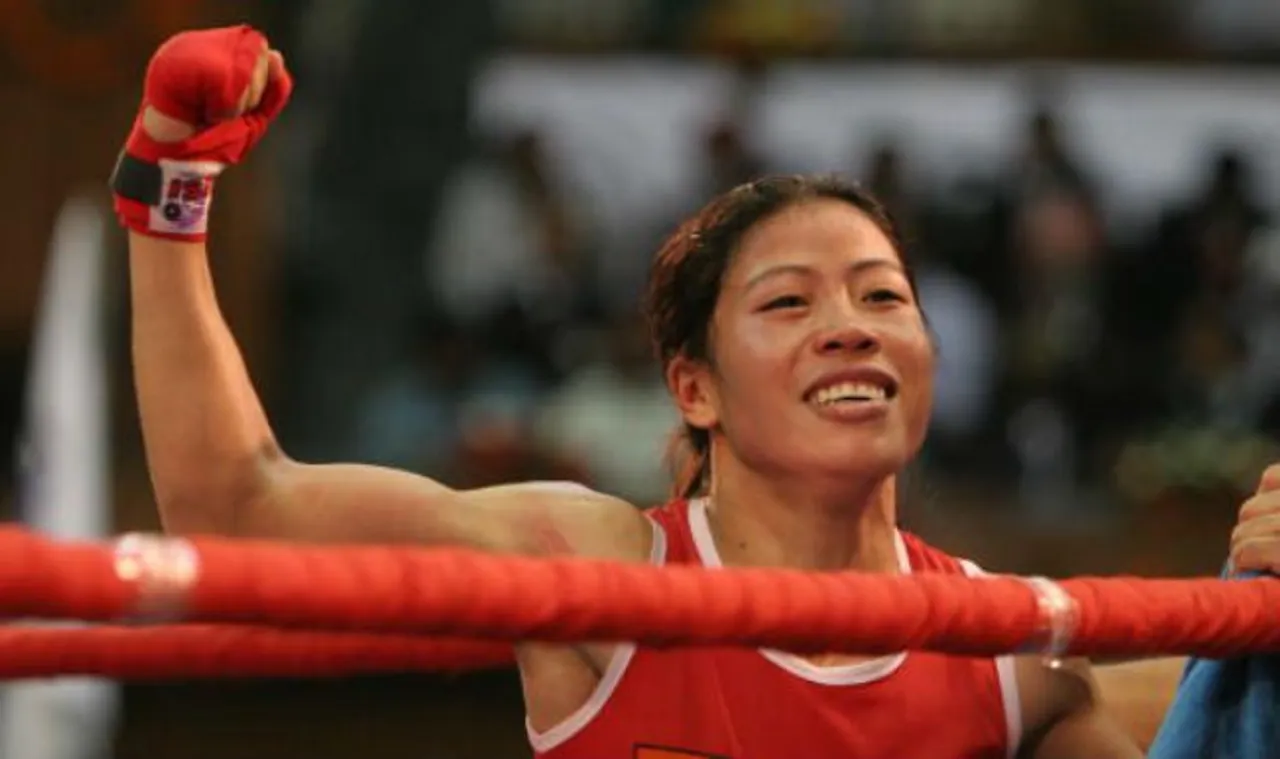 We never had enough of her fierceness and MC Mary Kom once again proved her resilience by overcoming the last Olympic heartbreak and already eyeing the next one -- the 2020 Tokyo Olympics. The ace boxer on Friday decided to go back to her earlier 48 kg weight category after speculation that it would be one of the two categories the AIBA has decided to include in the Tokyo Olympics in 2020.
"I have decided to move back to light flyweight because that is my original weight category. I feel the most comfortable competing in it and I don't have to punish my body to maintain this weight," Mary Kom, an Olympic bronze-medallist, told PTI.
Also Read: Not ready to hang up her gloves: Remembering Mary Kom's finest Sporting Moments
Five-time World Champion Mary Kom had to change her usual category from 48kg (won all her world titles in this category) to 51kg in women's division just to be able to participate in the Olympics.
"I am feeling very positive once again. Just wait and watch what I do now," she added.
"I want to give back to the society by giving many more Mary Koms through my academy." - @MangteC #YoungMakers pic.twitter.com/GVDrwEWZ7U

— Newsd (@GetNewsd) September 21, 2016
A mother of three from Manipur and an inspiration to many, 33-year-old Kom earlier this year had narrowly missed qualifying for the Rio Olympics. The Rajya Sabha MP also lost early in the World Championships in May. But recently, Kom added another feather to her cap as she is all set to receive the 'Legends Award' from the International Boxing Association (AIBA) on its 70th anniversary on December 20.
Also Read: Mary Kom Tells Her Sons How She Was Molested In A Letter
"I have got the fire back. I have been training and I feel competitive. I felt bad when I could not make it to the Olympics, it was a heartbreak but I am over it now and back to what I do best in the ring. I think AIBA is going to include light flyweight in the Asian and Commonwealth Games and it could also make it to the Olympics, so I am keeping my fingers crossed," she said.
https://twitter.com/MCMarykom/status/788878195416334336
Last time when we got the chance to sit and listen to this boxing champion at the Young Makers Conclave that was organised by SheThePeople.TV, her advice to Olympic bronze-medallist Sakshi Malik and to other young women who aspire to be in the sports moved us.
"Women have done India proud in sport and that's just the beginning," said Kom, who is the only Indian woman boxer to have qualified for the 2012 Summer Olympics, competing in the flyweight (51 kg) category and winning the bronze medal.
Also Read: Don't let the bronze change the colour of your heart: Mary Kom to Sakshi Malik
"I congratulate Sakshi Malik for winning the bronze. Olympics is a big platform where most of the athletes wish to clinch a medal. Sakshi made us Indians proud," said Mary Kom.
https://twitter.com/MCMarykom/status/662154458869055490
"Most of the girls don't have a chance or support from family, especially in North. But when you do, make most of it," Mary Kom said to resounding applause.
And at last, but not the least, Mary Kom told Sakshi, "May be your life has changed, but don't let those moments change what you are truly."
Mary Kom further added, "I will appeal to our government to provide us with good coaches besides having made quality infrastructure."
An Olympic bronze-medallist Kom, who was named an AIBA brand ambassador during the World Championships earlier this year, has been one of India's finest athletes. "Magnificent Mary" had also clinched Asian champion trophies multiple times for the country and is known as a five-time world champion.
We wish her all the best for the 2020 Tokyo Olympics!
WATCH Sakshi and Mary Kom from SHE THE PEOPLE on Vimeo.
Join Us on https://www.facebook.com/SheThePeoplePage
Follow Us on https://twitter.com/SheThePeopleTV