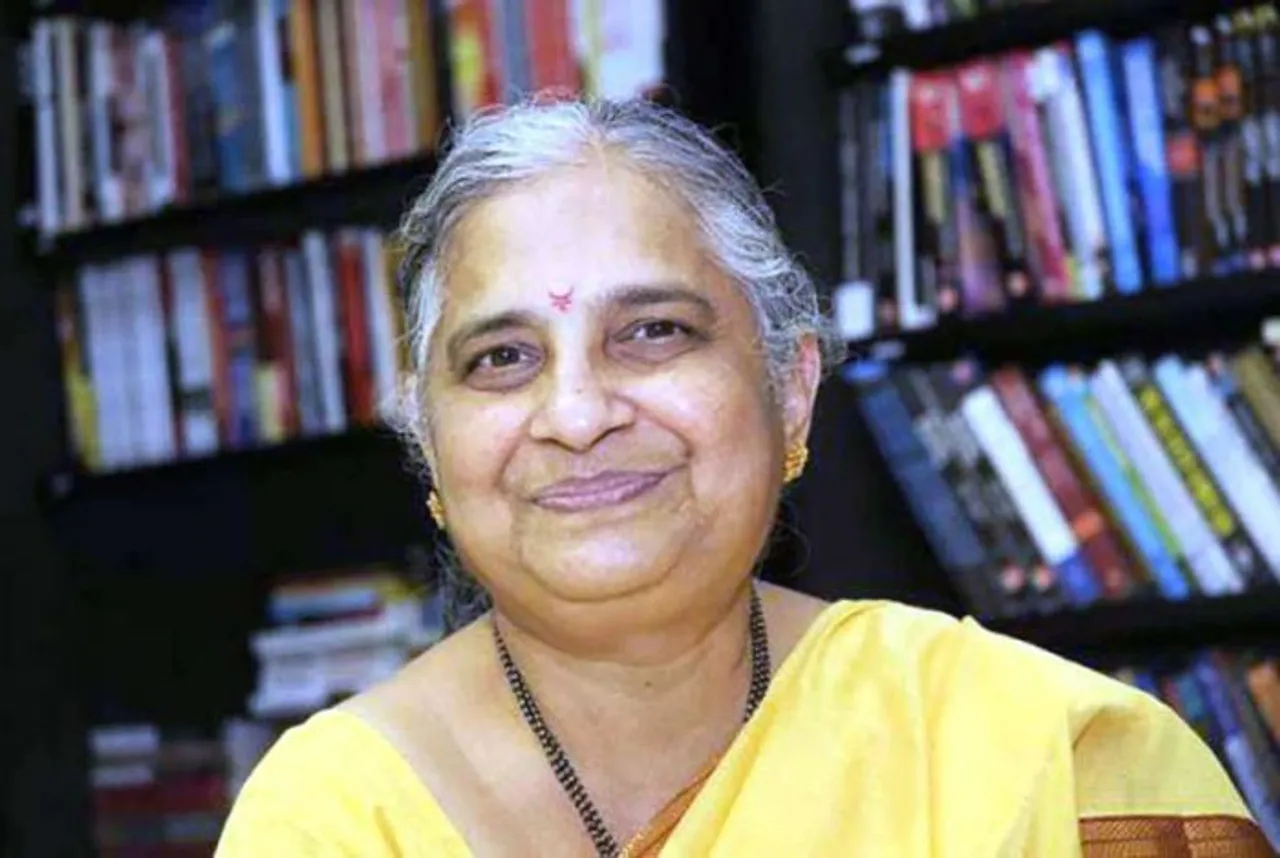 A baby elephant, born in Bengaluru's Bannerghatta Biological Park (BBP) on Wednesday was named 'Sudha' after Infosys Foundation Chairperson Sudha Murthy. The decision was taken to acknowledge Murthy's contributions towards wildlife conservation.
According to a report by PTI, after talking to the Executive Director of BBP, Vanashree Vipin Singh Sudha Murthy has consented to the proposal.
Happy to announce that Elephant Suvarna's calf will be named as 'Sudha' to acknowledge the contribution of Chairperson, Infosys Foundation, Sudha Murthy towards the cause of wildlife conservation.Madam has kindly consented to our proposal to do so. @ZKarnataka @Infy_Foundation pic.twitter.com/DWYVAVAHSI

— Bannerghatta Zoo (@bannerghattazoo) August 25, 2020
The mother elephant Suvarna, aged 45, gave birth to the female calf on August 17, TOI reported. Interestingly, Murthy, the first female engineer to be hired by the automotive manufacturing company TELCO in Pune, also celebrated her 70th birthday on August 19. 
What You Should Know
Currently, there are 25 elephants in the BBP.

The female calf was born on August 17 and Sudha Murthy celebrated her 70th birthday two days later. 

Murthy has earlier contributed money to build exclusive compounds for various animals in the zoo.
Murthy, the wife of the co-founder of Bengaluru-headquartered IT major Infosys Ltd, N R Narayana Murthy, has led an inspirational life. Together they are known as India's first IT couple. The award-winning writer and a distinguished social worker has been involved in many philanthropic works. "In BBP, Infosys Foundation has contributed towards execution of work of Tiger enclosure, Zebra enclosure, Giraffe enclosure, bore well and addressing drinking water storage and staff welfare through their resources," Singh told PTI.
Also Read: Look Beyond Cricket, Our Sportswomen Are Winning Golds!
Murthy's contribution to Karnataka's wildlife
A senior Indian Forest Service officer said to IANS, "In the past, I have named one elephant after Tulsi Gowda who was a Padma Shri awardee and worked in the field of environment. She was from Karnataka and had done a lot of plantation work. It was done to recognize her services to environmental causes," The News Minute reported.
According to Singh, Murthy used to be a regular visitor at BBP. When wildlife conservation enthusiasts suggested naming the baby calf as Sudha, officials grabbed the opportunity. They believed that it will be an acknowledgement of Murthy's relentless work in extending help for the development of the zoo. In 2016 and 2017, Murthy contributed money to build an exclusive compound for zebras, giraffes and tigers in the zoo. She also helped in the construction of a storage tank and provided money for staff welfare. She reportedly helped the authorities of the Binkadakatti mini zoo, near the district headquarters town of Gadag in Karnataka, in the development work as well.
Previously, a tigress in BBP was named after sprinter Hima Das.
Also Read: Mary Kom's Direct Selection Embroiled In Controversy. Fair Or Biased?
Feature Image Credit: Twitter